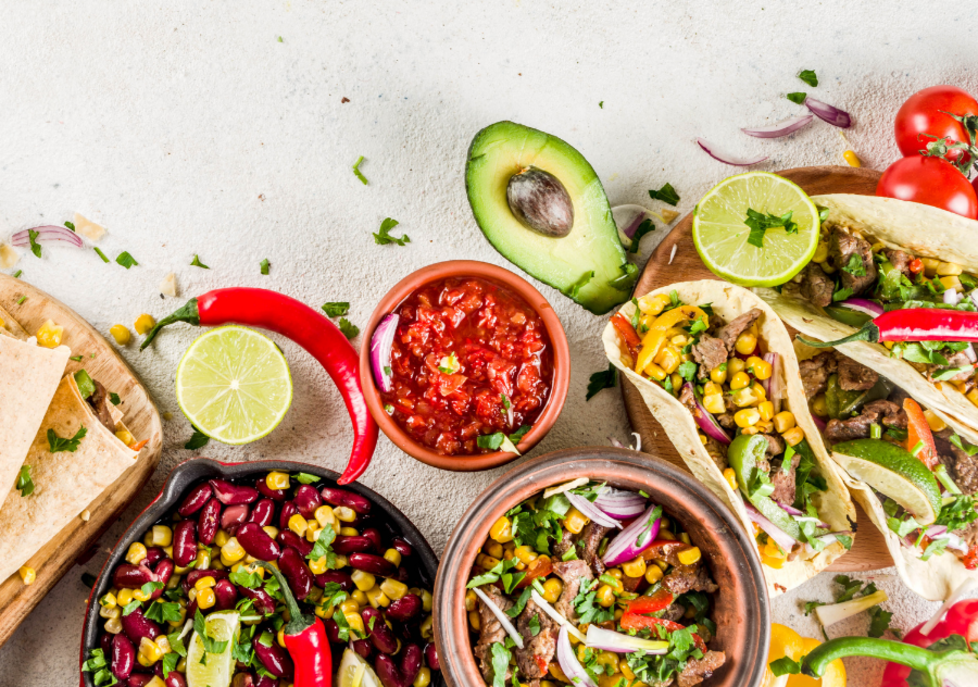 The dream team: tacos and margaritas!
What is Cinco de Mayo? Cinco de Mayo is a holiday celebrated on May 5 in honor of a military victory in 1862 over the French forces of Napoleon III, commemorating the Anniversary of the Battle of Puebla.  No matter your reasoning for celebrating Cinco de Mayo in Sugar Land, you will find plenty of things to do. 
---
Stop by Bar Louie for a Fiesta-style bloc-party, complete with festive balloons, a street taco stand, décor, and so much more to celebrate Cinco de Mayo and the 6th anniversary of their Sugar Land Town Square location! 
Enjoy the live DJ and treat yourself to $5 frozen/traditional margaritas from their outdoor bar. Kick back on the patio and watch the the Spanish Folk Dance performance and live music from 7:00-9:00 p.m. The kids can enjoy the free arts and crafts as well as cotton candy, face painting and balloon art. Enjoy exclusive specials from each of their participating vendors and surprises available as well all day! 
Event Date: Friday, May 5, 2023
Time: 4:00 p.m. - 2:00 a.m.
---
Explore Sugar Land restaurants celebrating Cinco de Mayo. Here are some options you've got to add to your list of places to visit: 
Where to Eat & Drink for Cinco de Mayo 
---
Founded by a local Sugar Land couple, this colorful riverside joint features innovative tacos inspired by the Pacific Rim, reflecting flavors of Thailand, Korea, Vietnam, Hawaii, and French Polynesia in fresh organic ingredients. Sit on their terrace and soak in the vibrant views as you chow down on their delicious tacos and delicious beverages like their PCT Patron Fresh Press margarita made with fresh squeezed limes, oranges and tequila. 
---
Celebrate Cinco De Mayo with style at Escalante's Fine Tex-Mex. Located in Sugar Land Town Center, this eatery has everything from refreshing drinks to lip-smacking desserts. Order a plate of warm, crunchy, golden-baked empanadas or their hearty plate of Beef- Fajita Famosas. Top it off with a slice of moist and airy Tres Leches cake. 
---
Sit in a whimsical, kitschy setting and get all the fajita fixings you could ever want! Order their signature chicken Chuychanga with a deluxe tomatillo sauce and wash it down with their drink specials that'll be running all day for Cinco De Mayo! There will be $5 Chips and Dip from 3-5 p.m., $1 Flotares and upgrade your margarita size for $2! For an even sweeter deal, bring a photo of your pup to hang on their unique dog wall and get a free appetizer!
---
Eat the highest quality Tex-Mex food at this family-friendly chain. Indulge in their creamy rich, Cheese Enchiladas or their fresh Yucatan topped with marisco sauce and cucumber relish, or sizzle it up with their Fajitas Classico. To celebrate Cinco de Mayo, they'll be serving $13 Cadillac 'Ritas & $10 House 'Ritas from May 5th – May 7th in their 16oz DRINKO DE MAYO cup, while supplies last. 
---
Tantalize your taste buds at Carmelo's Mexican Grill! Hand-made from only the finest, freshest ingredients, their large burritos are simply to die for! If you're in the mood for tacos, try out their traditional Ranchera Chicken Crispy Tacos served with a side of Spanish rice and homemade refried beans. 
---
Celebrate Cinco de Mayo with a variety of drink specials like $4 Fireballs, $7 Don Julio shots, $4 Mexican beers and $5 house margaritas! Accompany your drinks with their happy hour $6 chips and queso or a side of guacamole. 
---
Q's Deli is hosting, for one day only, a Tex-Mex pop-up and offering some well-known favorites like fajita plates, nachos and more! Their Cinco de Mayo menu will also include specialty drinks and desserts from 6:00 p.m. - 12:00 a.m. or until their items run out! 
Looking for more places to celebrate? Check out our top margarita spots in Sugar Land!
---
Make sure to follow us on Facebook, Twitter, and Instagram for all the latest news on things happening in Sugar Land. Our handle is @VisitSugarLand. Tag us in your posts and share your experience: #VisitSugarLandTX, #SweeterInSugarLand. For more information, contact us at (281) 275-2045 or tourism@sugarlandtx.gov.
---