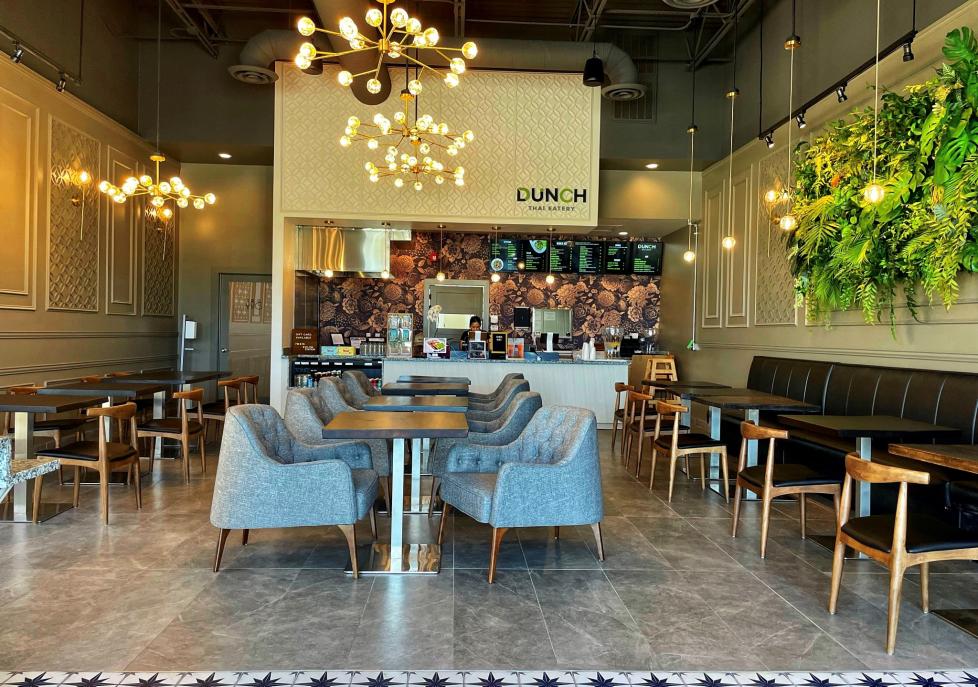 Enjoy the cozy vibes for lunch or coffee at SIlom Station,.
If you're looking for a great place to eat Thai food in Sugar Land, consider Silom Station. This mixed-concept restaurant is the newest addition to Thai Cottage Group's 25-year restaurant portfolio and is a promising addition to Sugar Land's food scene!
Located in the heart of Sugar Land at Hwy 6 and Hwy 90 Alt, Silom Station is only a few miles away from Constellation Field home to the Sugar Land Space Cowboys, and Sugar Land Regional Airport.
This restaurant is aptly named after one of Bangkok's earliest modern roads and luxury business district, Si Lom, offering a contemporary casual dining experience for Thai food lovers all over the Greater Houston Area.
Silom Station's Ambiance
---
Silom Station is seamlessly divided into two sections that offer coffee by Sit N Sip Coffee Brewery and a variety menu of Thai street food by DUNCH Thai Eatery. As you enter the restaurant, you'll be welcomed by a mid-century style coffee area where you can place an order of their freshly crafted espresso drinks and a milk and sugar station that stands against a blush retro feature wall perfect for an Instagram moment. Pair your cup of joe with their freshly baked breads in exciting flavors like their Thai Tea Bread.
Walk two steps further in and you'll find yourself in a contemporary, yet cozy dining area where you can have a wonderful eating experience. Have a seat under the sputnik chandeliers or at the cushioned booths to lounge against the second feature wall: a vibrant foliage panel that adds a Thai flare to the otherwise sleek interior. And if you'd like to enjoy the weather, hang out in their outdoor seating area!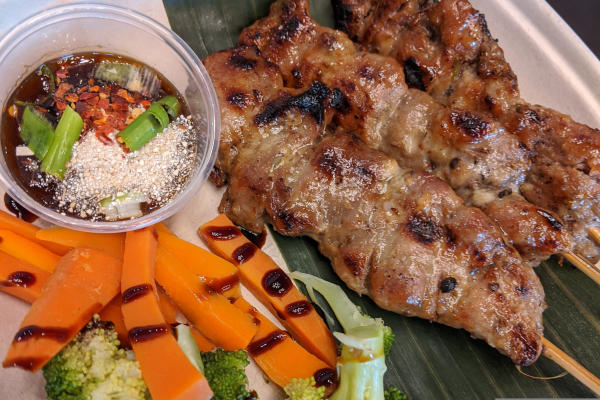 Grilled Pork, Thai-style marinated pork on skewers, served with sticky rice, vegetables, and a spicy tamarind sauce.
Silom Station's Menu
---
Open Monday through Saturday from 7 a.m. to 8 p.m., Silom Station's menu is packed with breakfast, lunch, and dinner options suitable for everyone.
Head to the counter and order breakfast until 10 a.m. or pick from their dinner or lunch menus that are served all day (which explains the name DUNCH). The menu offers everything from soups, salads, appetizers, to dessert with the entrees being noodle, rice, or curry-based.
You can also order a DUNCH Set which is an entrée served with a house starter and dessert of the day with adjustable spice levels and protein substitutions available from chicken, pork, beef, shrimp, and tofu for people with dietary restrictions!
There are currently three breakfast items available: the Siamese Pan Fried Egg with chicken done three ways, grilled pork skewers, and Massaman Curry and Croissant. More breakfast options are coming soon.
Try their Chili Basil Chicken at a mild spicy level for the perfect kick of heat!
Silom Station's Best Recs!
---
The most popular entrée dishes are the regular and crispy Pad Thais, Panang Curry, Chli Basil Chicken, Papaya Salad, and Drunken Noodles. Pair your main with a soft drink or choose from their selection of uniquely flavored Thai teas for a complete experience.
---
Make sure to follow us on Facebook, Twitter, and Instagram for all the latest news on things happening in Sugar Land. Our handle is @VisitSugarLand. Tag us in your posts and share your experience: #VisitSugarLandTX, #SweeterInSugarLand. For more information, contact us at (281) 275-2045 or tourism@sugarlandtx.gov.