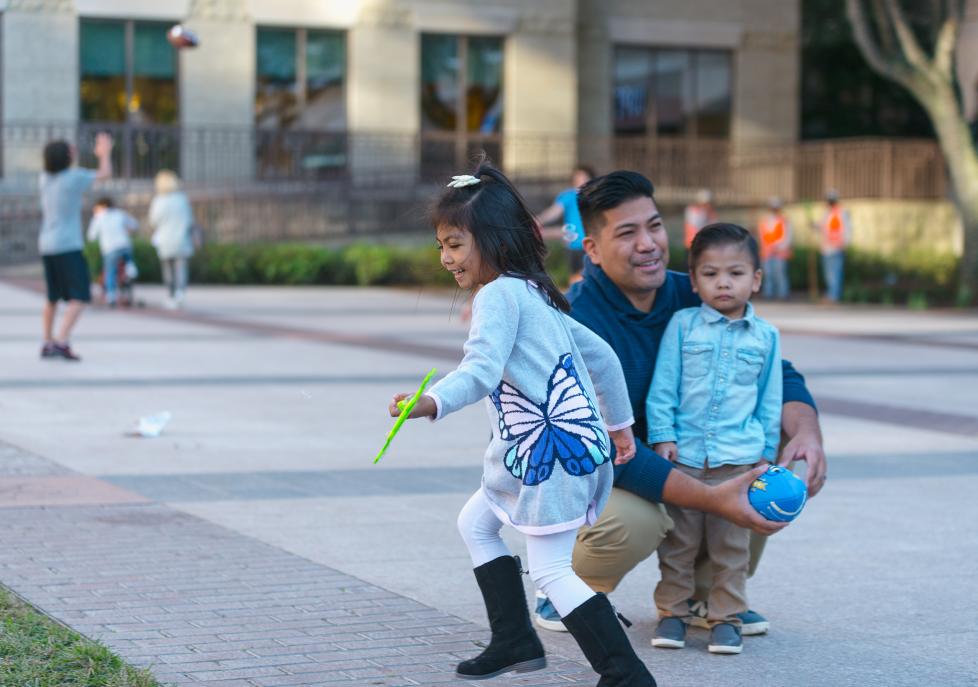 Celebrate Father's Day in the Sweetest City in Texas!
Father's Day is a special day that celebrates fatherhood and it's a time to appreciate and value that special person in your life. Treat them to a nice dinner, a nifty grooming service, or take him to the ballpark. Plus, don't forget to sign up for your chance to win a family pack of four field box tickets to catch a Skeeters game at Constellation Field.
Photo Credit: Saltgrass Steak House
DINING
Whether you're looking to do brunch, lunch, or dinner, there are plenty of options on where you can take that special person to celebrate Father's Day in Sugar Land! Check out some of our top recommendations:

Saltgrass Steak House │ 11 am to 9:30 pm 19720 Southwest Freeway Sugar Land, TX 77479 MAP   Black Walnut Café │ 7 am to 9 pm 16535 Southwest Freeway Sugar Land, TX 77479 MAP   Longhorn Steakhouse │ 11 am to 10 pm 16746 Southwest Freeway Sugar Land, TX 77479 MAP   The Rouxpour │ Brunch: 10:30 am to 2 pm< 2298 Texas Drive Sugar Land, TX 77479 MAP   The Sugar Refinery │ Brunch: 11 am to 3 pm 2248 Texas Drive

MAP

 

Churrascos │ Brunch: 10 am to 4 pm Sugar Land, TX 77478 MAP

Churrascos will be hosting a brunch buffet at 10 a.m. on Father's Day and extending brunch hours to 4 p.m. Right at 4 p.m. they will offer a special three-course dinner.

Perry's Steakhouse & Grille │ 11 am to 9 pm

Perry's Steakhouse & Grille will open at 11 a.m. for Father's Day with a special menu and drink specials until 4 p.m. For the evening goers, they will have a special three-course dinner available kicking off at 4 pm, which includes their Famous Pork Chop!
GROOMING SERVICES
A great way to pamper dad and show him how much you appreciate him is by booking him a grooming service. Here's to celebrating the guy who likely taught you a thing or two about personal care.

18|8 Fine Men Salons 1865 Highway 6, Suite 120 Sugar Land, TX 77478 MAP

Spend the day with day and try out their father and son haircut special that offers you a classic cut, shampoo, conditioner, and hot towel finish. For the young and the restless, (any boy under 12) will receive the young master service, which will include a cut, shampoo, and conditioner. Check out their other awesome specials, by clicking here.

Boardroom Salon for Men 16031 City Walk Sugar Land, TX 77479 MAP

Get dad a gift that keeps on giving throughout the year! At Boardroom, you can purchase annual memberships that allow you to get unlimited haircuts for hair members. Plus, a membership will give unlimited access at any of their nearby locations. Check out the different packages available for purchase here.
ACTIVITIES & EVENTS
Head out to the ballpark to catch a Sugar Land Skeeters game all weekend long and watch as they take on the Pennsylvania Road Warriors, starting on Friday, June 15 at 7:05 pm. To snag a pair of tickets click here!
GAME SCHEDULE:
Friday, June 15 at 7:05 pm – Friday Fireworks: fireworks after the game

Saturday, June 16 at 6:05 pm – Stadium Replica Giveaway for First 2,000 Fans

Sunday, June 17th at 6:05 pm – Sunday Fun day
"Cooking It Up with Dad" – Is it impossible to shop for your dad? For Father's Day this year, give him a gift of a cooking class. Dad will learn essential skills – from marinating and roasting to sauce making and baking. Now he can have his steak and cook it, too! Sign up now for a class on Saturday, June 16th or Sunday, June 17th.  Class is at 1 p.m. both days and costs $75 per person.
Father's Day Frontier Survival & Blacksmithing Classes – Help Dad discover his inner pioneer with a special Frontier Survival Class to learn the necessary skills for living on the Texas prairie and help fire off the cannon! This class will be held at 11 am, 1:30 pm, and 2:30 pm. Sign up soon because the class is first-come, first-served and each session is limited to 30 participants.
Or join the Blacksmith Behind-The-Barrier and get a basic introduction to the art of blacksmithing. This 90-minute workshop is limited to 4 participants per session at 10 am, Noon, and 2 pm, and cost $30 per person.
Interested participants must reserve a spot in the class by calling (281) 343-0218 between 9 am and 5 pm Tuesday-Saturday.   
Smart Financial Centre at Sugar Land
How about seeing a show at Smart Financial Centre at Sugar Land for Father's Day weekend? There's almost always someone performing, and Father's Day weekend is no exception. Yanni is bringing his Acropolis Anniversary Concert Tour to Smart Financial Centre on Saturday, June 16th.  If your Dad is really into rock, he should check out the line-up of Slayer, Lamb of God, Anthrax, Behemoth, and Testament at Smart Financial Centre on Sunday, June 17th.
PROMOTIONS
Appreciate dad with his favorite cake flavor, ice cream and mix-ins. Get $3 OFF any medium 8-inch round or large ¼ sheet ice cream cake when you place your order with a crew member at Marble Slab or Maggie Moos Creamery. Use online coupon code: MDG18.
---
Make sure to follow us on Facebook, Twitter, and Instagram for all the latest news on things happening in Sugar Land. Our handle is @VisitSugarLand. Tag us in your posts and share your experience: #VisitSugarLandTX, #SweeterInSugarLand. For more information, contact us at (281) 275-2045 or tourism@sugarlandtx.gov.
---