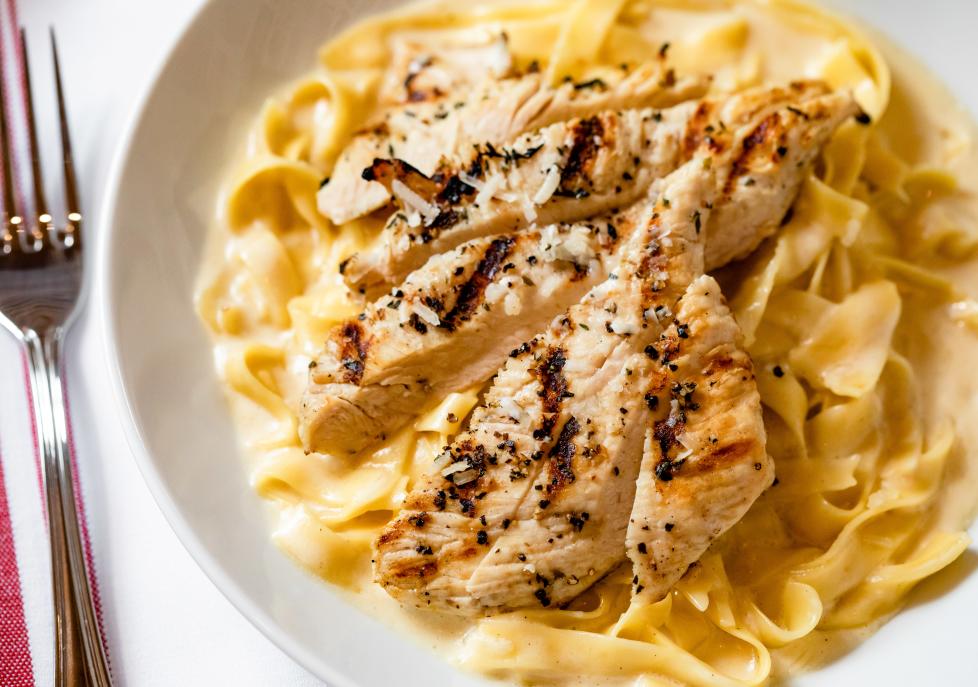 Savor the creamy Fettuccine Alfredo with grilled chicken at B.B. Italia at Sugar Land Town Square. Photo: B.B. Italia
We know everyone feels like a winner when they savor their first bite of pasta. It's an unexplainable feeling, but it's a food lover's dream come true.  Here in Sugar Land, we pride ourselves in our global cuisine, which takes you on an adventure from east to west. Let's face it, who doesn't love pasta? And because we can't fathom life without it, we have narrowed it down to our favorites.
This fresh take on traditional Italian-American food is located in the heart of the city in Sugar Land Town Square. Their homemade pasta made with the best local ingredients is a must-try in this cozy and lively location. An American favorite, their Fettucine Alfredo pasta, is coated in a luscious parmesan cream sauce which welcomes the additions of grilled chicken or shrimp to take this dish a step above the rest.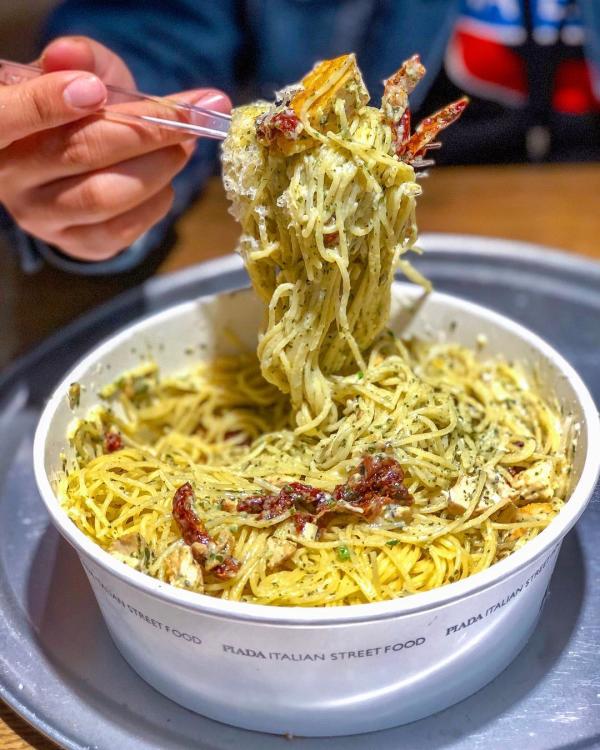 Create Your Own Tossed Pastas at Piada! 
Craving pasta and are on the go? Piada specializes in quick services and DIY tossed pasta bowls and pre-built options like their Carbonara or Diavolo pasta. Choose from spaghetti or penne pasta, different proteins like calamari, shrimp or chicken and a variety of delicious sauces like pesto, marinara, parmesan alfredo and more to create your own Italian street food masterpiece!
Taste the fusion of Italian flavors with a sprinkle of Creole-Southern cuisine and you have Carrabba's Italian grill! For a flavorsome experience, try their Shrimp and Scallop Linguine alla Vodka tossed in a slightly sweet and savory basil tomato cream sauce. Great news if you eat gluten free: ask the waiter for their gluten-free pasta options with your dish of choice!
Perry's is well-known for their tasty steaks and pork chops but don't sleep on a their hearty Surf and Turf Pasta dish! Their seafood and steak pasta features flavorful and tender Filet Mignon tips and succulent lobster on a delicate bed of angel hair pasta with a tomato cream sauce. Is your mouth watering yet? 
This Sugar land gem has been serving "The Sweetest City in Texas" for over 25 years! It's a local favorite thanks to its extensive & appetizing menu of Italian fare like pizzas, pasta, and desserts. Their Linguine al Pesto is bright, herbaceous and with sharp notes of garlic, olive oil and parmesan cheese that you'll have to taste to believe. This sensational dish can be topped with shrimp, chicken or salmon. Don't forget to share your dish photos with us, by tagging us at @VisitSugarLand.
Please note, if you have seafood allergies these restaurants have a variety of pasta options for you.
---
Make sure to follow us on Facebook, Twitter, and Instagram for all the latest news on things happening in Sugar Land. Our handle is @VisitSugarLand. Tag us in your posts and share your experience: #VisitSugarLandTX, #SweeterInSugarLand. For more information, contact us at (281) 275-2045 or tourism@sugarlandtx.gov.
---