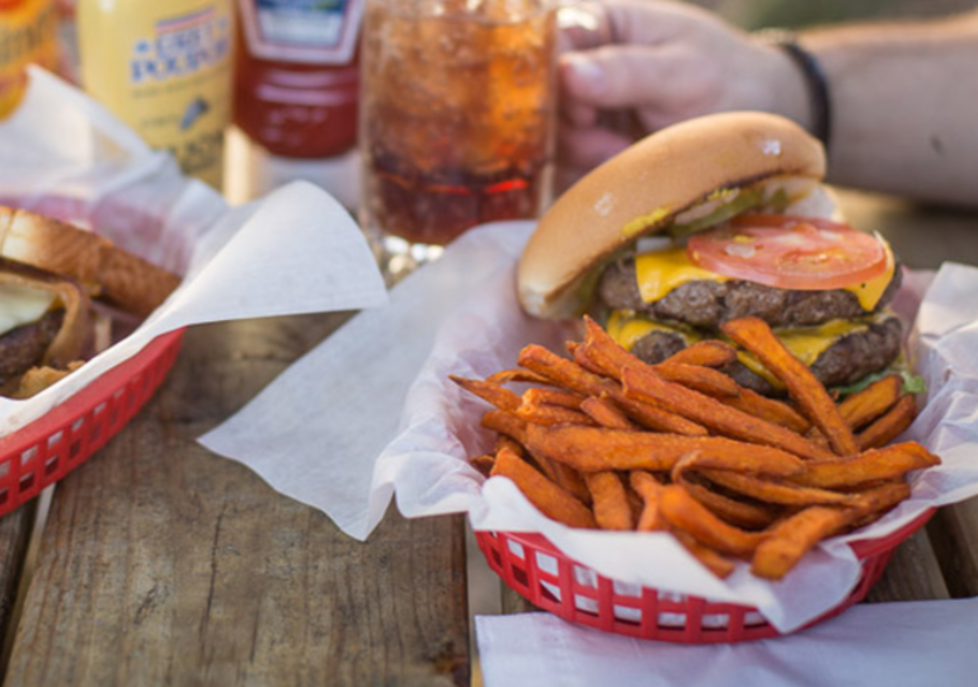 The Boss Hogg Burger with sweet potato fries at Live Oak Grill. Photo: @liveoakgrill
What is a trip to Sugar Land without some Texan flair?
Gather the whole family and make your way to Live Oak & Grill for award-winning food, and a laid-back, country experience without having to leave the city! 
This all-American restaurant is the best place to go to with all your loved ones (pets included!) because it has lots of indoor seating as well as an expansive outdoor patio and play area decked out with lush greenery, Texan memorabilia and warm string lights.
Want to stay out of the heat? Grab a table, booth, or bar seating among blue and red decor inside their tavern-style restaurant.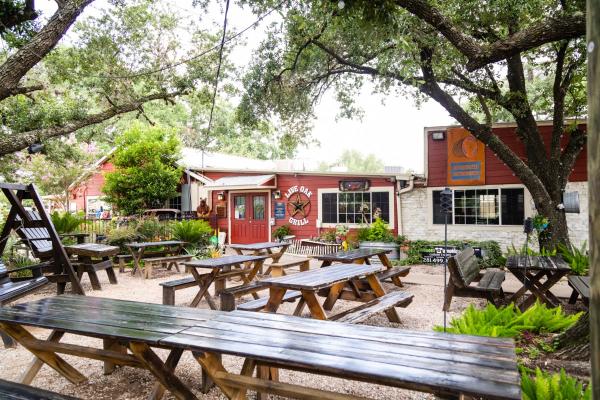 Sit in their pet-friendly patio and enjoy the laid back atmosphere. Photo: @liveoakgrill
Want to stay out of the heat? Grab a table, booth, or bar seating among blue and red decor inside their tavern-style restaurant.
This locally owned restaurant has been proudly serving Sugar Land for over 18 years and has a menu that stays true to its Texan roots. The food and atmosphere is perfect for families with little kids offering yummy entrees like Chicken Fried Steak and Grilled Pork Chops and an outdoor playing area with swings, see-saws, and slides!
Begin your country experience with their starters like their wings or cheese fries or go for a healthier option like the Grilled Salmon salad. A popular dish among customers is the Pecan Crusted Chicken salad with cilantro ranch dressing. The heat of the crunchy breadcrumb crust rubbed in cumin spice will balance perfectly with the light and creamy dressing. Add some white gravy and you're in heaven!
Move on to the next sections of their menu which include Sandwiches, Burgers, Sea Food, Specialties, and Kid's Meals along with sides like sweet potato fries, mashed potatoes, and mac n' cheese. What makes Live Oak & Grill even better is that most entrees are super priced for under $15!
Kids under 12 can pick from the kids' menu featuring entrees that include fries, a drink, and a choice of yogurt, apple sauce, or fruit cup. All entrees on the kids' menu are priced at $6.99 and include items like:
Beef Sliders
Chicken Tenders
Mac n Weenies and more!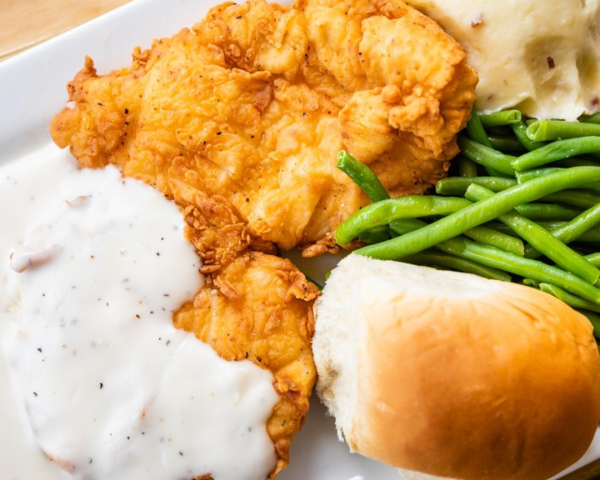 Comfy and crunchy chicken fried chicken. Photo: @liveoakgrill
To taste another one of their specialties, order their deliciously crispy, juicy Chicken Fried Steak that comes with fresh green beans and silky smooth mashed potatoes!
End the night with mouth-watering desserts under $5 like Buttermilk Pie, Banana Pudding, Apple Pie, and Red Velvet Cake.
Live Oak & Grill is open for lunch and dinner and also serves a daily breakfast seven days a week! 
So go on, unwind, and taste the good life! 
For more yummy eats around the city, explore our culinary guide for all budgets.
---
Make sure to follow us on Facebook, Twitter and Instagram for all the latest news on things happening in Sugar Land. Our handle is @VisitSugarLand. Tag us in your posts and share your experiences using #VisitSugarLandTX, and #SweeterInSugarLand.
For more information, contact us at (281) 275-2045 or tourism@sugarlandtx.gov.