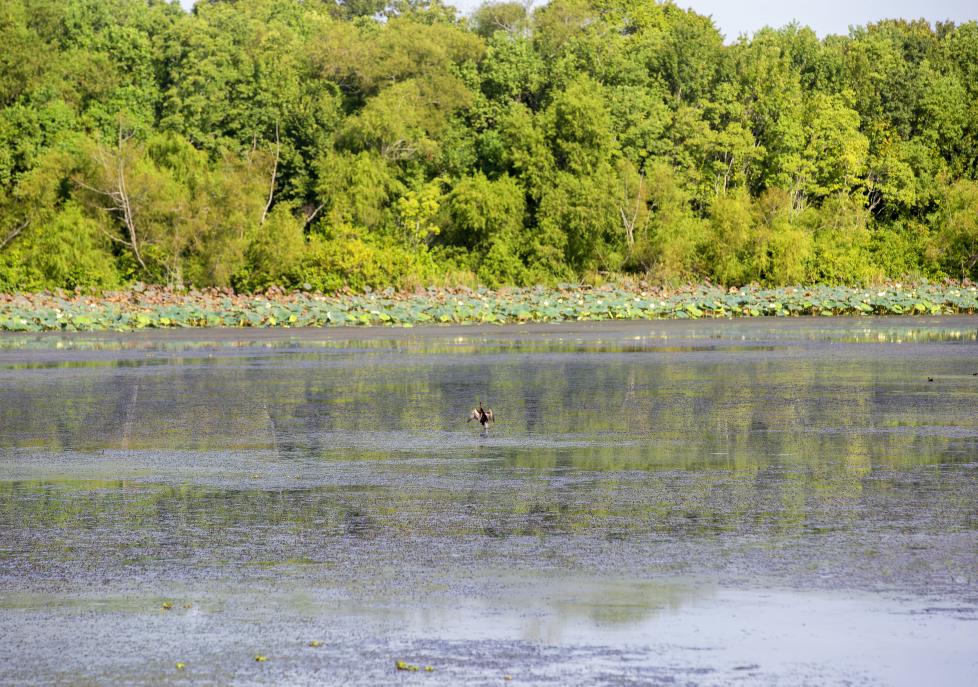 If you look close enough, you might spot one of the alligators!
From rockin' robins to flamingo road, Americans have always loved wild birds. Bird watching—also called birding--has become super popular, with more than 50 million birders in North America. The Texas Gulf Coast is one of the top places in the country to witness migration, so if you have a birding trip on your radar, it's worth adding Sugar Land to your itinerary. And if you've never tried bird watching, this could be the start of something new!
Cullinan Park on Oyster Creek is a magnet for big populations and wide varieties of birds throughout the year. The park's varied habitat and grand size have made it popular as a place to enjoy birding—and also fishing, hiking, picnicking and other outdoor activities. Whether it's a big vacation venture or just an afternoon visit, here's what you need to know to get a good view of Sugar Land's native bird species.
Birding at Cullinan Park
---
Located right on Highway 6 in Sugar Land, the park is supported by The Cullinan Park Conservancy, a non-profit group that helps keep Cullinan Park safe and enjoyable for both wildlife and visitors. The Conservancy has established several unique features to make this the place to stop for avian adventures. They've created a Bird Checklist with more than 250 species. You can keep track of what you see—and who knows? You may locate a new one to add to the E-bird registry!
Over 1,000 people submit their findings each year.  And if this is something new to you, get on board with one of the fastest-growing hobbies around! Once you visit Cullinan Park for the birding and everything else, we know you'll be back, so you may want to subscribe to Visit Sugar Land's e-blast to learn about other fun things to do in Sugar Land.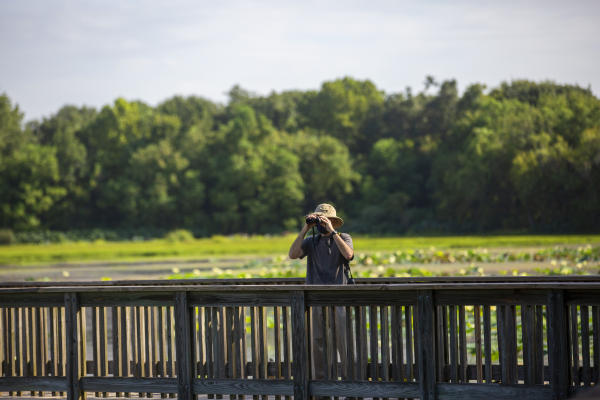 Bring your binoculars and catch all the action at Cullinan Park!
What birds will you see?
Per The Conservancy website: "Depending on the season, keep your eyes peeled for indigo and painted buntings, warblers, blue-gray gnatcatchers, white-eyed and blue-headed vireos, ruby-crowned kinglets, woodpeckers, eastern phoebes and barred or great-horned owls, as well as our more typical urban visitors, such as blue jays, cardinals, doves and wrens. If you're lucky, you might spot a pileated woodpecker or yellow-billed cuckoo.
"During spring and fall migration, Cullinan is the best hotspot in Fort Bend County for seeing warblers, vireos, tanagers, thrushes, and other migrating birds. And don't forget to look up in the tall trees for a chance to spot an American bald eagle, osprey, hawk, crested caracara, vulture, or other birds flying over."
Rare birds visit Cullinan, too. In 2020, E-bird recorded groove-billed ani, black-billed cuckoo, Virginia rail, American woodcock, black tern, zone-tailed hawk, merlin, peregrine falcon, common loon, golden-crowned kinglet, veery, pine siskin, clay-colored sparrow, Harris's sparrow, bullock's oriole, lazuli bunting, common ground dove, eastern towhee and spotted towhee. During spring migration, 28 species of warblers were documented!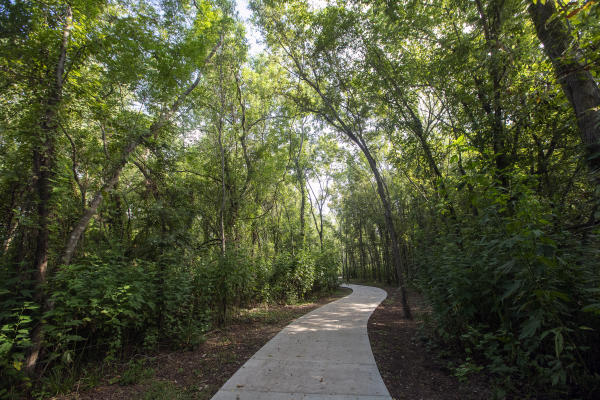 Walking Trails at Cullinan Park
---
Cullinan Park's walking trails (both paved and natural) allow you to scope out the area, and from there, you can climb the observation towers at White Lake or take out a kayak or rowboat to get a closer look. Wading birds include white ibises, great and little blue herons, great egrets, green herons, and snowy egrets. And you can add swimming ducks and birds like American coots, and purple gallinules, pied-billed grebes, black-bellied whistling ducks, redheads, ring-necked ducks, scaup, widgeons, gadwalls, blue- and green-winged teal, northern shovelers and wood ducks to your list, too! The Conservancy notes that some of the less common waterfowl are sora, American bittern, least grebe, wood stork or roseate spoonbill. If you spot one of those, you can add a mental gold star to your day! Do watch out for alligators, though—we're serious!
Why Not Make It An Overnight Stay?
---
It's easy to spend an entire weekend watching the wildlife in Sugar Land, so instead of rushing, why not book a hotel and make a mini vacay of it?  Which hotel is closest to Cullinan Park? Here's the good news: they all are! Sugar Land is a small community, and the hotels are all located within easy driving distance. There are some hotel deals you can take advantage of as well. Once the sun goes down, you can visit any number of local attractions. Sugar Land also features a remarkable variety of restaurants, whether you're after fast, family-friendly food or a relaxing, gourmet meal.
---
Make sure to follow us on Facebook, Twitter, and Instagram for all the latest news on things happening in Sugar Land. Our handle is @VisitSugarLand. Tag us in your posts and share your experience: #VisitSugarLandTX, #SweeterInSugarLand. For more information, contact us at (281) 275-2045 or tourism@sugarlandtx.gov.
---