Try a slice of sweet potato pie at Decadent Coffee and Dessert Bar.
The season of cozy sweaters and warm food and drinks is almost upon us! This means delicious caramel, pumpkin and cinnamon-flavored treats are all around the city. Here are some of our top picks from BlendIn Coffee, Kilwin's, Coco Crepes and more!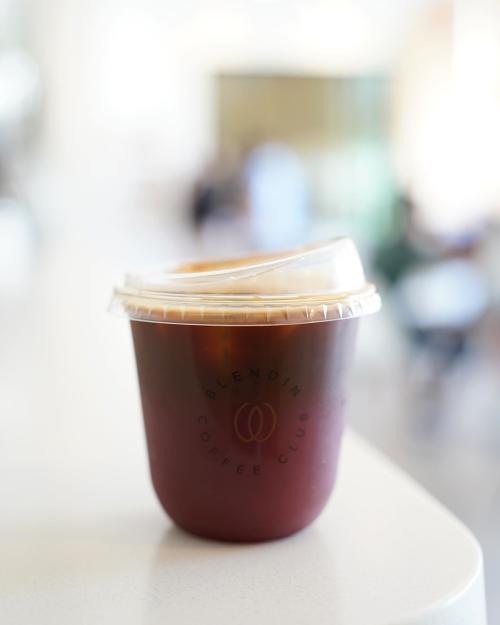 Iced coffee is the perfect choice for a hot fall in Texas! Photo: @blendincoffeeclub 
The Phoenix and Blendin Coffee Club 
---
Blendin Coffee Club is the perfect spot for a coffee aficionado who wants to explore different varieties of flavors and blends. For fall, get their seasonal iced coffee called The Phoenix that consists of blood orange juice, cinnamon, clove, and star anise topped with a double shot of espresso.
Find more of our favorite coffee shops here.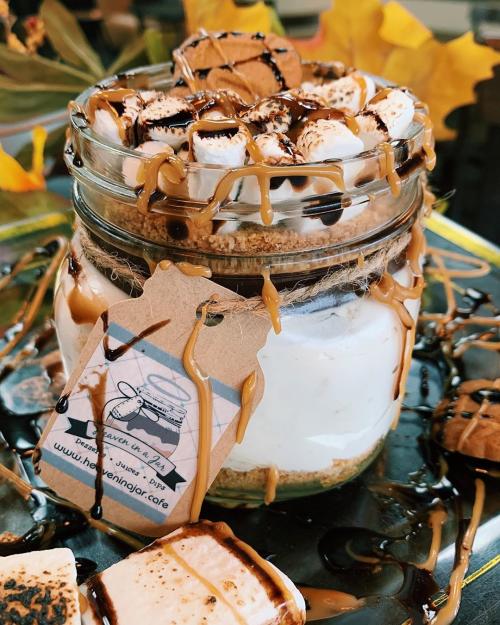 Yum. Photo Courtesy @nkmedeats
Salted Caramel Pudding at Heaven in a Jar
---
Heaven in Jar serves exactly what their name says: glimpses of heaven packed in their signature layered jar desserts. With over 15 options ranging from Espresso to Strawberry, every variation is sure to delight! And especially for the fall season, they've brought back their most requested flavor: The Salted Caramel Pudding– a perfect mix of sweet and salty that hits all the right notes.
"The Perfect" Caramel Apple. Photo: @kilwinsslts
Halloween & Pumpkin Delicacies at Kilwin's
---
Head to Sugar Land Town Square to enjoy premium ice cream with some 'ol town charm. Boasting 32 "Original Recipe" flavors, Kilwin's is the best place for year-round ice cream lovers.
Top fall favorite ice creams include:
Apple Pie Rich: vanilla-flavored ice cream with a hint of cinnamon, swirls of caramel, baked apples with sugared pie crust pieces
Pumpkin Ice Cream Rich: a pumpkin ice cream with spices and sugared pie crust pieces
Pumpkin Walnut Fudge: a pumpkin ice cream with warm, decadent chocolate and crunchy walnuts
Other non-ice cream delicacies items to consider are their Halloween-Themed Chocolate Mesh Bags and their signature "The Perfect" Caramel Apple: a fresh & crisp Granny Smith apple, hand-dipped in their Original Recipe smooth & creamy caramel.
For more of our top-recommended ice cream shops in Sugar Land, click here.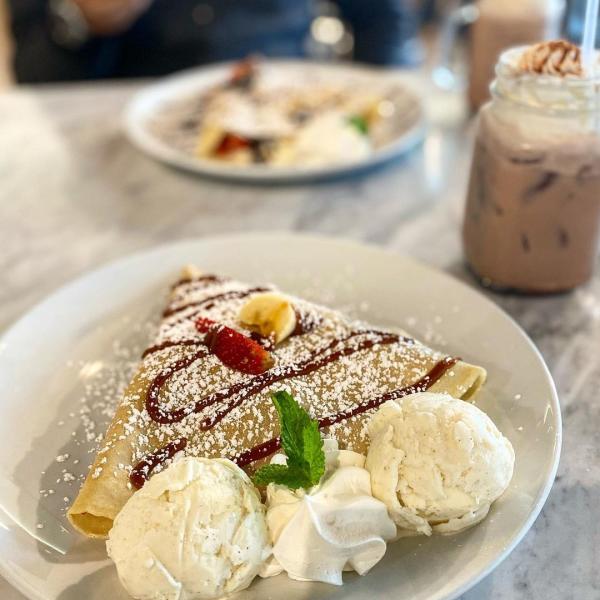 Dulcé de leché Crépe with bananas and strawberries
Seasonal Tiramisu Crepe at Sweet Paris
---
Sweet Paris is the perfect spot for enjoying a meal or dessert in the fall because of its wide selection of savory and sweet crepes, breakfast and brunch options, coffees, outdoor patio seating and now their seasonal Tiramisu crepe!
Order their Tiramisu crepe which consists of a shot of espresso, cream cheese, mascarpone, and vanilla extract and is running from September to October.
Another item on their menu suitable for fall is the Apple Cinnamon Creme Brulee Crepe that comes with torched vanilla cream with caramelized apples, dulce de leche and cinnamon.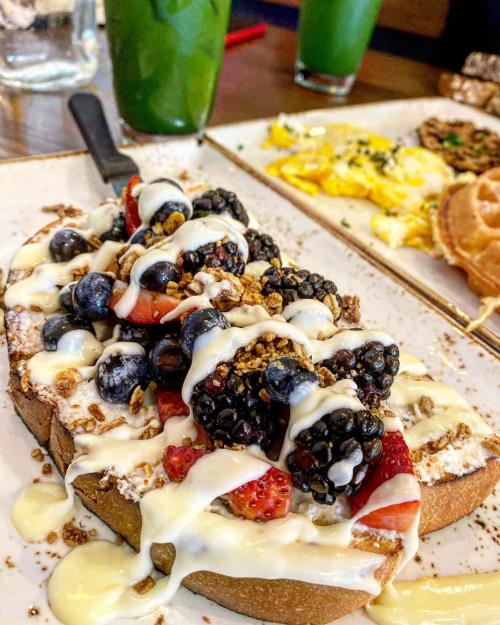 Indulge in First Watch's fresh seasonal items. Photo: @tasteofhouston
First Watch
---
This American restaurant chain specializes in breakfast and brunch menu items and has some delicious fall-inspired items to please you with! We recommend going to First Watch on an empty stomach because you're in for a treat:
Start your brunch with their Pumpkin Pancake Breakfast which comes with two eggs cooked any style accompanied by their signature spiced Pumpkin Pancakes and a grilled, juicy chicken sausage patty. Pair this main with their refreshing Pomegranate Pear Punch.
If you prefer something on the lighter, and healthier side, order their vegetarian Butternut Squash Bisque: a rich and creamy butternut squash soup sweetened with carrot and nutmeg and garnished with all-natural sour cream and fresh herbs.
End your feast with their decked-out Caramel Crunch Cinnamon Roll topped with cream cheese icing, brown sugar caramel sauce, Cinnamon Toast Crunch cereal and cinnamon streusel.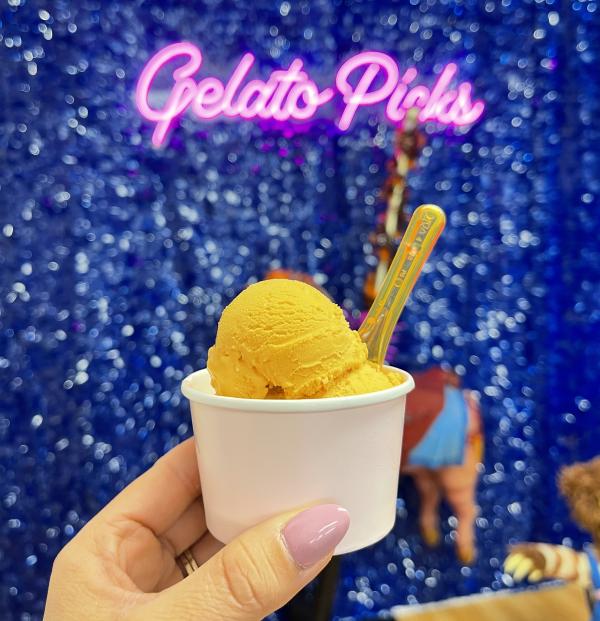 Tastes just like a slice of Pumpkin Pie!
Pumpkin Spice Gelato at Gelato Picks
---
Step inside this European-inspired gelato shop and savor freshly-made concoctions made with the finest ingredients. With a slew of rotating flavors every week, Gelato Picks is currently featuring a fall favorite for a limited time: Pumpkin Spice gelato. Lose yourself in this creamy fusion of cinnamon and clove which tastes just like a slice of Thanksgiving pumpkin pie.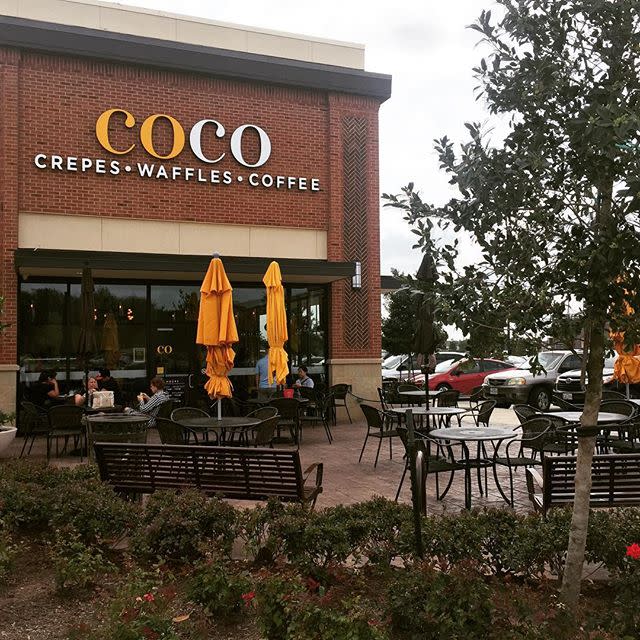 The perfect fall vibes.
Pumpkin Spice Coffee at Coco Crepes
---
Fall is truly incomplete without Coco Crepes' Pumpkin Spice Latte. Made with real pumpkins and a super-hit among customers, this seasonal item will launch in October and is a must-try. Open seven days a week from early in the morning to fairly late at night, you can count on Coco's to satisfy all your cravings this season.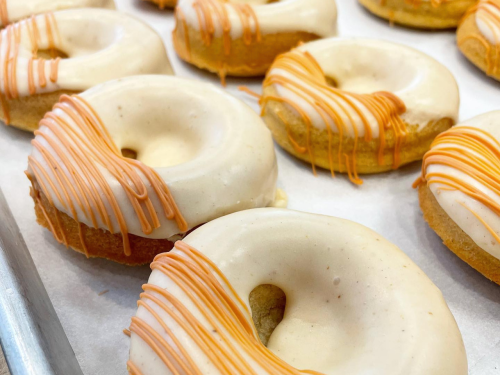 The pumpkin spice mochi donut at The Sweet Boutique.
Pumpkin Spice Treats at The Sweet Boutique
---
While strolling through Sugar Land Town Square pass by The Sweet Boutique and delight in the variety of freshly-baked treats in store like scrumptious cookies, multi-flavored cupcakes, mochi donuts and their creatively crafted cake pops. Taste the warmth, spice and nutty flavors of autumn in their pumpkin spice mochi donuts, cupcakes and macarons available for a limited time.
For more places where you can get crepes and sweets, click here.
For more food adventures, check out the restaurant listings page on our website where you can filter by cuisine, location, and amenities and don't forget to snap a pic with your fall fit and seasonal pick and tag us @VisitSugarLand!
---
Make sure to follow us on Facebook, Twitter, and Instagram for all the latest news on things happening in Sugar Land. Our handle is @VisitSugarLand. Tag us in your posts and share your experience: #VisitSugarLandTX, #SweeterInSL. For more information, contact us at 281.275.2045 or tourism@sugarlandtx.gov