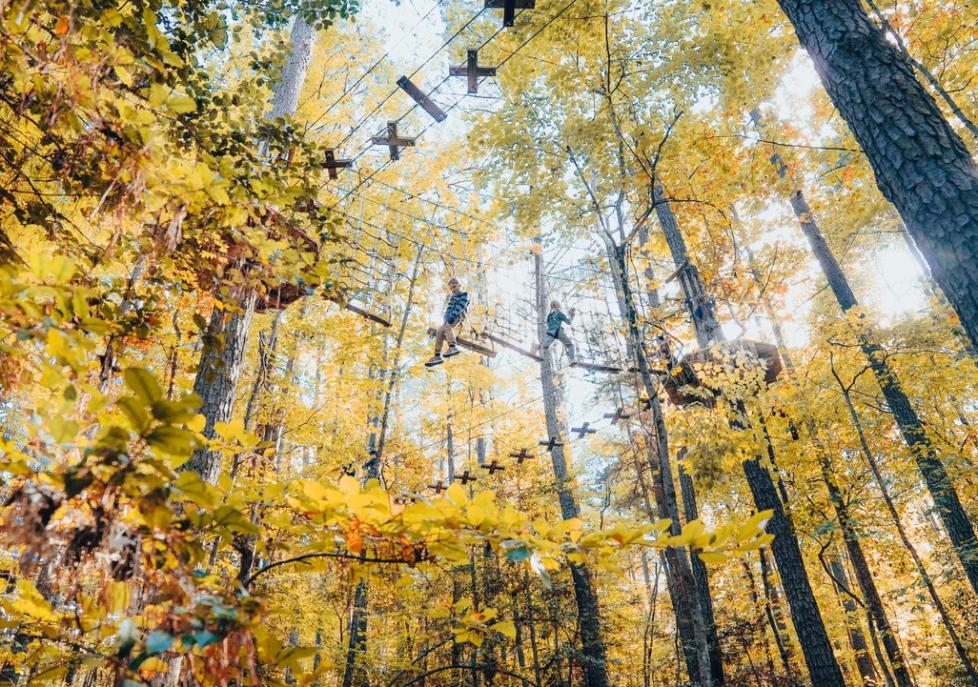 Explore the treetops at Brazos River Park with Sugar Land's new attraction: Go Ape Zipline & Adventure Park! Photo: Go Ape
Spring into the new season with exciting activities around the city! Get the chance to view some of the best artists in the country perform live at the Smart Financial Centre, watch historic baseball firsts at the Constellation Field, and enjoy the outdoors at the Kite Festival.
---
---
The Smart Financial Centre is the region's first state-of-the-art entertainment facility and has duly earned its title as the #1 Hottest Music Venue of Houston by the Houston Press. For March, the venue is hosting three comedy tours and two Latin musical legends for your entertainment!
Rodney Carrington on Tour
---
Wear your best Western attire and get ready to laugh your socks off as one of America's most popular comedians, Rodney Carrington, gives you a phenomenal comedy show with a country music twist! With signature songs like "Just One Beer," "Wish She Would Have Left Quicker" and "Put Your Clothes Back On," he proves that some jokes just go better when combined with the swagger of a country tune! BUY TICKETS NOW!
Event Details: March 3 at 7:00 P.M.
Eddie B
---
Buckle down for a hilarious night of comedic excellence as Houston native Eddie B sheds light on the woes of teachers in his Teacher Only Comedy Tour! With a track record of selling out major arenas within minutes, this event is one you simply cannot miss! As one reviewer writes, "Eddie B was absolutely the best ever! He has a gift. Cannot wait for him to come back! Best show ever!" SNAG TICKETS BEFORE THEY SELL OUT!
Event Details: March 13 at 8:00 P.M.
Druski: Coulda, Woulda, Shoulda Tour
---
Your favorite social media entertainer is now coming to perform live for his first-ever, headlining comedy tour, Coulda, Woulda, Shoulda. Druski's viral videos have amassed millions of views across popular social media channels and have been loved and followed by the likes of Drake who reportedly messaged Druski on Instagram saying, "Yo, this is my favorite page. You're literally one of the funniest dudes on the internet." BOOK YOUR TICKETS TODAY
Event Details: March 18 at 8:00 P.M
Melendi
---
Don't miss this chance to listen to the country's most listened to Spanish artist on Spotify live! Blending Cuban rhythms and urban beats with flamenco, and international pop-rock, Melendi will blow you away with his unique tunes and mesmerizing vocals. RESERVE YOUR SEATS NOW!
Event Details: March 4 at 8:00 P.M.
Marco Antonio Solis
---
For a romantic evening with your significant other, head to the Smart Financial Centre to listen to Marco Antonio Solis' pop love songs that are all the rage throughout Latin America. GET YOUR TICKETS FAST.
Event Details: March 17 at 8:00 P.M.
---

The Savannah Bananas are known for their viral TikTok videos featuring choreography on the baseball field! Photo: The Savannah Bananas
---
---
---
Witness a historical first for the Astros as they play their first game in Sugar Land! Sit on the edge of your seats as you watch them battle it out against the Sugar Land Space Cowboys in an intense game of baseball.
Event Details: March 27 at 7:00 P.M.
---
Get your party pants on for a crazy game of baseball with the World Famous Baseball Circus Savannah Bananas and they throw it down with the Party Animals!
Enter our VIB Meet-and-Greet and game ticket giveaway to the Savannah Bananas games March 16 - March 18!
---
Going Bananas Mural Unveiling
---
Join us for the unveiling of a unique "Going Bananas" pavement art mural by local artist Shelbi Nicole next to Starbucks at Sugar Land Town Square.
Going Bananas Activities Include: 
Banana Scavenger hunt for your chance to win tickets to top destination attractions in Sugar Land! 

Meet and greet opportunity to meet the Savannah Bananas!

Photo opportunities with special guests!
Event Details: March 16 at 11:00 a.m.
---
Going Bananas Scavenger Hunt
---
Look for the Visit Sugar Land team at Sugar Land Town Square on March 16 at 10:30 a.m. and sign up to look for bananas hidden around Town Square!

Find the bananas and bring them back to us to win prizes like tickets to Space Cowboys games, gift cards to your favorite restaurants, tickets to Smart Financial Centre and more! Will we see you there!?
Event Details:
Sign up at 10:30 a.m.

Scavenger Hunt begins at 11:30 a.m.

All bananas are hidden at Sugar Land Town Square!

Prizes include tickets to Constellation Field, Smart Financial Centre and gift cards to your fave spots around Sugar Land!

You must sign up at our table to be eligible to win the prizes. 
---
---
Stop by the heart of the city at Sugar Land Town Square from March 13 through March 17 from 11:30 a.m. - 1:30 p.m. to enjoy this lineup:​
---
---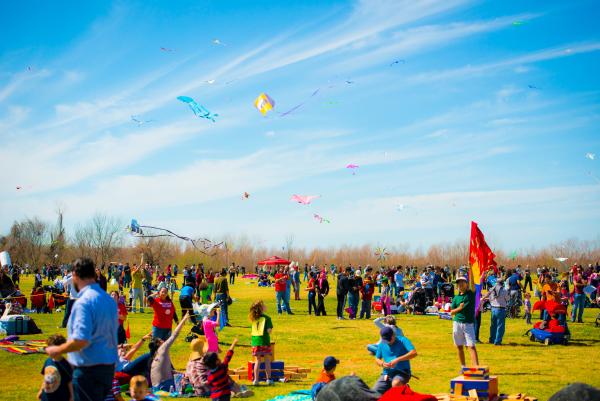 Show off your kite-flying skills at this family-friendly event!
Go Ape Zipline & Adventure Park 
---
Have you ever dreamt of ziplining through the treetops at Brazos River Park like Superman? Besides promising adrenaline-filled canopy adventures, you can also partake in obstacle courses or an axe-throwing competition. This new attraction promises fun for the whole family and the perfect setting for team-building activities. The park will be open with a selection of aerial crossings, fun ziplines and a massive Tarzan swing. Book your experience now!
Event details: March 11 from 9:00 a.m. - 3:00 p.m.
Pump Track Grand Opening
---
Are you a biking enthusiast? If you've already explored the Brazos River Park's mountain bike trails then you'll be pumped about this new addition next door! The new pump track features a 22,426 square-foot area with a beginner track and a larger for a more advanced track to accommodate users of all skill levels.
Event details: March 22 - More details coming soon!
---
Celebrate the culture and community through art, music, dancing, and food at the Sugar Land's International Art & Kite Festival. Show off your kite flying and artistic skills for prizes, enjoy vivacious cultural performances and art car showings as you try different traditional foods at the event!
Event Details: March 25 from 10:00 A.M. to 3:00 P.M. 
---
---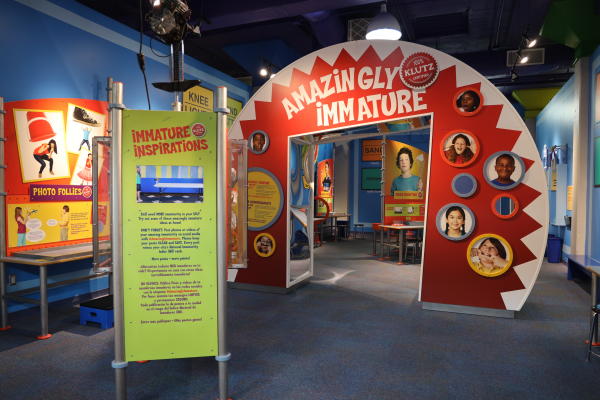 Explore all the exhibits at the Fort Bend Children's Discovery Center.
Spring Break Destination Celebration March 11-18
---
Set sail on a voyage of discovery at the Fort Bend Children's Discovery Center! Celebrate every day of Spring Break with exciting adventures for the whole family! Be blown away with a magic show, use a balloon and air molecules to power a car, catch amazing juggling feats by juggler Noah, and train to be a superhero with PJ Masks!
Please note that these are only some of the many events happening in Sugar Land. If you're up for more fun, check out our entire March calendar here!
---
Make sure to follow us on Facebook, Twitter, and Instagram for all the latest news on things happening in Sugar Land. Our handle is @VisitSugarLand. Tag us in your posts and share your experience: #VisitSugarLandTX, #SweeterInSugarLand. For more information, contact us at (281) 275-2045 or tourism@sugarlandtx.gov.
---