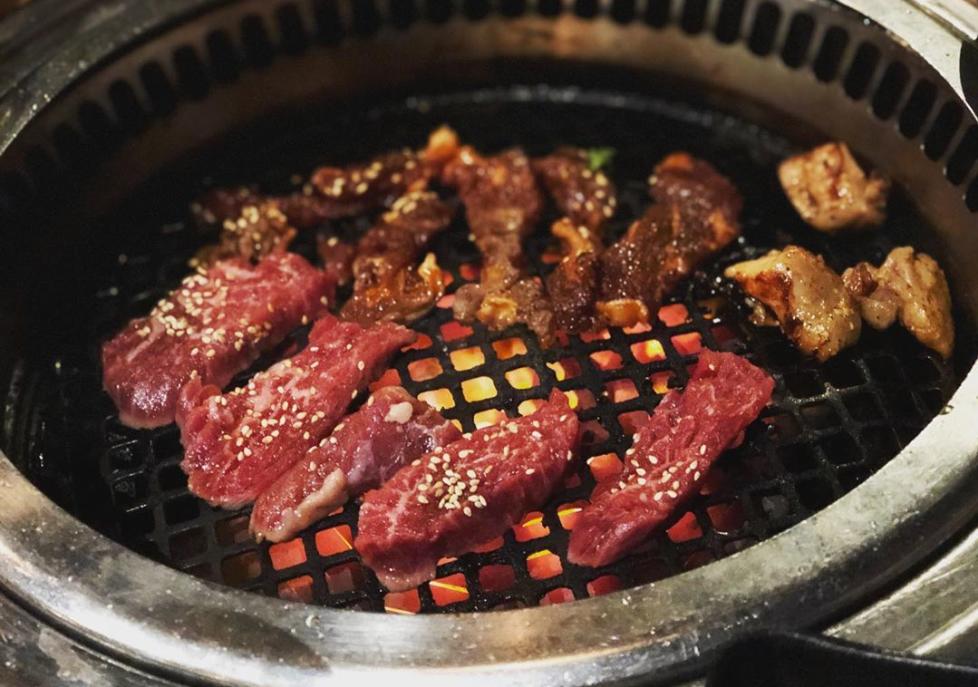 With almost 350 restaurants in Sugar Land, the last thing we want is for you to waste your precious summer hours trying to find the perfect place to eat. That's why we've compiled a list of Sugar Land's must-try restaurants!
What's a Texan summer without some Texan food? This long-running American joint screams Texas with every brightly-decorated corner. Featuring scratch-made American classics with hearty portions to satisfy your appetite and an amusement-y style ambiance, WIllie's Grill & Ice House is a great place to go with your family and especially your kids! Order their falling-off-the-bone tender Baby Back Ribs or their crispy and juicy Country Fried Steak with delicious gravy for a real taste of Texas! Though the portions are Texas-size and will fill you up real quick, you'll find yourself coming back for more!
---
Sushi Rolls that rock your world. Photo Courtesy @takarasugarland
This restaurant takes 'eating with your eyes' seriously. Serving picture-perfect platters immaculately lined with colorful pieces of sushi, Takara will truly make your Instagram pop and your heart sing. Treat yourself to a fine dining experience as you Indulge in Japanese delicacies in an upscale setting with a serene lake view. Specialties include seafood dishes like The truffle-infused salmon & escolar and the Takara Ahi Tartar which is a Hawaiian Ahi tuna & lime-infused fresh avocado in a truffle-ginger balsamic essence. Other sections on their expansive menu include a variety of unique Japanese salads and soups, appetizers, dinner features, lunch features as well as sushi, maki, and nigiri sections.
---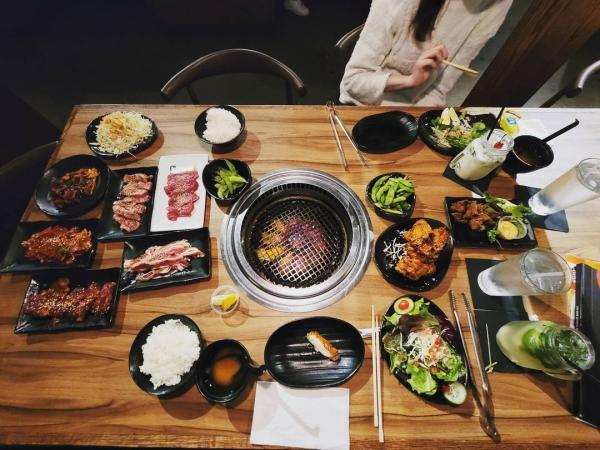 A cooking experience with a table full of meats Photo Courtesy @crystalcellur
When you're hungry and want something fun to do with your friends and family, head over to Gyu-Kaku Japanese BBQ and experience a shared cultural dining experience like no other! Put on your chef hat and become the cook as their servers bring the grill to you! Grill up the perfect Japanese BBQ under their guidance and then revel in the taste of your hard work and their premium meats while sipping on traditional Japanese drinks like Sake and Shochu. The Japanese name for "Horn of the Bull", Gyu-Kaku offers a wide range of meats including the bestseller Harami Skirt Steak in Miso Marinade and Certified Angus Kalbi Short Rib in Tare Soy Marinade.
---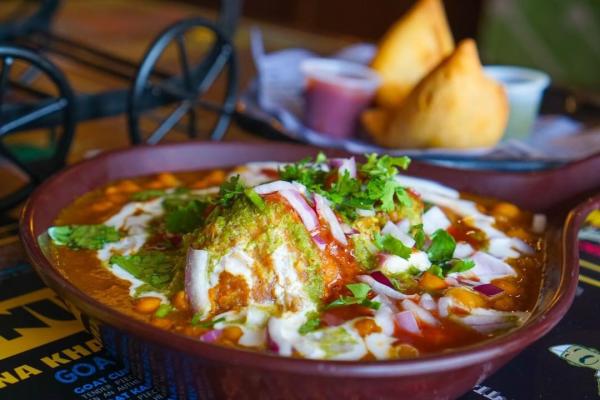 Samosa in a gravy of chickpeas. Photo Courtesy @nirmanzofficial
You don't need to book an expensive ticket and fly to India when you have Nirmanz Food Boutique in Sugar Land! Get a taste of authentic Indian street food like Pani Puri, Masala Dosa, and Chaat in a vibrant, Bollywood-themed setting and feel like you're in the city of Bombay itself. Owned and operated by Indian Hotel Management graduate Chef Nirman Shah, Nirmanz gives its customers authentic flavors with immaculate presentation and great customer service, making for a 10 out of 10 experience! Offering vegetarian, vegan, and Halal non-vegetarian options, there's really something for everyone. Customer favorites include a fusion dish called the Grilled Cheese Vada Pav which is a spicy potato patty oozing with cheese and the Raj Kachori – a crispy shell filled with sweet and spicy potato filling. Pair it with a refreshing Masala Lemon Soda to beat the summer heat.
---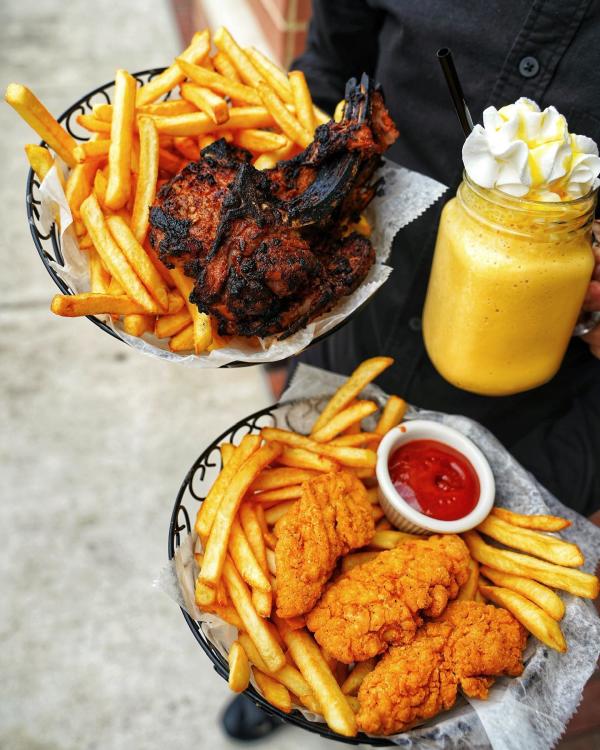 A meat lover's haven with food grilled to perfection. Photo Courtesy @bundukhanbbq
Bundu Khan is a family-owned business that has been all the buzz in the South Asian restaurant scene because of its secret, spicy, in-house marinade that makes for the best BBQ in town. Order the fork-tender Bihari botis with sweet and tangy tamarind chutney (AKA imli chutney) to make your tastebuds dance! Order any chicken dish on the menu with the surety it will be spiced to perfection, tender, and juicy! Pair your meat entrees with a traditional flatbread known as Paratha and a cool mango yogurt drink called Mango Lassi.   
To explore more of Sugar Land's restaurant options, check out the restaurant listings page on our website where you can filter by cuisine, location, and amenities.
---
Make sure to follow us on Facebook, Twitter, and Instagram for all the latest news on things happening in Sugar Land. Our handle is @VisitSugarLand. Tag us in your posts and share your experience: #VisitSugarLandTX, #SweeterInSugarLand. For more information, contact us at (281) 275-2045 or tourism@sugarlandtx.gov.
---