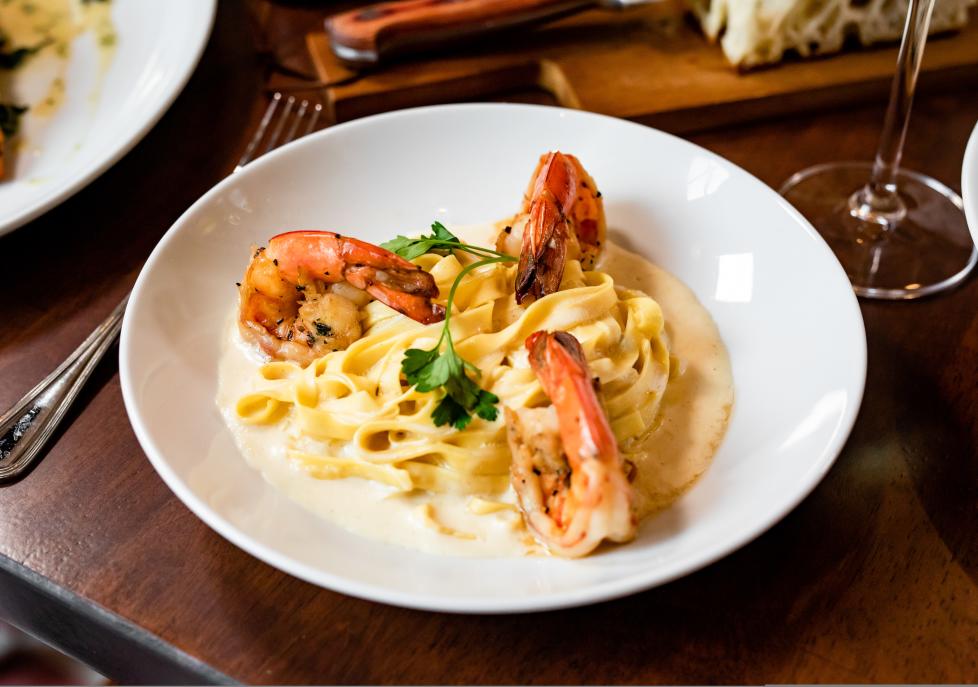 Sugar Land is nestled in the heart of one of the most ethnically diverse counties in the United States. Sugar Land boasts a global food scene that rivals' cities three times its size. Travel the world without having to get your passport stamped on and experience food that's bursting with intense flavors and alluring aromas.
Please note that we strive to post the most current and accurate restaurant information, but changes do happen. Check official restaurant websites to confirm all details before visiting local Sugar Land restaurants.
Steak & Seafood
---
Perry's Steakhouse and Grille: Feel like royalty as you dine amid a cozy and upscale atmosphere, sampling filets stuffed with lump crab meat, their famous pork chops, or grilled salmon that will excite your palate.  Make sure to save some room to sweeten up your taste buds with their various dessert options. Give the rocky road bread pudding to the dessert trio a try that will be a sublime treat to finishing off your delightful food experience.
The Rouxpour: Step into Bourbon street scene when you enter the world of this New Orleans-themed restaurant, complete with French Quarter-inspired decor and a 14-foot raw oyster bar. Delight in a blackened salmon or parmesan-crusted mahi-mahi topped with lump crab meat to chicken or pork topped with bayou sauce. Cap off the evening with a sensational dessert that always pleases such as the crème brulee.
Floyd's Cajun Seafood & Steakhouse: This restaurant fuses authentic Cajun flavors with a Texas kick! Indulge in the variety of Gulf coast inspired dishes like their crunchy Chicken Fried Catfish with Crawfish Bisque or the Blue Point Crab Platter. Savor classics like their crawfish étouffée and crowd favorite Creole pasta. Put it on your list next time you're looking for Louisiana fare in Sugar Land.
Asian Fare
---
Cooking Girl: Stop by this local eatery for authentic Sichuan cuisine. Their menu is peppered with all sorts of spicy dishes to tingle your taste buds from the Spicy Shrimp, Red Beef, and Dandan Noodle. Make sure to bring your appetite and a group of friends because the food here is served family-style.
Pho Shack: Soup is great for any type of weather, especially broth that's been simmering for about 14 hours. Step inside for a taste of their signature full-bodied broth complete with vermicelli noodles and your choice of meats. If pho isn't your cup of tea, try one of the restaurant's Bahn mi sandwiches or chargrilled offerings.
Udipi Cafe: Calling out all Vegetarians! Udipi Café is a vegetarian restaurant and a good place to sample a taste of the rich history and culture of India. Feast on these Indian flavors that are made and prepared with the freshest and most aromatic ingredients. Try a dosa, an Indian staple dish that's a type of pancake that is served hot along with a stuffing of potatoes, chutney, or sambar. This is a vegetarian dream come true.
Alings: Sugar Land is not only known for being the "Sweetest City in Texas" but also features a variety of diverse cuisines for the wildly adventurous foodie. If you are up for exploring an Indo-Chinese fusion, you must try Alings a local favorite. Alings showcases the delectable cuisine that emerged from Chinese immigrants as they moved across India. A highly recommended dish to start your food adventure is their Bombay Basil Chicken blended with Indian ingredients. If you're a vegetarian you are in for a treat when you try a sampling of one of their many vegetarian options like Paneer 88, fresh cheese tossed with onions, bell peppers, garlic, and cilantro.
Jang Geum Tofu & BBQ: Is the perfect destination for delicious Korean cuisine. Experience the taste of Korea in the "Sweetest City in Texas" and guzzle on some of their staple dishes such as their kimchi, bulgogi, tofu soups, Korean pancakes, barbeque, bibimbap, and more. Be dazzled by their sizzling table-side dishes and prepare for a flavor explosion once you dig in.
Jade Garden Chinese Cuisine: The spot for dim sum every day in Sugar Land! Their menu boasts fresh seafood and authentic Chinese cuisine. The siu mai, steamed shrimp dumplings, rice sheet rolls, and sesame balls are a definite "must-try."
Poke Burri | Lifting Noodles and Ramen: This spot specializes in Asian fusion eats like their signature sushi donuts (try their vegan version), build-your-own poke bowls, Korean-fried chicken and spicy ramen. Sit in their patio facing Lake Pointe while you enjoy their Instagram-worthy Dragonfruit Lemonade and new sushi pizza.
Nirmanz Food Boutique: This Bollywood-themed restaurant fuses Chef Nirmanz's love for movies and traditional Indian food. Dishes include Chicken Tikka Masala, Butter Chicken, Chilli Paneer, Garlic Naan and more.
Mahesh's Kitchen: Enjoy modern Indian cuisine in their award-winning dining room at Sugar Land Town Square. choose from their varied menu of home-style dishes, secret family recipes and authentic staples. Delight in their Puri Puri and Avocado Behl appetizers or their Gulf Dynamite Shrimp if you're craving something spicy. Their extensive menu will tempt you to try many dishes and share.
Mediterranean
---
Fadi's Mediterranean Grill: Fadi's buffet gives you a wide range of dips, fresh salads, rice, and vegetables to choose from. Get in line and load your plate with tabbouleh, different types of hummus, falafels, and a shawarma. Don't skip out on dessert, especially when you have choices like their classic baklava, flan, and Turkish tea.
New American
---
Jupiter Pizza & Waffle Co.: The name says it all. Jupiter specializes in traditional and eclectically-styled pizzas, as well as sweet and savory waffles. Try their Angry Rooster Pizza, a pie filled to the brim with mozzarella cheese, house-made pulled pork, caramelized onions, fresh jalapenos, and a yard egg topped with BBQ sauce and cilantro. If you're feeling a bit more adventurous try their Southern Belle, crispy-fried chicken served over a Belgian waffle topped with maple cream.
B.B. Italia Bistro and Bar: The family-owned restaurant at Sugar Land Town Square promises a fresh take on Italian-American food. Try their homemade focaccia with whipped ricotta, their charcuterie and cheese boards for sharing or delight in their family-style entrees like their Sunday Ragu. End it on a sweet note and visit their gelato case to choose anything from vanilla to Sicilian lemon or go classic with a slice of Tiramisu. Check their schedule and enjoy the lively piano tunes during your dinner service.
---
Make sure to follow us on Facebook, Twitter, and Instagram for all the latest news on things happening in Sugar Land. Our handle is @VisitSugarLand. Tag us in your posts and share your experience: #VisitSugarLandTX, #SweeterInSugarLand. For more information, contact us at (281) 275-2045 or tourism@sugarlandtx.gov.
---