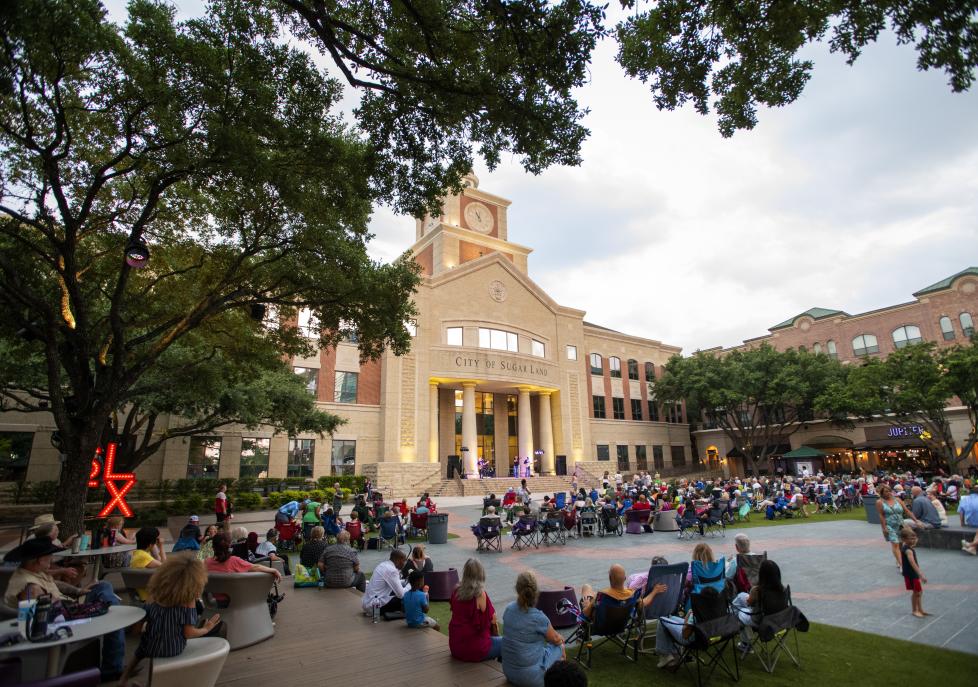 Enjoy Sugar Land Town Square's live entertainment during the month of July.
Get ready for an exciting month of activities and events! Here are our top picks:
---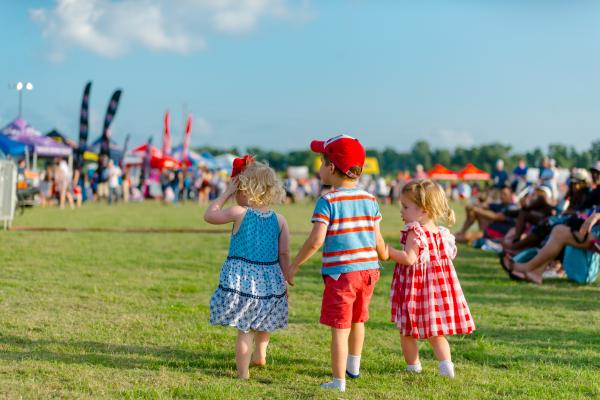 The family-friendly event has live entertainment, food vendors, kids' activities and more!
Get ready to dress in blue, red, and white and celebrate the 4th of July Texan style at Sugar Land's Red White and Boom event! 
---

The Smart Financial Centre at Sugar Land lights up with the colors of the American flag during July.
Rupaul's Drag Race
---
Brace yourself for an electrifying experience where the boundary-breaking talents of Asia O'Hara, Bosco, DeJa Skye, Lady Camden, Rosé, Laganja Estranja, and the captivating duo Mistress Isabelle Brooks and Sasha Colby from Season 15 find themselves unwittingly ensnared in the mesmerizing Netwerq. Get ready to break free from the constraints of reality and immerse yourself in the extraordinary this summer at the magnificent stage of the world's greatest drag extravaganza. Unleashed by the visionary collaboration of Voss Events, World of Wonder, and MTV, this event promises to ignite your senses and leave an indelible mark on your soul.
Date: July 2
Time: 8:00 PM
Price: $57.00 - $143.00
---
Get ready for an electrifying summer as the sensational singer-songwriter Jackson Browne sets the stage ablaze with his highly anticipated 2023 tour! Prepare to be captivated as he takes you on a thrilling musical journey, delivering a powerhouse performance featuring timeless hits that span his illustrious career. This is your chance to witness the magic of Jackson Browne live, an experience that will resonate in your heart long after the final note fades away.
Date: July 21
Time: 8:00 P.M.
Price:  $72 - $367
Harry Potter and Sorcerer's Stone in Concert
---
Prepare to be transported back to where the enchantment began, as you relive the extraordinary tale that sparked a worldwide phenomenon! Let the Houston Symphony sweep you away with their mesmerizing performance of John Williams's unforgettable score, elevating the magic to unparalleled heights. Join Harry, Ron, Hermione, and a captivating cast of beloved characters as they make a triumphant return to the silver screen, reigniting the hearts of fans across the globe. This is a singular event that must not be missed—a once-in-a-lifetime opportunity to be enchanted all over again.
Date: July 22
Time: 7:30 P.M.
Price: $63 - $170
---
Get hands-on with history this summer at the George Ranch Historical Park with their GRITS team!  These special hands-on experiences will rotate on a weekly basis all summer long.
July 5 – July 8: Rope Making at the 1830s
July 11 – July 15: Fan Making & Fan Language at the 1860s
July 18 – July 22: Rag Dolls at the 1890s
July 25 – July 29: Flip Book Animation at the 1930s
Saturday Stargazing at Brazos Bend State Park
---
Instead of staying home and watching Netflix on Saturdays, go out and explore the galaxy! Enjoy the wonders of the universe with the Houston Museum of Natural Science's new stargazing experience at the historic George Observatory at Brazos Bend State Park.
Take constellation laser tours and follow amateur astronomers as they guide you on your journey through the heavens, whether you are looking at night sky constellations, planets in our solar system or deep sky objects out in space.
---
Movies Under the Moon – The Lego Movie
---
Under the twinkling night sky, immerse yourself in the captivating world of The Lego Movie, where laughter, action, and sheer brick-building excitement await. Let your inner child come alive as you laugh, cheer, and witness the magic of this beloved animated masterpiece unfold before your eyes!
Date: July 8
Time: 7:00 P.M. to 9:00 P.M.
---
Prepare to be swept away by the ultimate homage to music royalty at an awe-inspiring tribute concert honoring the one and only Mariah Carey! Brace yourself for a night of dazzling performances, mesmerizing vocals, and unforgettable hits that will leave you breathless and yearning for more! Featuring the extraordinary talent of Jass Meagher, widely acclaimed as the World's Best Mariah Carey Tribute, this remarkable event will transport you to a realm of musical brilliance. Get ready to immerse yourself in a night of pure magic, where the spirit of Mariah Carey comes alive and your passion for her timeless music is reignited. Don't miss this remarkable evening—it will leave an indelible mark on your soul!
Date: July 14
Time: 7:30 P.M. to 9:30 P.M.
NOLA Nights ft. Zydeco Joseph & The H-Town Players
---
Prepare to be transported to the vibrant streets of New Orleans, where the pulse of the city comes alive in an exhilarating concert experience like no other! Immerse yourself in the irresistible rhythm as the world-renowned Hustlers Brass Band commands the stage, infusing the air with their soulful melodies and infectious energy.
Date: July 21
Time: 7:30 P.M. to 9:30 P.M.
---
Gather your group of friends and experience the immersive magic of Department of Wonder! As you enter this extended experience crafted only for adults 21+, you'll be greeted with a Pixi Punch and given instructions on the journey you're about to embark. Harness the light with your lantern and collect the clues along the way with the help of amusing characters in this fanastic realm. Don't step into the darkness or you risk the fate of you and your friends! 
Dates: Every Friday and Saturday
Check out more summer activities here!
---
Make sure to follow us on Facebook, Twitter, and Instagram for all the latest news on things happening in Sugar Land. Our handle is @VisitSugarLand. Tag us in your posts and share your experience: #VisitSugarLandTX, #SweeterInSugarLand. For more information, contact us at (281) 275-2045 or tourism@sugarlandtx.gov.
---