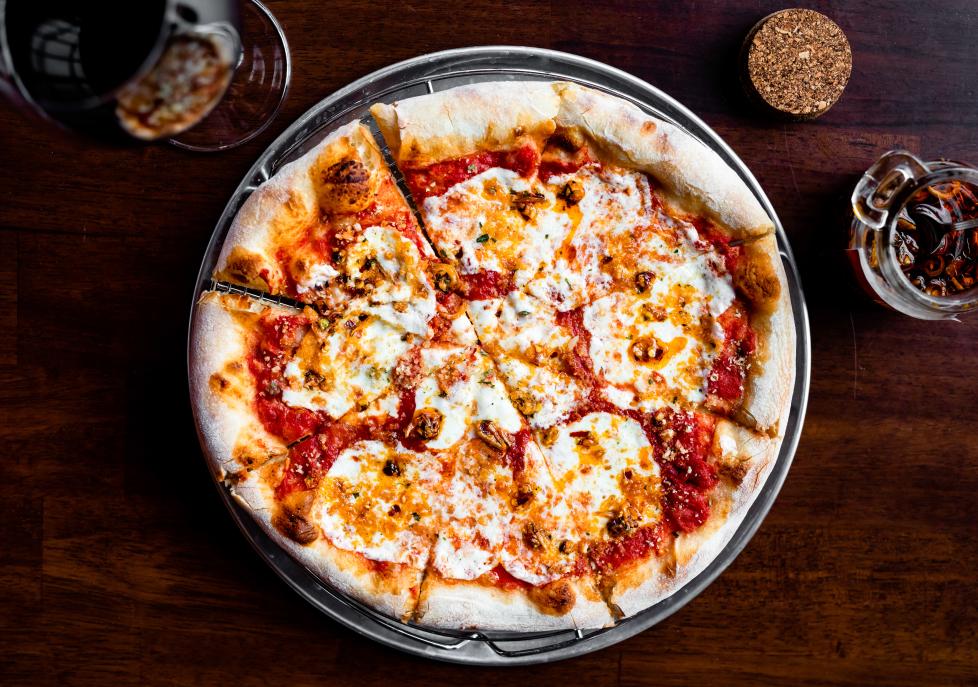 Try B.B. Italia's New York Style pizza at Sugar Land Town Square.
There's nothing quite like biting into a warm, cheesy pizza with the perfect crust. Just thinking about it makes you smile. So, if you're in need of a pizza fix, we've got you covered. Here are our top recommendations so that you can fully satisfy your next craving.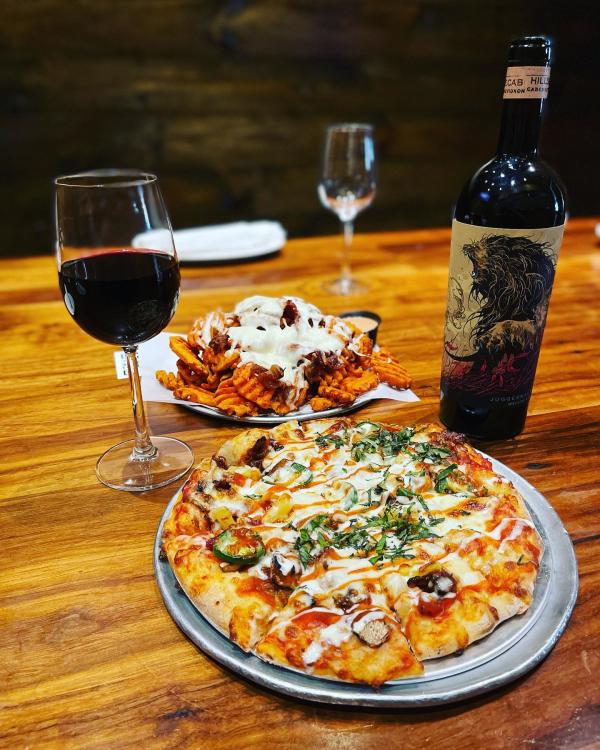 Dinner for two. Photo: @jupiterpizzawaffleco
Brought to you by the owner's of Japaneiro's and the popular GURU Burgers & Crepes, Jupiter's Pizza & Waffle is an excellent American eatery with gourmet pizzas. Located in the middle of Sugar Land Town Square, this restaurant has great indoor and outdoor seating options with views of The Plaza. Order from their selection of stone-baked sourdough pizzas like Wild Mushroom Pizza that comes with mozzarella and goat cheese or the Shaggy Dog which is topped with Japanese mayo and sriracha sauce! You can also get their delicious mini pizzas for only $8! 
---
This hidden gem has been around for more than 30 years serving authentic, fresh pizza straight out of the oven. Don't judge the restaurant by its quaint atmosphere and let the food speak for itself! Order their popular calzones made to perfection with a crisp outside and a warm, chewy, and cheesy inside or get adventurous with their unique pizza toppings like artichoke hearts, barbeque chicken, feta cheese, or shrimp. 
---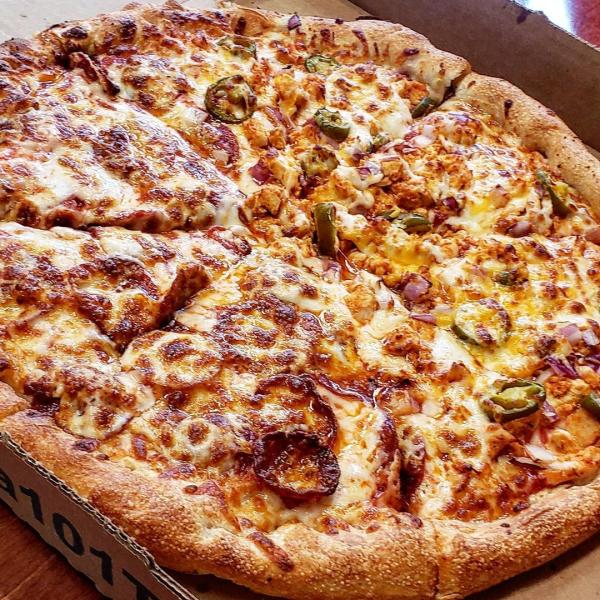 Fresh out of the oven. Photo: @kimsfoodbook 
Popular among the South Asian community, Pizza 101 offers a variety of halal pizzas that fuse Indian and Pakistani flavors with the essence of a great pizza. Popular choices among locals include their specialty pizzas like the Chicken Tikka, Gyro Boss and Kebab Madness. If you're not too adventurous, you can also create a traditional pizza and order from one of three size options. One of the restaurant's signature pizzas is the Pollo Pesto with pesto sauce, grilled chicken, basil, onions and parmesan cheese. 
---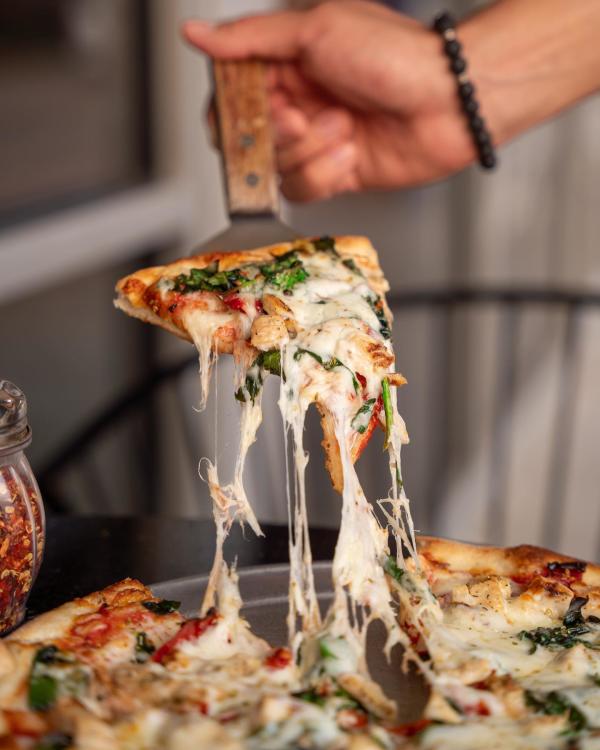 Russo's cheesy spinach sun-dried tomato pizza. Photo: @muyyumhtx 
Get the best New York style pizza in town at Russo's! Russo's Pizzeria and Italian Kitchen are known for their calzones bursting with fillings and their enormous 28" pizzas made with fresh ingredients like ripe tomatoes and local vegetables. They also offer premium toppings like Gorgonzola Cheese, Prosciutto di Parma and Goat Cheese to elevate your New York style pizza experience. They offer free delivery and have two locations, one in Greatwood and one on Highway 6 in the Sugar Land area. 
---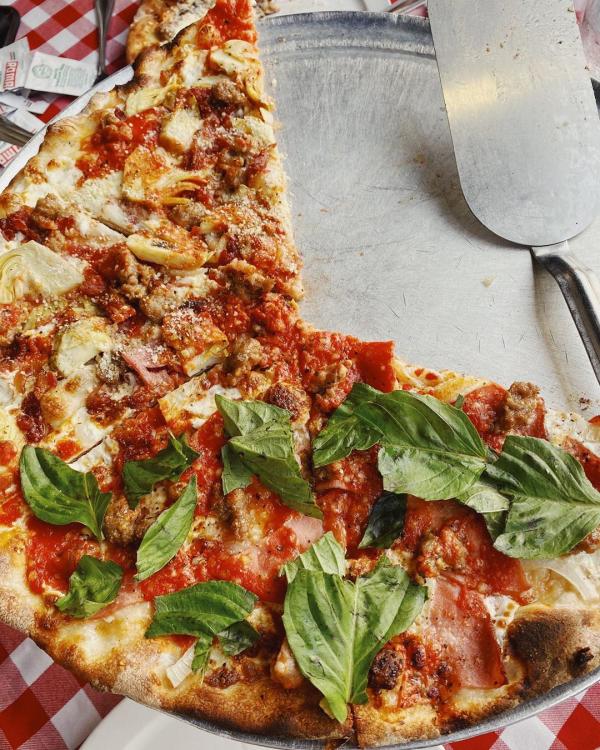 Grimaldi's pizza has a thin crust and bold toppings for the perfect bite! Photo: @feed_me_through_the_phone 
Thin pizza crust lovers rejoice! Grimaldi's Pizza is known for baking their pies in a coal-burning oven with toppings like pepperoni, meatballs and fresh sliced Roma tomatoes for the perfect crispy bite every time. Try any of their signature pizzas: Traditional Pizza with their Extra Famous Sauce, their house favorite Pepperoni Pizza or their Prosciutto Arugula pie with their suggested wine pairings. Don't sleep on their shareable House and Greek salads with their tasty vinaigrette dressing. 
---
If you're looking for a family-friendly pizza experience where everyone gets their own custom pizza creation for less than $10—you've found it! At Blaze you can choose one of their five made-from-scratch doughs ranging from classic to gluten-free and Keto. Sprinkle it with over 15 toppings and their sauce drizzles for an extra flavor kick like the BBQ Sauce Drizzle or Frank's Red Hot Drizzle. Best part: the pizza is out of the blazing oven in less than three minutes so your hungry family will be very satisfied!
---
Sit n B.B. Italia's modern interiors or enjoy a slice of their New York style pizza in their patio. You can taste the love in their house pizza dough that's both crispy and chewy with a base of bold San Marzano tomatoes and creamy mozzarella. If you like a spicy kick order the Hot Oil Pie made with their signature spicy oil, garlic and breadcrumbs and for a bite of freshness, try the Parma made with arugula, prosciutto and pecorino romano. The kids menu offers a choice of cheese or pepperoni pizza.
Don't forget to snap a pic with your pizza and tag us @VisitSugarLand 
---
Make sure to follow us on Facebook, Twitter, and Instagram for all the latest news on things happening in Sugar Land. Our handle is @VisitSugarLand. Tag us in your posts and share your experience: #VisitSugarLandTX, #SweeterInSugarLand. For more information, contact us at (281) 275-2045 or tourism@sugarlandtx.gov.