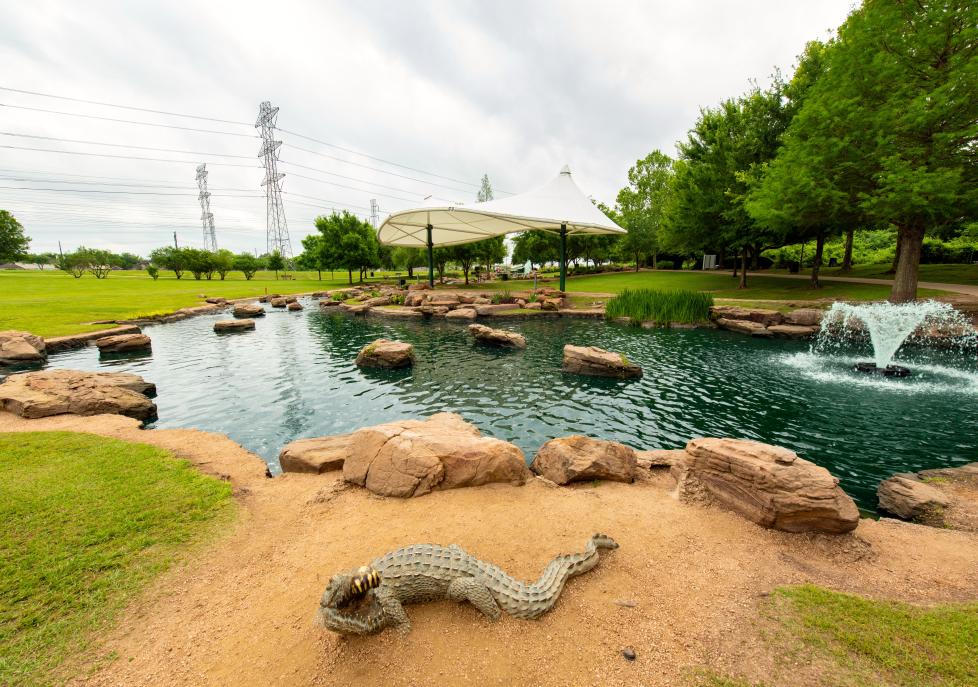 For our park enthusiasts Oyster Creek is one of the city's most scenic areas featuring an iconic rock-lined pond, water feature, and a bridge overlooking the creek. This local favorite encompasses just over 111 acres and a three-mile hike and bike trail.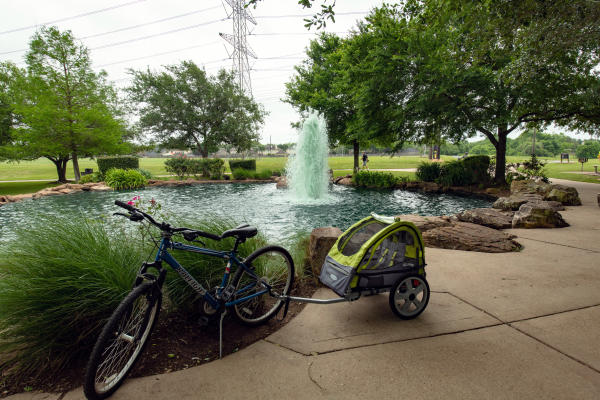 Hike and Bike the Trails
---
Load up your bike and get ready to cruise down Oyster Creek's three-mile trail. If you're not into biking, make sure to gear up with some comfortable shoes to go on a sweet walk.  You also have the option to try the smaller paths located in different areas of the park. This park is so spacious and has enough room for everyone to partake in their favorite outdoor activities.
CHECK OUT THE PARK MAP TO PLAN YOUR TRIP
Pro Tip: Be sure to wear all necessary safety equipment while hiking and biking on the trails. Be aware of other visitors exercising as well. In case of an emergency, there are call boxes placed along the trails for extra security.
Picnic in the Park
---
Another fun activity to do at Oyster Creek Park, is to have a picnic. Bring a blanket to lay out on the grass, along with your favorite snacks,  and have a delicious lunch in the park. There are picnic tables with grills available for your use as well. The park also has a large amphitheater next to the serene water feature that commands the view of the front part of the park. 
View Public Art
---
Located throughout Oyster Creek Park you'll immediately spot  public art for visitors to enjoy. The three pieces shown in the picture above are part of a collection called "Open the Door". As you make your way around the park you may spot a few more of these doors along the way. There are also several bronze statues which consist of kids playing in the park, and one of a grandmother with her granddaughter enjoying the day. If you love art and nature, Oyster Creek Park is a great place for you to visit.
VIEW SUGAR LAND'S PUBLIC ART MAP
Photographer's Playground
---
The beautiful scenery at Oyster Creek Park make it a great place for photos. Many visitors come to Oyster Creek Park to have their wedding, maternity, graduation, fashion, and many other photo shoots. On any given day you will find people all over the park capturing awesome photos. With the lush green trees and plants next to bodies of running water, Oyster Creek Park is the ultimate photographer's playground.
Pro Tip: Some of the best spots to capture photos around the park are on the large bridge that overlooks the park (as pictured above) and near the water garden (as seen in the top image). 
---
Make sure to follow us on Facebook, Twitter, and Instagram for all the latest news on things happening in Sugar Land. Our handle is @VisitSugarLand. Tag us in your posts and share your experience: #VisitSugarLandTX, #SweeterInSugarLand. For more information, contact us at (281) 275-2045 or tourism@sugarlandtx.gov.
---