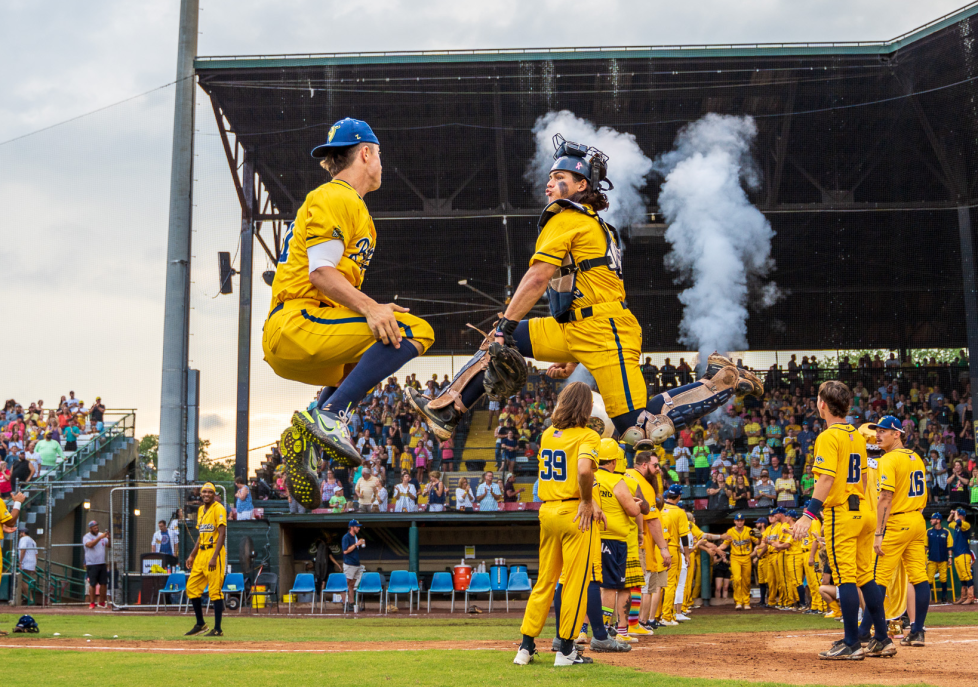 Ready for a breathtaking show full of tricks and choreography?
It's time to go bananas!
Savannah Bananas, the "World Famous Baseball Circus" featured on ESPN, Fox Sports and The New York Times, is going to 33 cities as part of their Banana Ball 2023 World Tour and has chosen Sugar Land as its only stop in Texas! 
Let us explain.
More about Savannah Bananas
---
Savannah Bananas is a baseball team like no other. They play a unique version of the sport called Banana Ball which involves a lot of choreographed dances to hits from legends like Michael Jackson and Britney Spears, legendary hitter walk ups with a pep band, and players in kilts.  
To complement the theatrics, Banana Ball involves a set of unique rules that helps facilitate the team's focus on entertainment and fast-paced style of play. 
For their showcase at the Constellation Field, they'll be playing the Party Animals- a team created by the Savannah Bananas so they can put up a great show and a great fight!
The Savannah Bananas and Party Animals have professional independent players including former Houston Astros outfielder Josh Reddick and other former Major Leaguers Jake Peavy, Jonathan Papelbon, Jonny Gomes, Bill Lee and Johnny Bench!
Enter our giveaway to win tickets to a VIB Meet and Greet with The Savannah Bananas!
---
Book your stay in Sugar Land, Texas
---
Don't miss out on this power-packed, crazy game of baseball and head over to Sugar Land for the weekend! Avail these Savannah Banana specials at the best hotels in Sugar Land!
---
Make sure to follow us on Facebook, Twitter, and Instagram for all the latest news on things happening in Sugar Land. Our handle is @VisitSugarLand. Tag us in your posts and share your experience: #VisitSugarLandTX, #SweeterInSugarLand. For more information, contact us at (281) 275-2045 or tourism@sugarlandtx.gov.