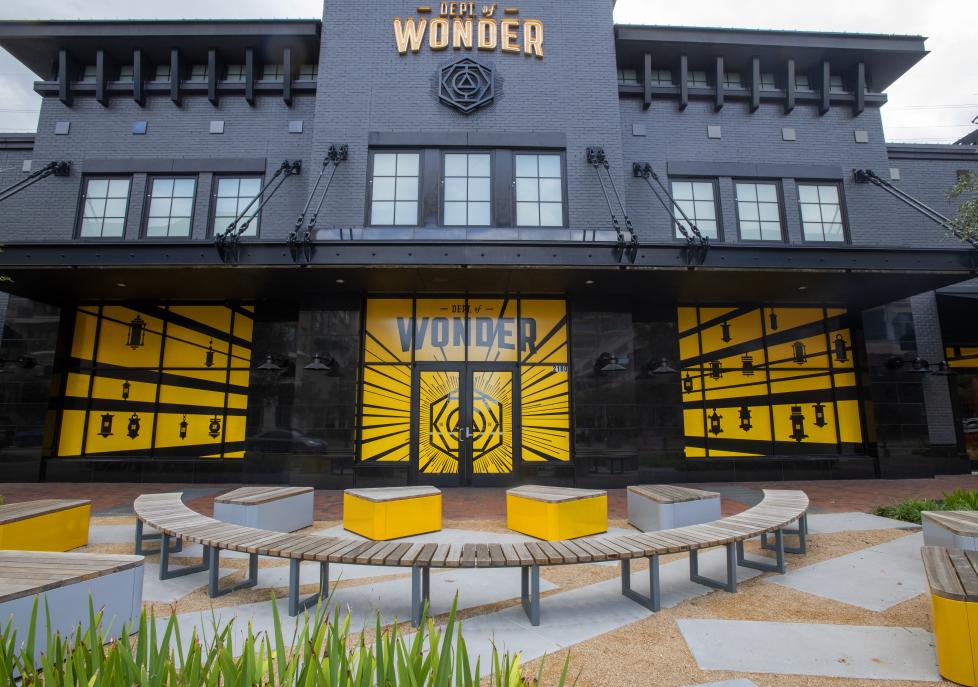 Explore an immersive world of magical beings at Department of Wonder!
23. Celebrate Mom's Night Out with Leanne Morgan's "Just Getting Started" Comedy Tour
The comedian's unique brand of comedy is grounded in her relatability and her no holds barred descriptions of motherhood, marriage and living with teens. This mother of three delivers every bit of her sweet Southern charm and by the end of the show, you'll wonder if she's been spying on you! Check out our top margarita spots before or after her show! Buy your tickets now! 
Event Details: November 16 at 7 P.M. at the Smart Financial Centre at Sugar Land
22. Fall in love with Autumn at the Sugar Land Fall Fest 2023
Welcome the fall season with Sugar Land's Fall Fest! Enjoy main stage performances and a variety of live music and cultural activities while you try food and beverage specials from Sugar Land Town Square's many restaurants.  
Event Details: Sep. 24 at Sugar Land Town Square
21. Get a glimpse of Germany at Sugar Land's Oktoberfest 
Who says you need to go to Germany to enjoy Oktoberfest when you can just go to Sugar Land Town Square? Enjoy authentic German food, beer, games and Bavarian music and dancing! Plus, tarot card readers, caricature artists, jugglers, stilt walkers and more special surprises!
Event Details: Early October 

A riveting cultural performance.
20. Honor Hispanic Heritage at the Día de los Muertos Altars Exhibit
This two-week display of altars created by local families will commemorate their beloved ancestors who lived in Sugar Land and contributed to its development.
Event Details: Early October at the Sugar Land Heritage Museum and Visitor Center
Brace yourselves for a captivating Hispanic experience at the Dia De Los Muertos Celebration. Watch Aztec dancers, traditional Mariachi and Ballet Folkloric performances, indulge in customary Hispanic cuisine, and learn more about the culture through historical displays and exhibits!  
Event Details: Late October at Sugar Land Town Square
18. Jingle away with Jingle Trees at HMNS at Sugar Land
View exquisitely decorated Christmas trees in a week-long showcase and get access to limited-capacity VIP Experiences with lots of fun surprises!  
Event Details: Early November at the Houston Museum of Natural Science at Sugar Land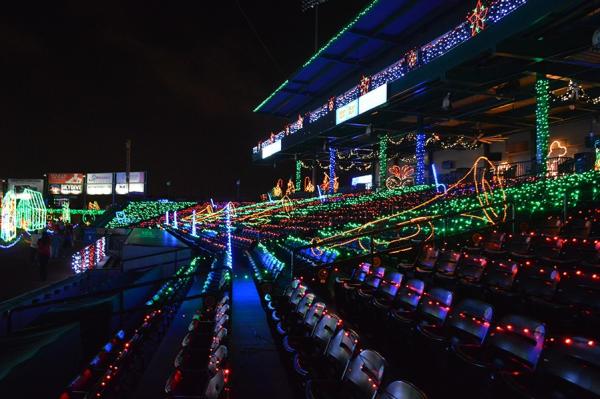 Lights as far as the eye can see.
17. Experience the Sugar Land Holiday Lights
Find your way through a wonderland of 100 walk-through displays and more than 3 million lights as you take in the holiday vibes counting down to Christmas and New Year's Eve.  
Event Details: Late November through early January at Constellation Field
16. Get festive at the Christmas Tree Lighting event
Enjoy live performances, snap photos with Santa, eat sweet treats, and countdown to the tree lighting with fireworks at Sugar Land's iconic Christmas Tree Lighting event with you and your loved ones to ring in the last month of the year!
Event Details: Early December at Sugar Land Town Square
15. Hit it out of the park with the Sugar Land Space Cowboys 
Don't miss a single pitch with a full-season membership for the 2023 season! 
Experience a one-of-a-kind, award-winning immersive, mixed-reality fantasy that blurs the boundaries between physical and digital reality. Choose your experience.
This 2-day festival will light up your creative spirit as you enjoy live music, a live mural, delicious food and drinks, and a showcase +100 visual artists from around the country.
Event Details: Apr. 1 to Apr. 2 at the Smart Financial Centre Plaza
12. Go on a tour of the night sky with the Starry Night Express 
Find stars, constellations, planets, the moon, the Milky Way band, and even learn about current astronomy events as you take a tour of the night sky with this live planetarium presentation at the Houston Museum of Natural Science at Sugar Land! Explore the Starry Night Express Event Calendar.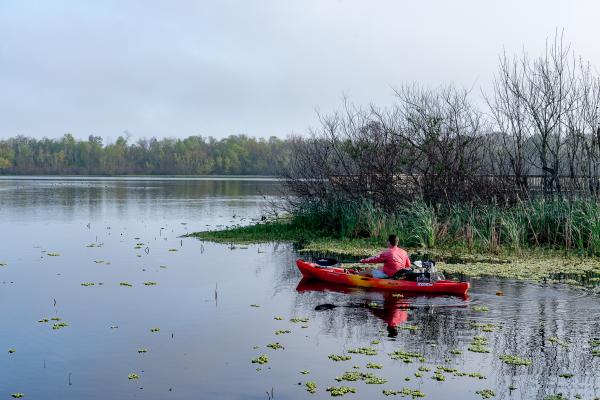 Motorboating. 
11. Explore the great outdoors at Cullinan Park.
10. Experience the best in music, food and black creativity at Honeyland Festival
The inaugural two day music festival celebrates Black culture, music, food and art. Curated by TV personality and celebrated chef Marc Samuelsson, the festival has released its all-star line up of performers and chefs!

Among the names of performers are GRAMMY-winning artists Mary J. Blige, Miguel and Jazmine Sullivan along with beloved local icons Slim Thug and Paul Wall. Culinary talents include Kardea Brown, Tabitha Brown and more! Buy your tickets!
Event Details: November 11 and 12 at The Crown Festival Park at Sugar Land 
Past Events
9. Let the good times roll at Party Gras!
Join Sugar Land Town Square at this Mardi Gras-style celebration featuring all the things you love about the famous New Orleans festival. Enjoy a day of live music, entertainment, and featured bites from our most beloved local restaurants.
Event Details: End of February at Sugar Land Town Square
8. Immerse yourself in the Latin diaspora with Los Tigres del Norte 
With a career that spans more than five decades, this Mexican musical group will rivet you with their live performance inspired by the Latin diaspora's stories of love, loss, and blue-collar hardships. Get your tickets ASAP because their in-demand showcases even broke Cardi B's attendance record at the Houston Livestock Show and in March 2019. 
Event Details: Feb 18 at 7:30 P.M. at the Smart Financial Centre at Sugar Land
7. Watch Dancing with the Stars LIVE! 
Your favorite dance show is back on tour! See the ballroom brought to life featuring your favorite Dancing with the Stars pros! With dazzling routines in every style and non-stop entertainment, it'll be a night you'll never forget. What's more? Buy VIP packages and get professional photos with the stars, autographed posters, gift items, and more!
Event Details: Feb. 26 at 7 P.M. at the Smart Financial Centre at Sugar Land
6. Dubbed the Harlem Globettroters of baseball, the Savannah Bananas make their only Texas stop during their 2023 World Tour at Constellation Field in Sugar Land. The ticket waitlist for their games from March 17-19 has now officially closed, but to learn more about what's to come, check out their official page. 
Event Details: Mar. 16, 17, and 18 at Constellation Field at Sugar Land
 
5. Get romantic with Ricardo Montaner
A Latin music legend known for peerless romantic balladry, Ricardo Montaner has released more than two dozen albums and sold more than 65 million albums worldwide. Get your tickets now.
Event Details: Apr. 30 at 8 P.M. at the Smart Financial Centre at Sugar Land
4. Get your hip-hop on with Anuel AA
As part of his Legends Never Die World Tour, Anuel AA will put up an exhilarating show you don't want to miss. Known for his slick trap tunes, this Puerto Rican rhymester will have you head-bobbing the night away. Buy your tickets today.
Event Details: May 6 at 8 P.M. at the Smart Financial Centre at Sugar Land
3.. Walk down Abbey Road with Rain-a Beatles Tribute
Go back in time with the legendary foursome RAIN as they give you a note-for-note theatrical event that is "the next best thing to seeing The Beatles!" Celebrate The Best of Abbey Road along with all of your other Beatles favorites! Snag Tickets Now
Event Details: May 20 at 7:30 P.M. at the Smart Financial Centre at Sugar Land
2. Laugh your socks off with the Impractical Jokers' Drive Drive Drive Drive Drive Tour
Watch Brian Quinn, James Murray, and Sal Vulcano, the creators and stars of truTV's hit series, Impractical Jokers, live as they entertain you with their hilarious improv and sketch comedy. Don't miss out! Book your tickets now!
Event Details: May 21 at 5 P.M. at the Smart Financial Centre at Sugar Land
1. Say "Red White and Boom" as you celebrate Independence Day  
Celebrate America's Independence with the city's largest community gathering of the year! The perfect event for families, this annual event features the best kid-friendly activities you can imagine from inflatables, rock walls and trackless trains to photo stations, face painting, airbrush art, and balloon artists. Grown-ups will have a main stage featuring a wide variety of entertainment and several food options. End the night with a dazzling display of colorful fireworks and lasers. 
Event Details: Jul. 4 at the Crown Festival Park at Sugar Land
Forget all your troubles and get away from the world at Cullinan Park as you hike, fish, birdwatch, kayak and more!
---
Make sure to follow us on Facebook, Twitter, and Instagram for all the latest news on things happening in Sugar Land. Our handle is @VisitSugarLand. Tag us in your posts and share your experience: #VisitSugarLandTX, #SweeterInSugarLand. For more information, contact us at (281) 275-2045 or tourism@sugarlandtx.gov.