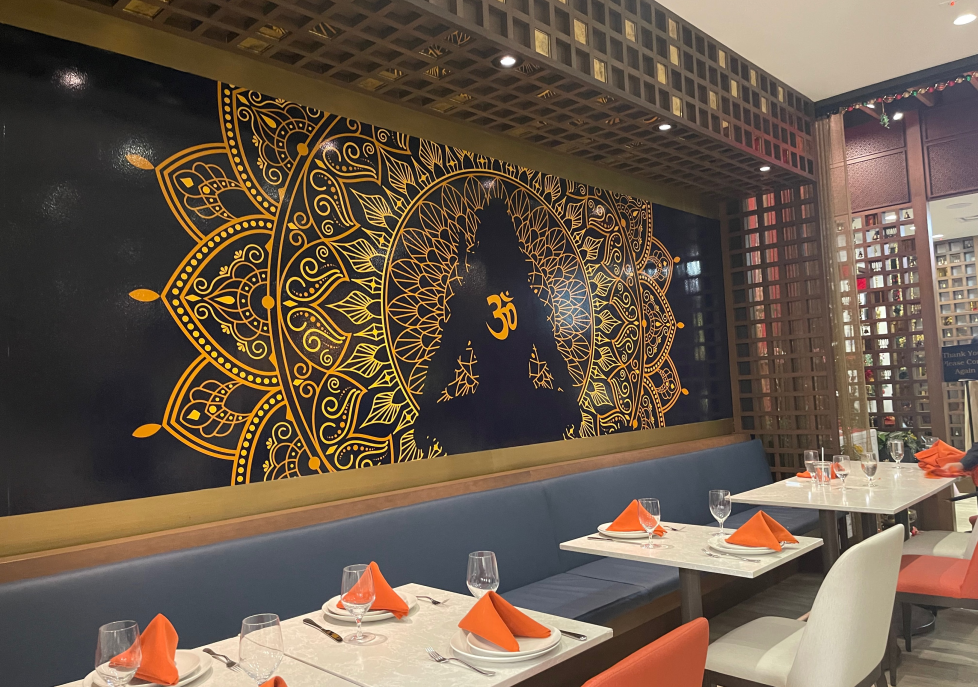 Fine Dining at B.B. Italia.
Take your sweetheart around the Sweetest City in Texas to celebrate Valentine's Day and show them just how much you care.
A Classic Take on Valentine's Day
---
If you're stressing about what to do on Valentine's Day, here's a tip: When you can't think of anything, go classic. You can never really go wrong with a traditional Valentine's dinner, followed by a nice, romantic stroll…and a sweet exchange to end the night. Here are some top restaurant picks to make your evening:
B.B. Italia
Enjoy a romantic evening at B.B. Italia! Located in Sugar Land Town Square, this is a great restaurant for you and your beau to enjoy delicious Italian entrees in a warm bistro environment. With Valentine's dinner specials running from Friday, February 10 to Tuesday, February 14 and live piano music on Friday, Saturday and Tuesday, B.B. Italia makes the perfect Valentine's dining experience. What's more! You have the option to book a flower arrangement with your reservation to make the night even more memorable!
Book your table and order your flower arrangement today!
Mahesh's Kitchen 
Go South Asian for Valentine's Day! Reserve your table at Mahesh's Kitchen for a romantic evening of live music and a 5 course delicious prix-fixe menu from 6 P.M. to 10 P.M. for only $140.
---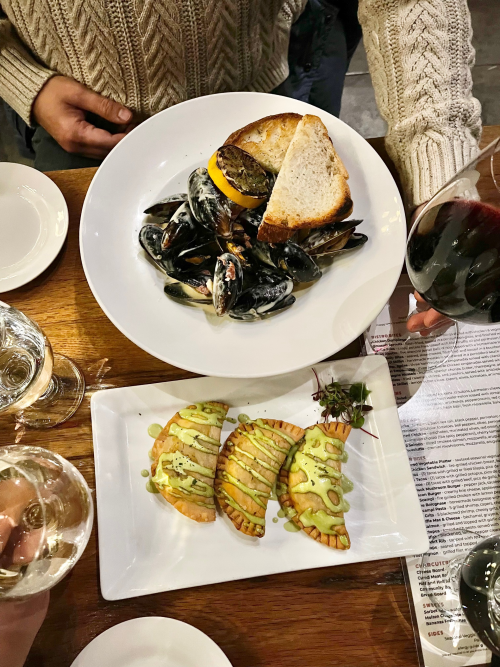 Share appetizers like mussels with chorizo or beef empanadas at Vino and Vinyl Supper Club.
Vino and Vinyl Supper Club
If you want to go for a more vintage vibe, another great restaurant option in Sugar Land Town Square is Vino & Vinyl Supper Club. Go down memory lane amidst nostalgic music spun off vinyl records at this 1930s-inspired restaurant. Vino & Vinyl Supper Club beautifully encapsulates the essence of the Supper Clubs that offered high-class menus at affordable prices back in the day. Choose from a globally-inspired selection of delicious entrees like Spanish Octopus or Braised Short Rib or request a 5-course tasting menu to try a little bit of everything. Enjoy your delicious meal to your favorite tunes, and gift your partner their favorite record from a selection of old and new releases sold at the restaurant to capture the day as another priceless memory to look back at in the future.
Poke Burri Lifting Noodles and Ramen
For a laid back Valentine's Day outing with friends or a loved one, you have to hit up this ramen and poke bowl destination in Sugar Land: Poke Burri! Besides ordering one of their staples you have to add on one of their unique items like a sushi donut, sushi pizza or even a sushi corn dog. This Valentine's Day, with the purchase of any of their tasty ramen or poke bowls you get a complimentary Thai tea, lemonade or green tea ice-cream. Plus, there's $6 sake specials all day!
---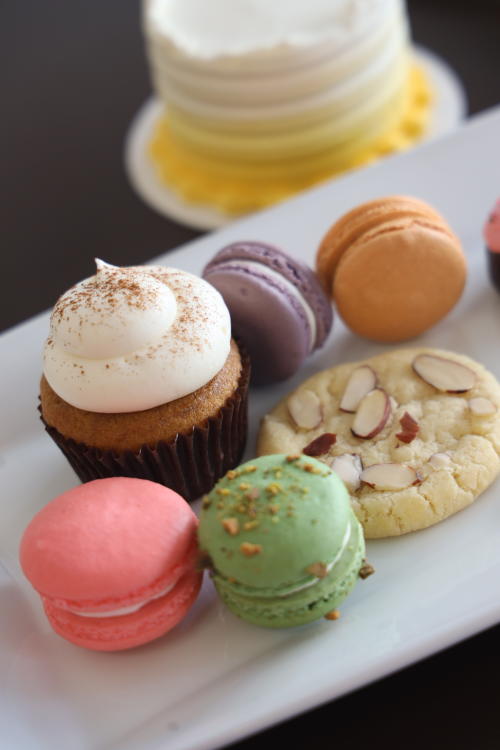 Choose from macarons, luscious cupcakes, fresh-baked cookies and more!
The Sweet Boutique
After dinner at Vino & Vinyl Supper Club, stroll around Sugar Land Town Square and visit The Sweet Boutique for something sweet to end the night. This modern bakery is popularly known for its delectable macarons and Mochi Donuts. And the best part is that these Parisian and Vietnamese treats are gluten-free and made fresh daily!
See the full dessert menu here
---
Rustika Cafe
For a more laid back and cozy dinner that'll feed you well and satisfy your sweet tooth, head over to Rustika Cafe! Try their perfectly-cooked empanadas that come with a salsa and shredded chicken, peas, and corn inside or their Migas and huevos rancheros. For something sweet, get adventurous with their cookie options like the White Alfajor Cookie –a shortbread cookie filled with homemade dulce de leche or their Nutella Blast Cookie –homemade flour cookies with chocolate-Nutella filling!
For an American affair, consider State Fare. Indulge in customer favorites like The Purist Mac and Cheese with Gulf Trash, The Birria Grilled Cheese, and the melt-in-your-mouth Short Ribs and the Freaking Huge Funnel Cake.
Creative Activities for Couples
---
Painting with a Twist
They say that doing an activity together as a couple solidifies the emotional bond. So, if you're looking for something different to try on Valentine's Day, reserve a spot at Painting With a Twist for their Valentine's Date Night Special. Bring your own beverage and enjoy each stroke as you and your partner create either half of a two-set painting inspired by love from February 13 through February 16. Enhance the experience by creating an all-natural scented candle before your painting event. View their calendar.
Board & Brush 
Another unique activity to try is creating your own custom wood sign at Board & Brush on February 10 from 6:30 p.m. to 9:30 p.m.  Select the kind of project you'd like to take on and work your way through the evening as you get step-by-step directions on how to create your masterpiece. Once you're done with the carving, color it up with your choice of paint and wood stain, and Ta-da! You have a stunning piece and beautiful memories to take home with you.
Their special Valentine's Day class will be on February 11 from 10:00 A.M. - 1:00 P.M. and complimentary mimosas are included with your reservation. Use code BEMINE to get 20% and reserve your seat before they sell out!
---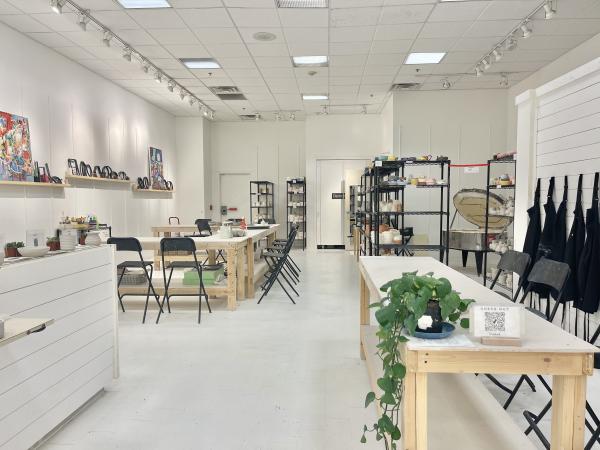 Book a Girls Night Out or Date Night at Smashed Clay 
Smashed Clay and Studios 
A similar concept to Board & Brush, with Smashed Clay you'll be able to make one of six projects using a pottery wheel and personalize your item at the end by adding your own decoration. Projects include a bowl, candle holder, vase, cup, pot or wine tumbler. For Valentine's date night, you can choose the couple's package where you can work together on one pottery wheel to make two projects. The price is $85 per couple.
Houston Museum of Natural Science at Sugar Land
How about trying something unique for Valentine's Day? Go to Houston Museum of Natural Science at Sugar Land for their Valentine's Dinner Lecture and dive into the fascinating world of the ocean's apex predators! Enjoy an elaborate three-course meal as you learn all about the secret sex lives of sharks with experts! Reserve your tickets and take a bite out of love from 6 to 9 p.m.
A Different Kinda' Date
---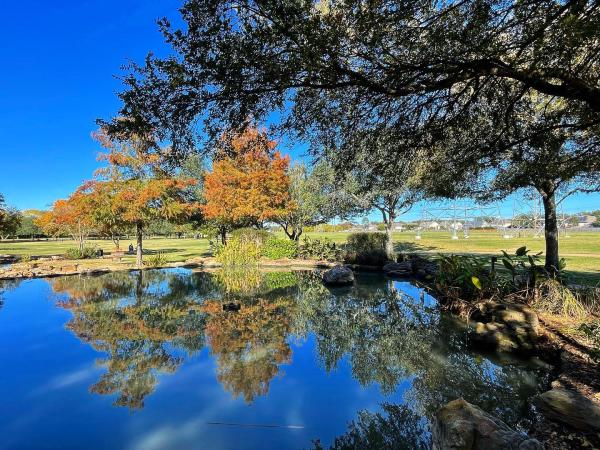 A scenic backdrop for a romantic picnic. Photo @amy_l_m
Going to a restaurant every year can get boring really fast. To change things up a bit and give your significant other a truly significant experience, arrange a picnic at Sugar Land's Oyster Creek Park. Grab a fresh bouquet of romantic roses that can do no wrong from the House of Blooms' Valentine's Day selection, and arrange an old-school picnic basket of your boo's favorite cream puffs from Mia's Goodies. Don't forget a picnic blanket, some utensils, and a cooler to keep everything fresh! Find a picnic spot under a shaded tree for some privacy or by the beautiful rock and waterfall feature for a soothing sound in the background.
Spend a family-friendly evening at Sugar Land Town Square on February 11 to enjoy Clements High School of Performing Arts latest production: Love is in the Air which promises to celebrate love and friendship.
Celebrate Galentine's Day in Sugar Land
For all the ladies who are single on Valentine's Day, don't worry! State Fare has got your back. Treat yourself and your friends with their Galentine's Day Weekend Special running from February 11 through February 14. If you're a chicken and waffles kinda' gal, go for the brunch special on the 12th and 13th. But if you want company specifically on Valentine's Day, go to town with your girlfriends with State Fare's mouth-watering dinner selection on February 14.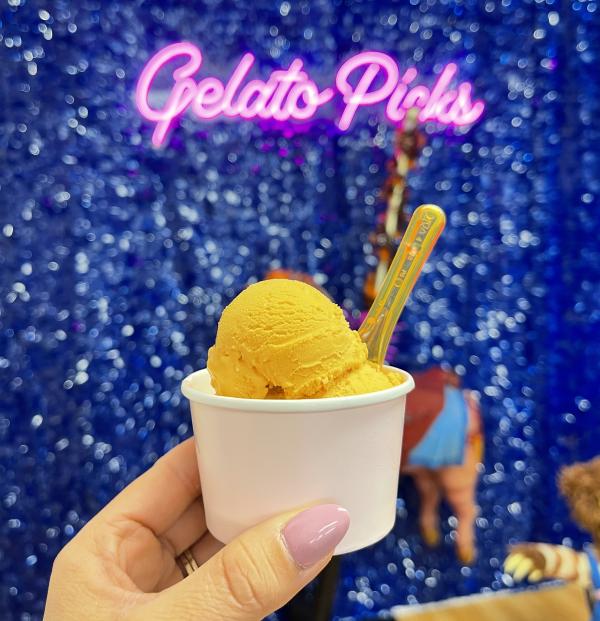 Indulge in the creamy and flavorful gelato at Gelato Picks.
Valentine's Day doesn't have to be an extravagant affair. If you just want a quick pick-me-up for the day, go to Gelato Picks on Lexington Boulevard. This cute shop is an ode to Venetian gelato and serves simple, affordable, and memorable gelato to its patrons. It's the perfect place to go alone for some TLC, with your partner, or even your kids on Valentine's day. Enjoy a blissful evening as you savor their aromatic coffee, decadent crepes, or their special gelato made with natural, premium ingredients.
Outdoor Adventure
Sharing happy moments multiplies the joy you feel tenfold. If you want your kids and pets to celebrate your love with you, plan a fun day out for the entire family to enjoy together. Brazos River Park is a great option because of its scenic walking and biking trails and picnic tables with BBQ grills. As your kids and pets play around the park, you and your partner can try your hands at the 9-hole disc course for a mini date-within-a-date.
Sweet Gifts in Sugar Land for Valentine's Day
If you want to pair your date with a gift, find the perfect Valentine's Day gift for her or him from Things Remembered located in First Colony Mall. This shop has an endless variety of beautiful items that you can customize for this special occasion.
---
Make sure to follow us on Facebook, Twitter, and Instagram for all the latest news on things happening in Sugar Land. Our handle is @VisitSugarLand. Tag us in your posts and share your experience: #VisitSugarLandTX, #SweeterInSugarLand. For more information, contact us at (281) 275-2045 or tourism@sugarlandtx.gov.