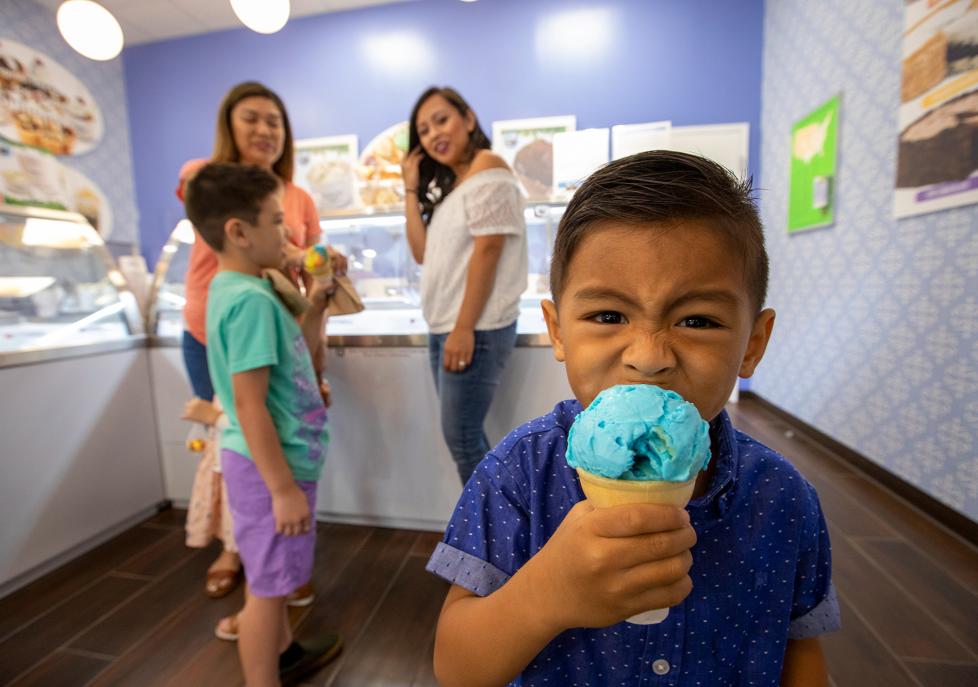 Truth be told, ice cream is a treat that is perfect 365 days a year, especially in Texas —just ask anyone with a sweet tooth! After a big day touring the sights and attractions of Sugar Land, no road trip is complete without a stop for something cold and sweet! 
Travel Tip: Sweeten your weekend getaway with discounts on Sugar Land's top experiences at the Sugar Packet Marketplace.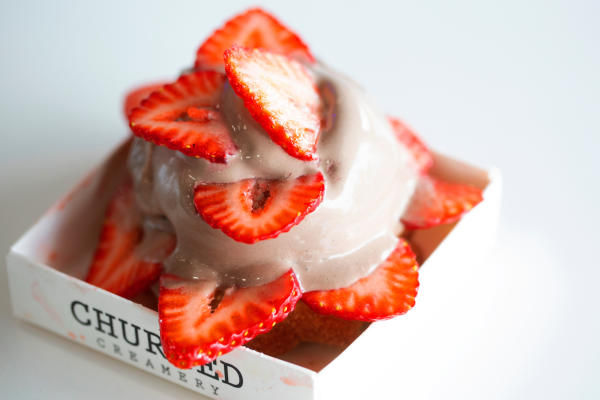 Ice Cream from Churned Creamery.
For a taste of the velvety-smooth texture of slow-churned ice cream, we recommend Churned Creamery. Visitors can choose from a variety of traditional and exotic flavors like strawberry, Dutch chocolate, and taro. Or dig into one of their Signature Cro Creams, ice cream sandwiched in a croissant, like the Breakfast of Champions Cro Cream – Nutella ice cream, bananas, Cap'n Crunch and Nutella sauce.
Visitors will enjoy the authentic, vintage-styled atmosphere of the 'ol town chocolate shop at Kilwin's. The sight of caramel apples and the smell of homemade fudge permeates throughout the space; however, the sight of the store's 32 "Original Recipe" flavors is what will appeal to ice connoisseurs. Chocolate lovers will delight in the many ways it's used in their recipes, but for die-hard fans of the classic flavor of Moose Tracks, we suggest trying Kilwin's version, Kilwins Tracks.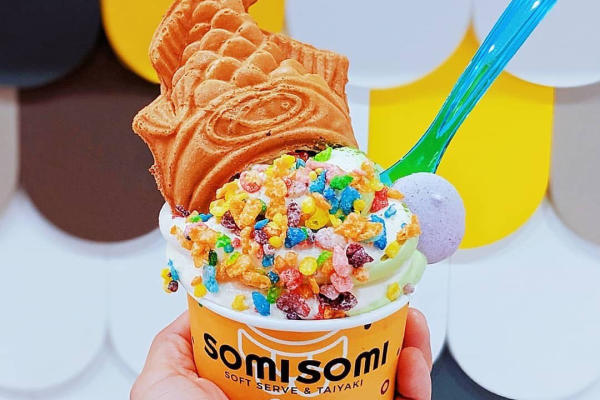 Ah-Boong from SomiSomi. Photo by @macarooz
Here in Sugar Land, you'll find dairy-free and sugar-free options at most locations. And because of our diverse population, you'll also find tasty treats from Pakistan, India, and Korea, to just name a few.
Try Ah-Boong from SomiSomi for a sweet treat from Korea. It's a delicious package of soft serve stuffed inside of a taiyaki cone with your choice of filling and toppings. One of our favorite flavor combinations is milk and matcha soft serve, Nutella filled taiyaki, topped with Fruity Pebbles and a macaron.
Balooch Grill & Desserts offers up ice cream made with all halal ingredients. We suggest trying their kulfis, a popular dessert from the Indian subcontinent made of milk, sugar, nuts, and cardamom. Flavors include pistachio, chocolate, mango, malai (think sweet milk with a fruity, tangy flavor), and more!
Kwality Ice Cream offers visitors a taste of traditional Indian ice cream flavors including, lychee, sitafal (custard apple), and Nuttie Tuttie Fruitee, an ice cream that is chockful of tropical fruit flavors like dried papaya, pineapple, orange, lemon, and cherry. For a succulent bite of a little bit of everything, try their Cassata Ice Cream – a handmade layered ice cream trio of vanilla, Tuttie Fruitee, and pistachio with a slice of sponge cake.
No matter where you choose to stop in, you'll definitely be leaving with a smile on your face.
---
Make sure to follow us on Facebook, Twitter, and Instagram for all the latest news on things happening in Sugar Land. Our handle is @VisitSugarLand. Tag us in your posts and share your experience: #VisitSugarLandTX, #SweeterInSugarLand. For more information, contact us at (281) 275-2045 or tourism@sugarlandtx.gov.
---