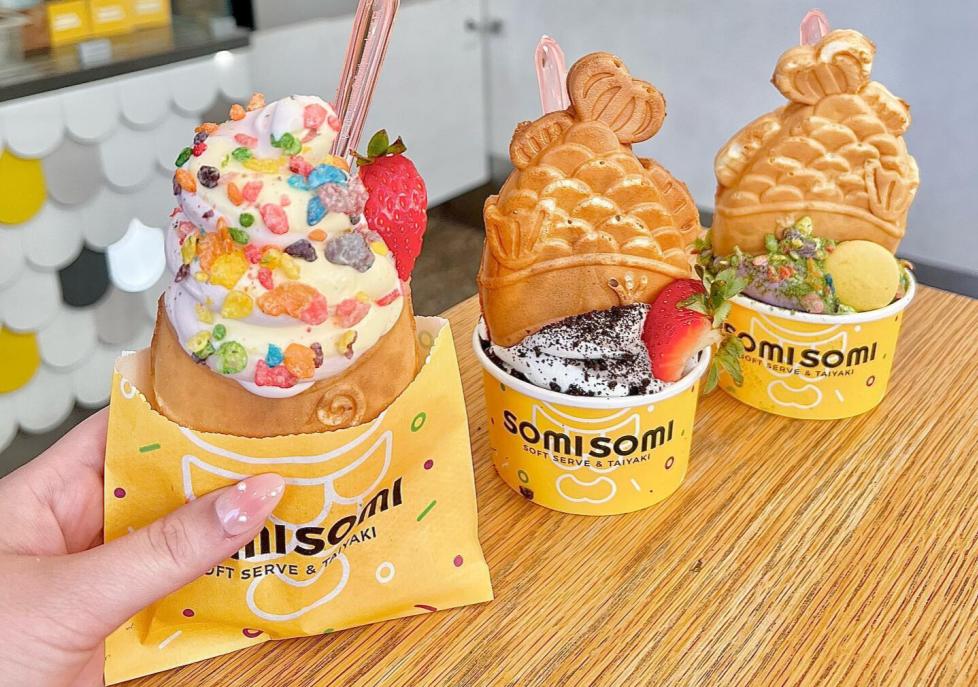 Try a variety of soft serve ice creams and toppings at Somi Somi! Photo: @PhamishedFoodies
Imagine the blazing Texan summer heat in the fiery months of June and July. You're hot and sweating, tired and hungry, and in desperate need of some energy. What better way to pick yourself up than to dig into some cool and delicious ice cream!  Here are the best ones to try: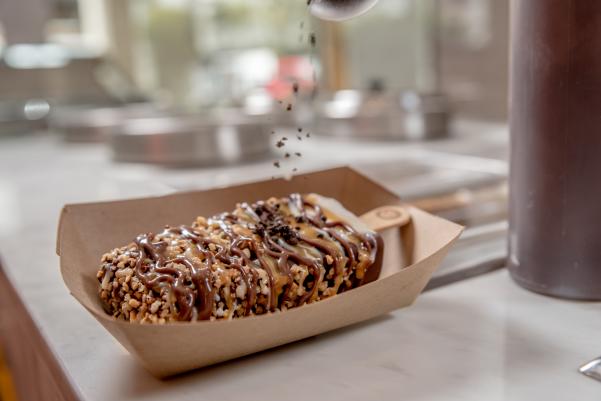 Topping a yummy paleta
---
For a Mexican retreat from the summer heat, go to Morelia Gourmet Paletas in Sugar Land Town Square and try their unique, handcrafted pops! Paletas are specialty Mexican frozen treats made from fresh natural fruit or cream-based ingredients like strawberries or chocolate! This high-end ice cream shop will give you a gourmet ice cream experience like no other. Build your own paleta in three simple steps and customize it to your exact specifications. Choose your favorite base flavor like lime, mango, Belgian chocolate, Nutella and more! Then, submerge your paleta into your preferred dipping like dark or white chocolate, crunchy hazelnut or cookie butter and then finish your masterpiece with a topping like Oreos, pistachios, or coconut! With over 1 million different flavor combinations, your options to explore different flavor profiles are truly endless! If you can't decide, then leave it up to the experts themselves and choose from one of their Signature Combinations like the Paleta Sandwich- an upgraded version of the classic paleta and a variation that is only made in limited quantities every day!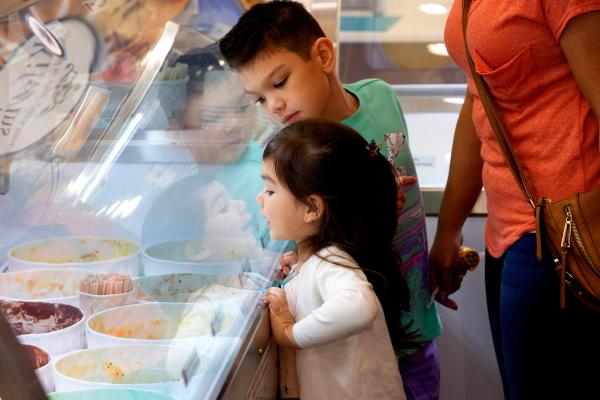 Looking for the best ice cream flavor.
---
Enjoy the authentic, vintage-styled atmosphere of the 'ol town chocolate shop at Kilwins. Crafting premium ice cream since 1985, Kilwins has perfected the elements of your favorite summer dessert from its consistency to its texture and flavor. Boasting 32 "Original Recipe" flavors, Kilwins is the ultimate spot for ice cream connoisseurs. Delight yourself in unique flavors like "The Perfect" Apple Pie* – a rich vanilla-flavored ice cream with a hint of cinnamon, swirls of caramel, baked apples with sugared pie crust pieces that will remind you of your grandma's bakes or go for the indulgent Kilwins Tracks – a creamy vanilla-flavored ice cream with chocolate-covered peanut butter truffles and swirls of thick chocolate fudge. Pair your base with their freshly made waffle cone and hand-crafted hot fudge and caramel toppings for the perfect scoop!
---
For a delectable Asian-style dessert, check out Somi Somi! Offering Korean-inspired soft serve in Japanese-originated fish-shaped cakes called Taiyaki, this ice cream spot is one you cannot miss! Personalize your experience by trying different soft serves with various cake fillings and toppings to make things more adventurous! We recommend getting the milk and matcha soft serve, with Nutella filled taiyaki, topped with Fruity Pebbles and a macaron!
---
This quaint little bistro-style gelato shop serves up all the grandeur of Venetian delicacies at an affordable price. Raved for its silky smooth, authentic gelato and warm and friendly owner, Gelato Picks is a local gem loved by the people of Sugar Land. Save yourself a trip to Europe and have what you would find there, here! Try the crown jewel of their menu called the Spaghetti Gelato, a German gelato made with four flavors and fashioned to look like spaghetti with sauce. This novelty gelato's recipe was created by a 2nd generation Gelateri named Dario Fontanella and Gelato Picks uses his original recipe! So grab yourself a seat and don't miss out on the best gelato in town!
---
For a Pakistani spin on ice cream, go to Baloch Grill & Desserts! Dig into a rich ice cream called 'kulfi', made from milk, sugar, nuts, and cardamom. Try the classic plain kulfi or take it a step further with flavors like pistachio and mango!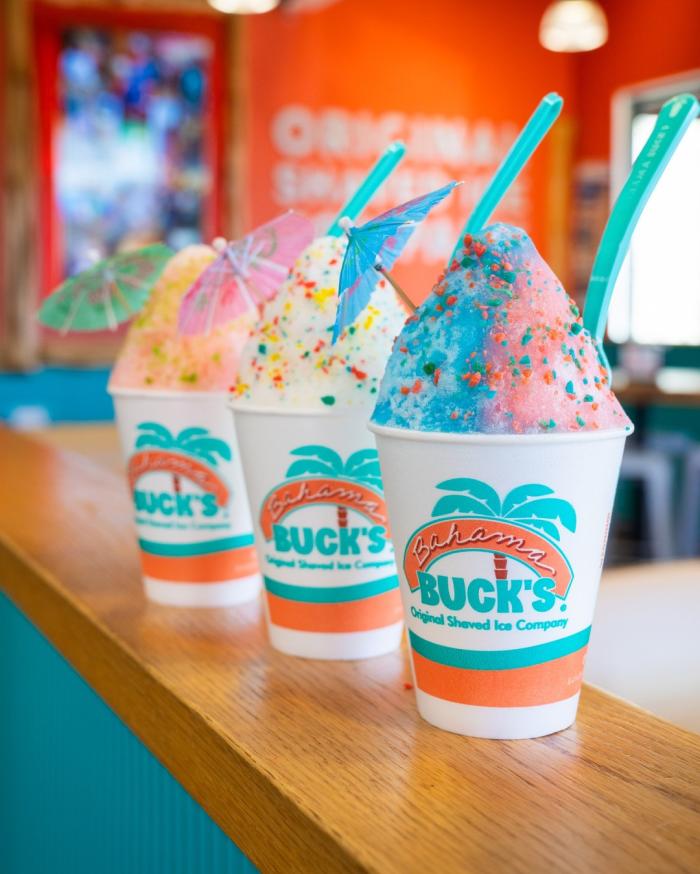 Get the softest snow at Bahama Bucks! Photo: @bahamabucks_sugarland_museumsq
---
Go on a mini vacation at Bahama Buck's and have a go at their refreshing shaved ice offerings! Chill out with the ultimate tropical dessert experience and choose from over 100 light and airy shaved ice flavors and toppings! Create your own 'Snos' by choosing a primary flavor from a range of categories like fruity flavors, dessert flavors, beverage flavors, natural flavors and more! Then choose your second flavor and complete your gourmet snow cone with crazy Bahama toppings like Sour Patch Sauce, Chili Salt, and Sour Sand!
---
Get a taste of traditional Indian ice cream with unique flavors including, lychee, sitafal (custard apple), and Nuttie Tuttie Fruitee – a cocktail of tropical fruit flavors like dried papaya, pineapple, orange, lemon, and cherry. For a three-in-one experience, try their Cassata Ice Cream – a handmade layered ice cream trio of vanilla, Tuttie Fruitee, and pistachio with a slice of sponge cake.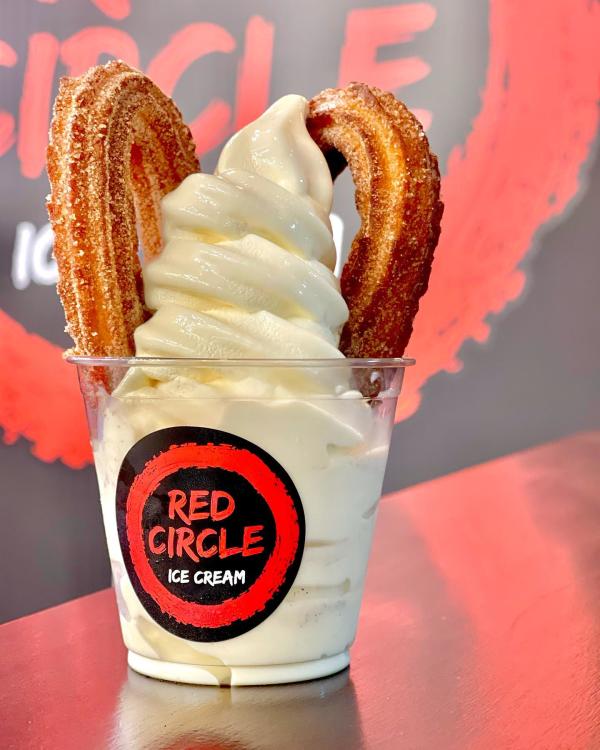 The Churro Daddy. Photo by: @thehalaalfoodie
---
What's better than soft-serve ice-cream and a fresh-made hot churro covered in cinnamon sugar? Nothing! Red Circle Ice-Cream is the destination for your late night ice-cream cravings or an after dinner treat. Try their churros with different toppings like Oreos, Nutella, Fruity Pebbles or enjoy their unique mash-ups like The Churro Daddy and Churro Puff. If what you want is to quench your thirst with a sweet drink they also offer a variety of teas, lemonades and Vietnamese iced coffee. 
To explore countless more dessert options around the city, click here.
---
Make sure to follow us on Facebook, Twitter, and Instagram for all the latest news on things happening in Sugar Land. Our handle is @VisitSugarLand. Tag us in your posts and share your experience: #VisitSugarLandTX, #SweeterInSugarLand. For more information, contact us at (281) 275-2045 or tourism@sugarlandtx.gov.
---