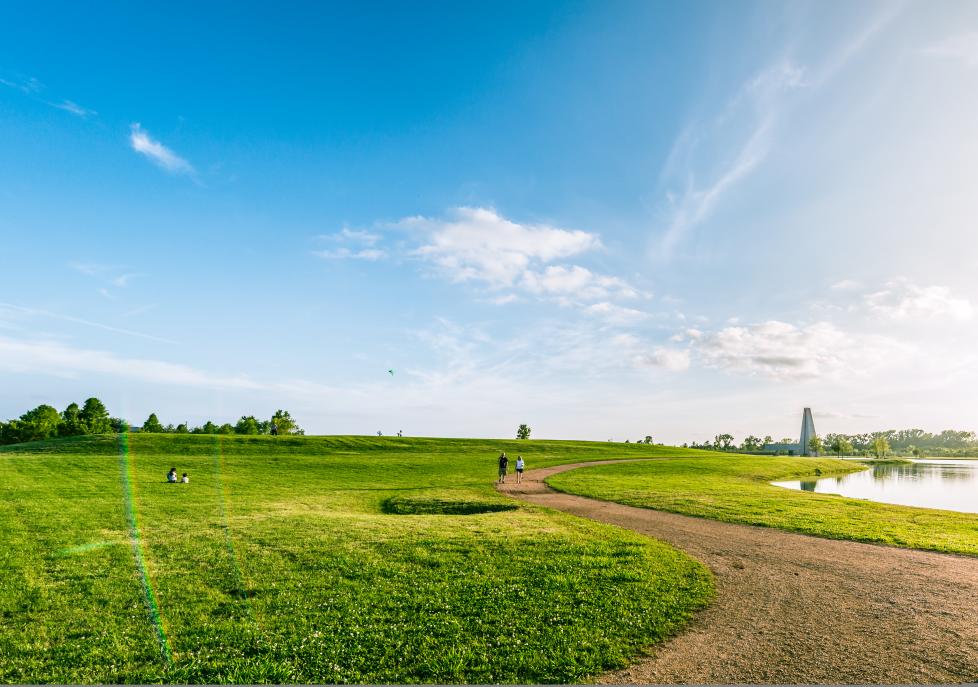 Encompassing 150 acres along the Brazos River, Sugar Land Memorial Park ticks off a lot of boxes for those wondering, "How should I spend my time outdoors in Sugar Land?"
Location: Sugar Land Memorial Park
Length: 2.5 miles of hiking
Difficulty rating: Easy/Intermediate
Best For: Enjoying picturesque views of the Remembrance Tower and a relaxing walk in Sugar Land
Dogs: Leashed
Sugar Land Memorial Park is home to 2.5 miles of hiking trails, park goers can enjoy the lakes breathtaking views and the Veterans Memorial Remembrance Tower. This  is an easy and intermediate trail  for all avid hikers and for visitors who enjoy soaking up the sun.
Want to take a quick break? There are a couple of benches along the way where you can sit down to regain energy, especially during the hot weather months.
Hiker Tip: Make sure to bring a bottle of water to stay hydrated, lather up with sunscreen, and wear polarized sunglasses. Lastly, please note there's only one restroom right before you kick start your outdoor adventure.
DOWNLOAD THE MEMORIAL PARK TRAIL MAP 
COVID-19 Safety Precautionary Measures
---
-          Keep 6 feet apart between you and others
-          Stay home if you are feeling unwell
-          Wash your hands often or use hand sanitizer
-          Have groups of no more than 10 people
Things that are open 
---
-          Drinking Fountains
-          Parking Benches
-          Pavilions
-          Pawm Springs Dog Park
-          Restrooms
For more information, please visit: www.SugarLandTX.gov/Coronavirus
Biking
---
Satisfy your need for speed on two wheels at the Justin P. Brindley Trail. Winding through the park, the trail features picture-perfect views of the Brazos River. It offers a number of activities including multiple technical trail features (TIF's), such as drop-offs and banked curves. Trail riders can encounter wildlife along the trail, and are encouraged to exercise caution. Some animals you can encounter are: feral hogs, water moccasins, coral snakes, and copperheads.
Pro Tip: Know your equipment, your ability, and the area where you are riding. Strive to be self-sufficient and keep your equipment and gear in good shape. Make sure to carry necessary supplies, including a cell phone. Always wear a helmet and appropriate safety gear.
Kayaking and Canoeing in Sugar Land
---
Memorial Park features a scenic lake ideal for kayaking and canoeing. Park patrons are responsible for providing their own kayak or canoe. Kayak rentals are available on a seasonal basis through local organizations.
Safety Tip: Make sure to exercise caution before getting in as you are subject to weather and wind conditions.
Fishing and More
---
Make sure to pack your bait, line, and tackle for a day of fishing on the lake. The lake is stocked with largemouth bass, channel catfish, and bluegill. Please note, fishing is a popular amenity at Memorial Park and all individuals over the age of 17 years must have a current Texas freshwater fishing license. Up to five fish may be taken home per person, per day.
View Butterflies
---
Filled with colorful, nectar-rich plants, the butterfly garden at Sugar Land Memorial Park attracts and feed butterflies all year long. Viewers may also spy other pollinators such as bees, hummingbirds, and other birds. Most of the plants in the garden are native to Texas and are able to tolerate heat and drought-like environs.
Enjoy Public Art
---
Sugar Land Memorial Park features several displays of public art including the Sugar Land Remembrance Tower. Sunlight reflects through a vertical opening within the obelisk and allows visitors a contemplative moment of silence as a list of names of Sugar Land soldiers who offered the ultimate sacrifice while serving in the U.S. Armed Forces. Another beautiful piece in the park, is the bronze eagle statue symbolizing the strength and distinction of our United States Armed Forces and service members.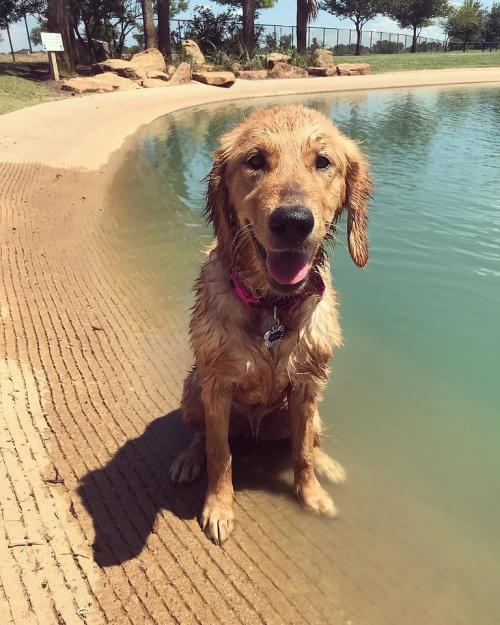 @kymbo13
Pawm Springs Dog Park at Memorial Park
---
Grab your four-legged friend and make your way to Pawm Springs Dog Park. This six -acre tropical oasis for your pet features a resort-style pond with a palm tree water spray feature, agility equipment, and a separate enclosed area for smaller pups. If you're visiting from out-of-town, make sure to visit our Pet-Friendly Blog for a listing of pet-friendly hotels and restaurants.
Pro Tip: Before making your way to the dog park, ensure you are familiar with all dog park rules. Hint: Food is NOT allowed in the park because it has the potential to incite aggressiveness in dogs.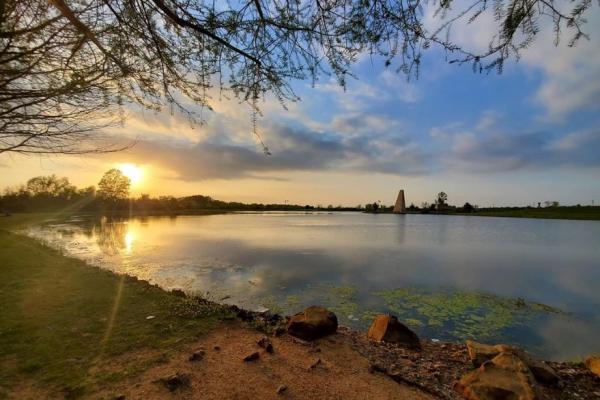 @paulasalmon17
Photography
---
A photographer's dream, Sugar Land Memorial Park offers gorgeous views throughout the day; but it's the beauty of the differing shades of sunset reds, blues, and violets, overlooking the lake that is a "must capture" for every portfolio and Instagram feed.