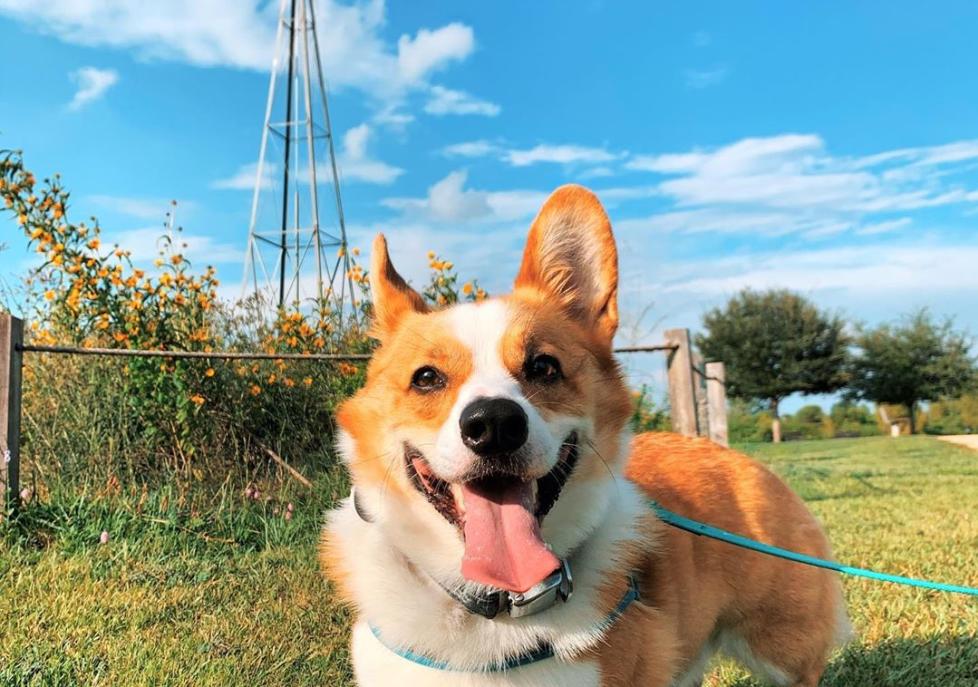 This is what happiness looks like Photo by @montgomerycorgnelius
If you want your furry friend to join you on your adventures in Sugar Land, check out these pet-friendly eateries, parks, and places to stay!
Places to Play
---
Let your furry friends unleash their energy at these fun parks around the city!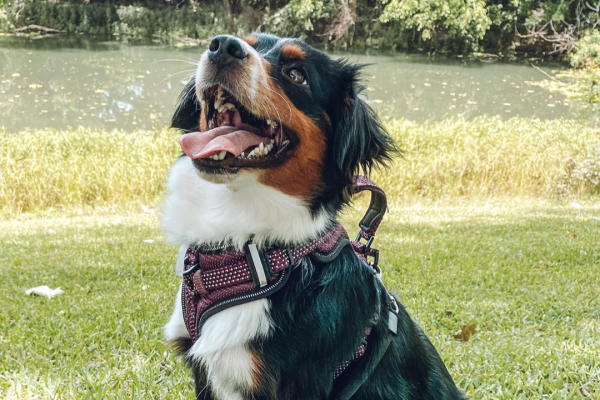 Loving life at Oyster Creek Park Photo by @my_omi_one
One of Sugar Land's most iconic parks, Oyster Creek, offers its visitors a three-mile hike and bike trail but with some added fun. This park spans more than 100 acres of land bejeweled with stunning water features, a rock-lined pond that makes for a great backdrop, public art for a creative touch, unique statues to pose with, and a bridge to look over the entire landscape so you can stay fit and have fun!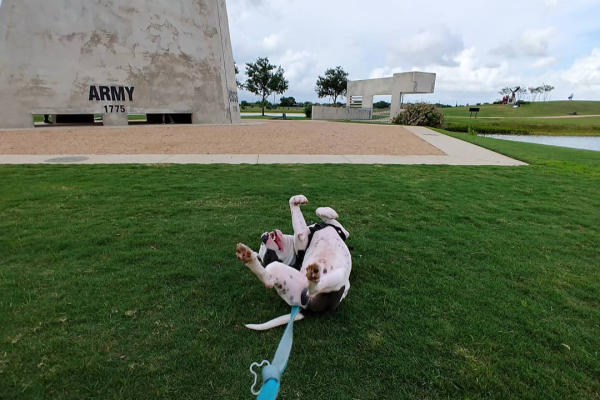 Rolling around at the obelisk Photo by @birchums
Sugar Land Memorial Park is a vast open area that is quite literally a breath of fresh air. It stands along the Brazos River encompassing almost 150 acres of land with 2.5 miles of hiking. You'll have access to drinking fountains, benches, pavilions, and restrooms as you walk or bike along the Justin P. Brindley Trail and enjoy beautiful views of the river. But the Sugar Land Memorial Park has so much more to offer! As you and your pet explore the park, you'll find a colorful garden that attracts beautiful butterflies, bees, hummingbirds, and other wildlife all year long for you to see and photograph. And, if you're in the mood to kayak, canoe, or go fishing, you can do that on the lake. But, before you leave, be sure to get a closer look at the Remembrance Tower and bronze eagle statue - the hero features of the park honoring those who sacrificed their lives in service of the country.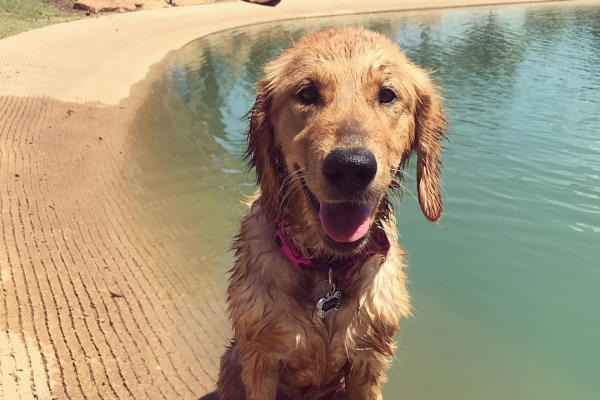 Fresh after a swim at Pawm Springs Photo by @kymbo13
Conveniently located right next to Sugar Land Memorial Park is Pawm Springs. This might be your pet's favorite place in the entire city because it is made especially for your pet to have fun and make some canine pals! Pamper your pet with this resort-style park and watch them have the time of their life! If your pet gets scared easily, don't worry: this park has an enclosed area for small doggies and a shade pavilion. And if your furry friend likes to splash around, bring a beach towel and unleash them at the pond and palm tree water spray feature and watch as they enjoy themselves.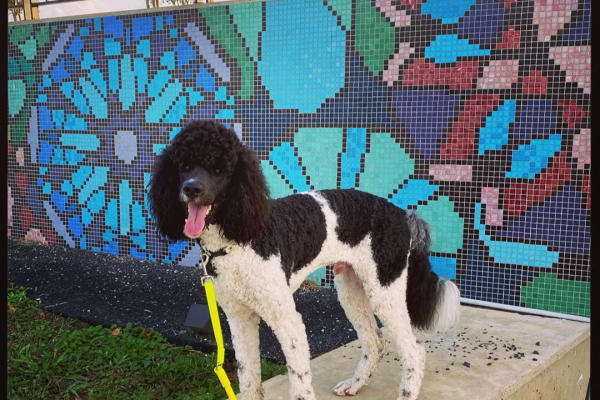 Posing in front of the mosaic Photo by @quossum
Like all the other parks in the city, Brazos River Park also has scenic walking and bike trails for you to get your heart pumping and picnic tables and benches for a breather and quick bite. What this park does offer that others don't is a 9-hole disc golf course and a beautiful glass mosaic. Read more about what you and your pet can do at this park here.
Places to Eat
---
After all the outdoor exploring with your four-legged pal, check out some of the yummiest pet-friendly restaurants around the city to curb your appetite.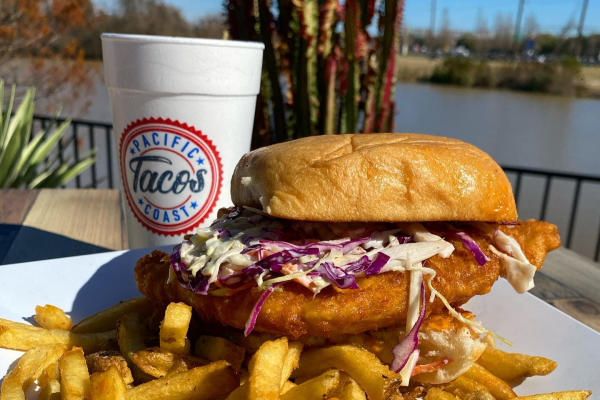 Golden fries under the golden sun. Photo by @pacificcoasttacos
Pacific Coast Tacos offers unique taco varieties with fresh, natural, and organic ingredients. This taco spot's food boasts an innovative blend of flavors from the Pacific Rim down to Mexico and South America and reflects the cultural influences of Thailand, Korea, Vietnam, Hawaii, and French Polynesia. The ambiance encapsulates the name perfectly with a seamless, airy, indoor-outdoor dining area that faces a scenic bank of water and a bed of greenery. Visit them during a pleasant evening so you can enjoy some fresh food with a picturesque view of Sugar Land's sunset.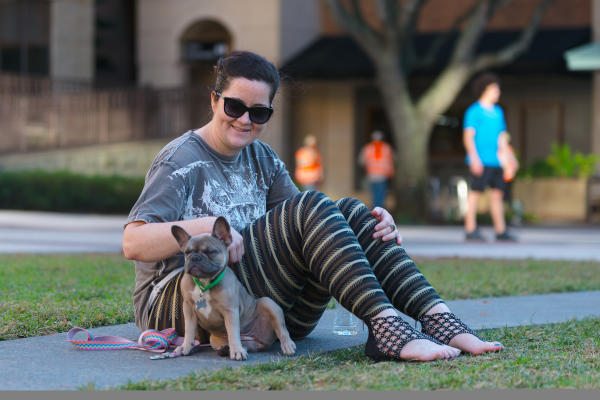 Relaxing in Sugar Land Town Square
The Rouxpour Restaurant and Bar is an upscale cajun eatery located in Sugar Land Town Square. Take an escape to New Orleans' famous Bourbon Street as you sit on the expansive patio under the twinkling lights and enjoy creole classics like Seafood Gumbo and Chargrilled Oysters. If you enjoy listening to live jazz, we encourage you to visit on a Sunday S to enjoy the tunes with your furry pal! After your meal, head over to the green patch in the Plaza and relax with your doggo.
Live Oak Grill boasts a play area with slides, swings, and seesaws and a large picnic-style patio surrounded by magnificent oak trees- making it the paw-fect spot for active family members like pets and tots! Feel right at home at this Texan eatery as your dig into delicious Southern, country-style comfort food.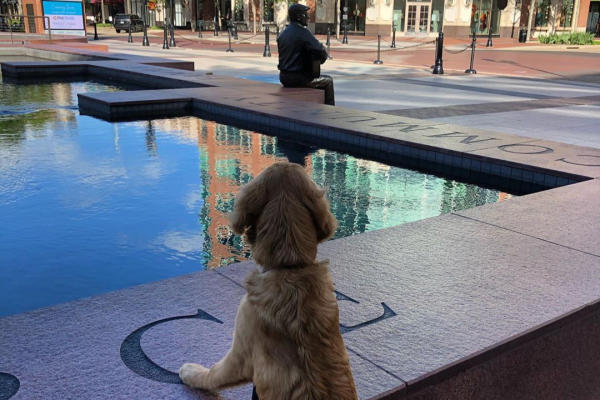 Looking for a place to eat at Sugar Land Town Square Photo by @sweetwaterbark
Japaneiro's Sushi Bistro and Latin Grill is located in Sugar Land Town Square. The outdoor sitting area is lined with brightly colored table umbrellas so that you and your pet can enjoy your food in a shaded area away from the beaming sun. Visit any day of the week between 3 p.m. to 6 p.m. for a sush-tacular Happy Hour for great deals on exquisite sushi rolls and sip on some refreshing drinks while you're at it!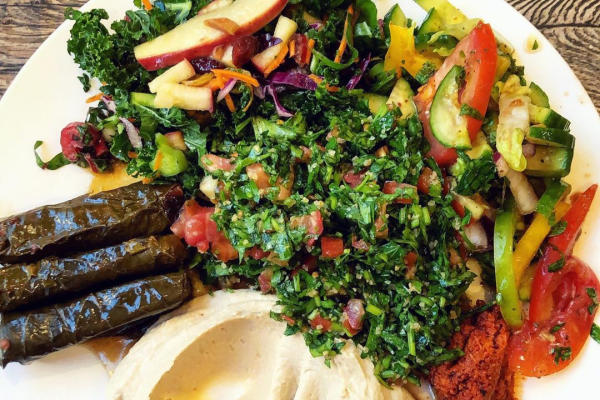 A loaded plate of Mediterranean deliciousness. Photo by @bonobo.life
Fadi's Mediterranean Grill is located on University Boulevard serving fresh food with generous portions. Get in their buffet line and load up on freshly baked pita bread, unlimited options of dips and salads, and delicious entrees. Don't forget the dessert, especially when you have baklava, flan, and Turkish tea.
Sometimes you just want to go brunching with your gals AND furry pals, right? For an early morning outing, take your pet to CoCo Crêpes, Waffles & Coffee. This fusion European café and crêperie offers a vast selection of sweet and savory crepes for you to enjoy on a lovely patio framed by a bed of greenery and bright flowers.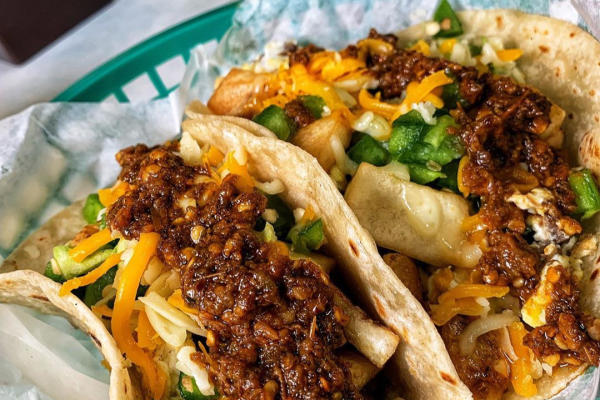 Mouth-watering tacos at Carmelo's. Photo by @houstoneatz
Carmelo's Mexican Grill is a dog-friendly place to find authentic fare in Sugar Land. The food is hand-made from only the finest, freshest ingredients. Find yourself a seat at one of the outdoor tables to enjoy their popular breakfast tacos while your canine companion lounges underfoot.
Places to Stay
---
Hit the bed at these pet-friendly hotels.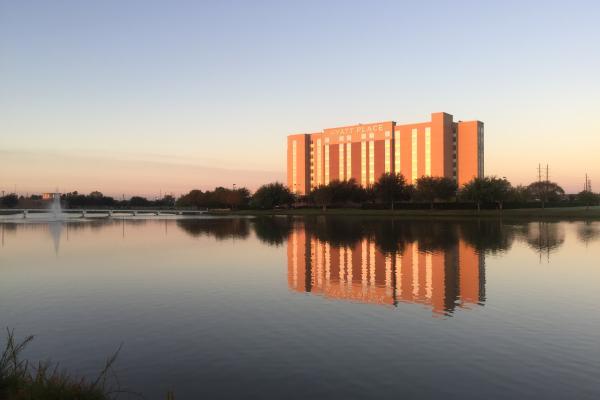 Lakeside view at Hyatt Place.
Hyatt Place Sugar Land is an award-winning, modern yet cozy hotel that overlooks a pristine lake and walking track that would be perfect to get your pet moving. Located in a prime area just minutes away from Sugar Land Town Square, First Colony Mall, and Sugar Land Ice & Sports Center, Hyatt Place will give you easy access to entertainment around the city.
Extended Stay America Hotel offers affordable, spacious suites with fully-equipped kitchens for a comfortable living experience with your entire family. Yes, that includes your fluffy friend! Each suite hosts up to two pets and service animals are exempt from any pet fees!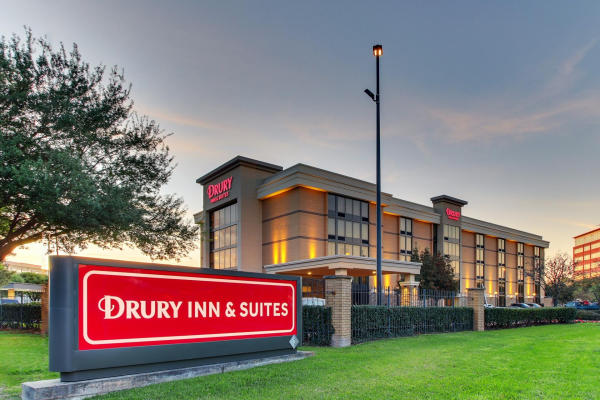 Drury Inn & Suites Houston Sugar Land is located off of US-59 near the Sugar Land Heritage Foundation Museum, Fort Bend Children's Discovery Center, and Live Oak Grill. After a tiring day of exploring the nearby sites, you can enjoy their daily Kickback at 5:30 p.m. where a rotating menu of free hot food and cold drinks is served.
To explore more of Sugar Land's restaurant options, check out the restaurant listings page on our website where you can filter by cuisine, location, and amenities.
---
Make sure to follow us on Facebook, Twitter, and Instagram for all the latest news on things happening in Sugar Land. Our handle is @VisitSugarLand. Tag us in your posts and share your experience: #VisitSugarLandTX, #SweeterInSugarLand. For more information, contact us at (281) 275-2045 or tourism@sugarlandtx.gov.