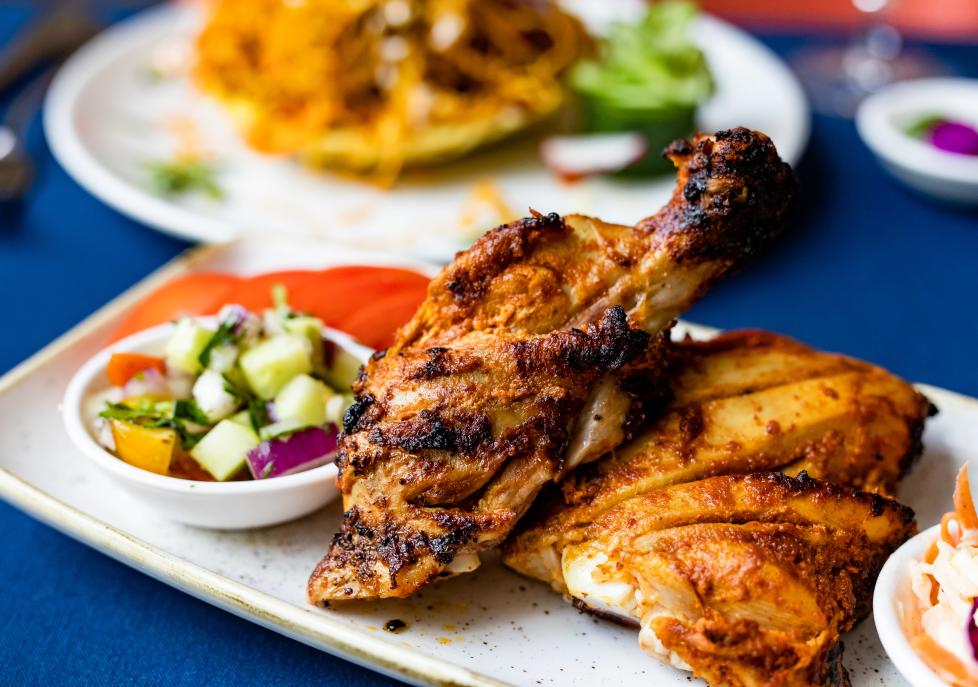 A delicious dinner spread at Mahesh's Kitchen
Mahesh's Kitchen is an upscale fine-dining eatery owned and operated by Shubhangi Musale in loving memory of her brother, Mahesh, who always dreamt of becoming a chef. Located in the heart of Sugar Land Town Square, Mahesh's Kitchen is on a mission to spread love and joy around the city and bring people of all backgrounds together through its food!
Mahesh's Ambiance
---
When you step into the restaurant, you will be greeted by a cute entryway with two Indian-style swings and a photograph of Mahesh up on the wall. Walk further into a delightfully inviting space that is fresh and modern and traditional and cozy all at the same time! True to the owner's Indian roots, you'll find yourself surrounded by beautiful woodwork on the ceilings and walls that glow under ambient lighting. And in stark yet lovely contrast to the woodwork, you will find a modern seating arrangement consisting of white plush chairs with bright orange and blue accents for you to comfortably enjoy your meal.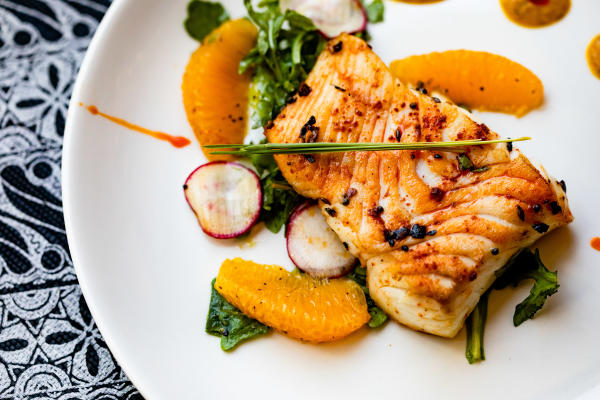 Vibrant food in a vibrant setting
Mahesh's Menu
---
This vibrantly decorated restaurant has equally vibrant food that is made and presented to perfection. The menu offers a variety of traditional vegetarian and non-vegetarian Indian classics that have been reinterpreted with a fusion flare like the Avocado Bhel which pays homage to the Bombay-style street food with a fun twist. The food is not only unique but delicious and beautifully presented on artsy and eye-catching tableware. Balance the spice with their lengthy drinks menu which is also inspired by distinct Indian flavors like cardamom, fennel, and tamarind.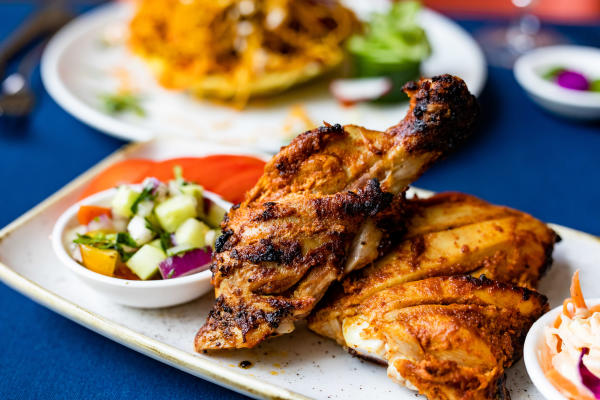 Juicy and flavorful Tangdi Kebab
Mahesh's Best Recs
---
Indian food is known for its spices, and the spices at Mahesh's Kitchen are hand-picked and sourced from India and roasted and ground by the chefs themselves, adding bursts of flavor to every item cooked in the kitchen.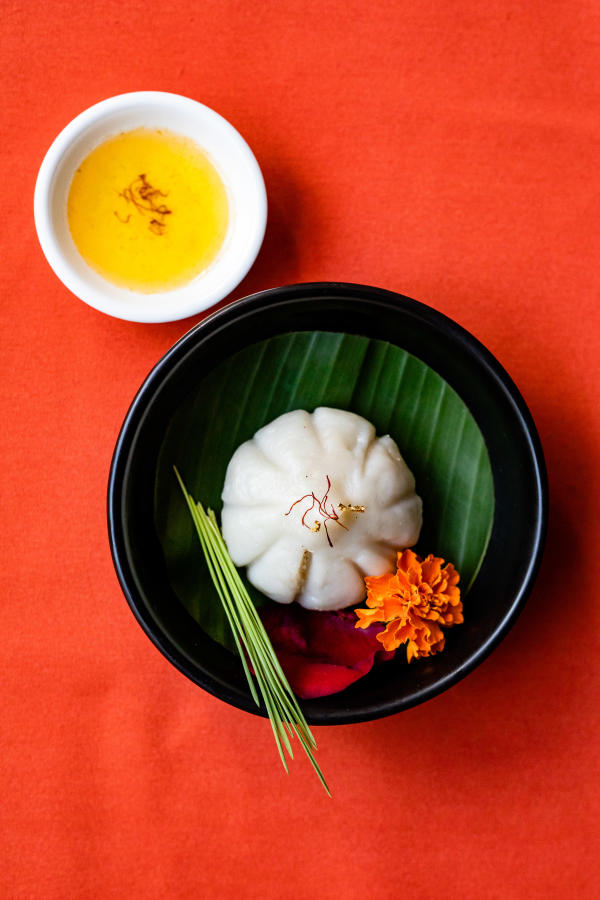 Traditional sweet dumpling known as Mo'dak
These are some of the restaurant's star dishes:
The Butter Chicken is one of their most popular items and will make you wipe your plate clean! Made with tender chicken pieces covered in a rich, aromatic, and creamy sauce that melts in your mouth, this dish is a must-have!
Don't sleep on the side dish. Order their flavorful garlic naans or their Lemon Rice made with peanut, red chili ginger, and curry leaf.
Another exciting eat unique to this restaurant is a handmade sweet dumpling called Mo'dak. This is a traditional Indian dessert that is considered to be a favorite of the Hindu Lord Ganesha perfect for experimental foodies who want authentic delicacies!
What makes Mahesh's Kitchen stand out from all the other restaurants in the city is its clever fusion of traditional and modern elements that are beautifully incorporated throughout the restaurant, providing a truly unique dining experience that is a treat for all the senses.
Try this fantastic restaurant from Tuesday through Sunday at 11 a.m. to 2 p.m. for lunch or from 5 p.m. to 10 p.m. for dinner.
---
Make sure to follow us on Facebook, Twitter, and Instagram for all the latest news on things happening in Sugar Land. Our handle is @VisitSugarLand. Tag us in your posts and share your experience: #VisitSugarLandTX, #SweeterInSugarLand. For more information, contact us at (281) 275-2045 or tourism@sugarlandtx.gov.
---