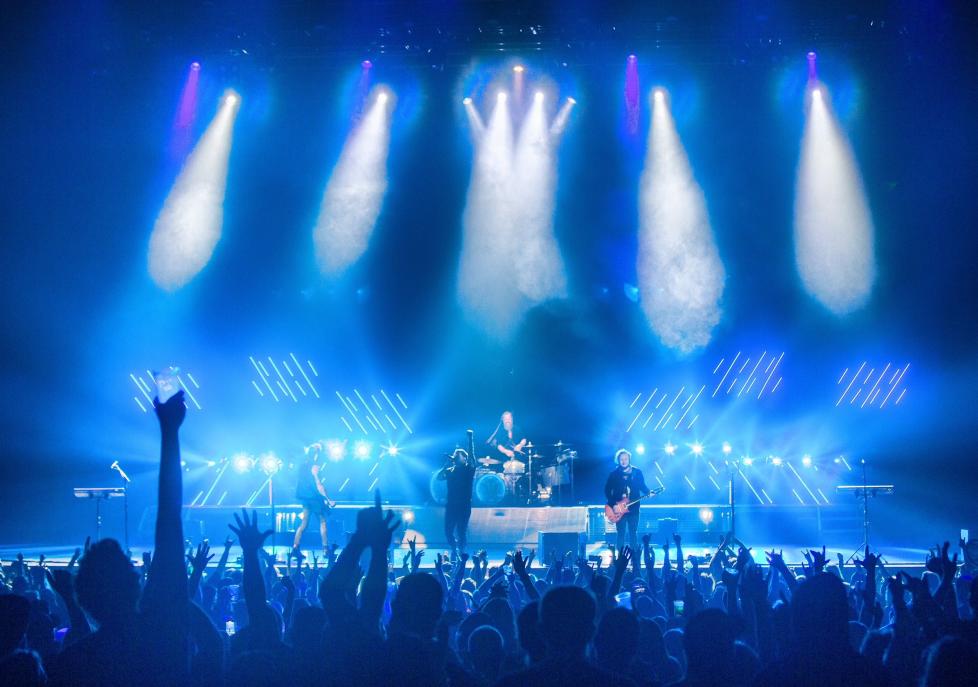 Purchase a ticket to a concert at our state-of-the-art performance venue and feel the adrenaline of a live show!
In Sugar Land, the month of September is all about welcoming the fall season with movies, music, and family-friendly fun! Enjoy stunning displays of entertainment as global icon Russell Peters and legendary musicians like Anthony Hamilton take the stage at Sugar Land's Smart Financial Centre. Throw it back to the 80s and 90s, as Houston's best musicians transport you to the times of Elvis and the Eagles with their uncanny impersonations and covers! And last but not least, have the time of your life at the biggest event of the season at Sugar Land's Fall Fest on September 23!

---
One Vision of Queen - Featuring Marc Martel
Get ready for the world's most spectacular Queen tribute show in a spectacular, one-of-a-kind concert that will rock your world, featuring Marc Martel in Freddie Mercury's voice in the "Bohemian Rhapsody" movie.
Date: September 2
SNAG TICKETS BEFORE THEY SELL OUT
---
With his rugged yet graceful voice, Anthony Hamilton is one of the most relatable and beloved R&B singers of our time. His music has been praised by critics and fans alike, and he has won numerous awards, including a Grammy Award for Best R&B Performance for his duet with Al Green, "You've Got the Love I Need."
Hamilton will be joined by special guests TON3S and TMF for a night of unforgettable music. TON3S is a rising star in the R&B scene, and her soulful vocals are sure to leave a lasting impression. TMF is a Houston-based group that blends soul, funk, and hip-hop, and their high-energy performances are sure to get you moving.
Date: September 3
DON'T MISS THIS RARE OPPORTUNITY. GET TICKETS NOW.
---
If you're a fan of Latin pop music, this show is a must-see.
This iconic Latin pop duo is known for their soulful ballads and catchy melodies, and their music has touched the hearts of millions of fans around the world. With over 20 million albums sold worldwide and songs featured in movies and TV shows, Sin Bandera is one of the most successful Latin music acts of all time with Latin Grammy and Billboard Music Awards to their name.
If you're looking for a night of unforgettable music and romance, then don't miss Sin Bandera live in concert at the Smart Financial Centre in Sugar Land! Tickets are on sale now, so don't wait to reserve your spot.
Date: September 8
DON'T WAIT TO RESERVE YOUR SPOT
---
Spider-Man: Into the Spiderverse
Experience the Oscar-nominated score of Spider-Man: Into the Spider-Verse live in concert!
This one-of-a-kind event will feature the film's original music by Daniel Pemberton, along with song contributions by Post Malone, Lil Wayne, Jaden Smith, and Nicki Minaj. The hip-hop based score will transport you to the streets of Brooklyn and the multiverse, where anything is possible.
Join Miles Morales, an Afro-Latinx teen who is bitten by a radioactive spider and gains mysterious powers. Along with spider-heroes from parallel universes, Miles must master his new powers to save his city from a villain who could destroy it all.
This is a must-see event for fans of Spider-Man, animation, and great music. Don't miss your chance to experience it live in Sugar Land!
Date: September 15
DON'T MISS YOUR CHANCE TO EXPERIENCE SPIDER-MAN LIVE!
---
Experience the magic of one of the greatest bands of all time!
Chicago is one of the most important and successful bands in music history, with 47 gold and platinum albums and 23 Grammy nominations. They are the highest charting American band in Billboard Magazine's Top 125 Artists of All Time, and the first American rock band to chart Top 40 albums in six consecutive decades.
Their latest album, 'Born for this Moment', is a collection of 14 vibrant new songs that showcase the band's signature sound. With its award-winning songwriting, multilayered vocal harmonies, and world-class arrangements, get ready to be electrified!
Don't miss your chance to see Chicago live in concert! This is a once-in-a-lifetime opportunity to experience the magic of one of the greatest bands of all time.
Date: September 20
---
Experience the magic of Ne-Yo live in concert at the Smart Financial Centre in Sugar Land, Texas on September 29th! This three-time Grammy Award-winning R&B hitmaker has sold over 20 million albums worldwide and has a string of chart-topping hits, including "So Sick," "Sexy Love," "Closer," "Because of You," "Miss Independent," and "Push Back."
Ne-Yo is not only a talented singer, but he is also an accomplished songwriter, actor, entrepreneur, and philanthropist. He has written songs for some of the biggest names in music, including Beyoncé, Rihanna, and Britney Spears. He has also starred in several films and television shows, including "The Voice" and "Soul Food."
Ne-Yo's concert is sure to be a night to remember. He will be performing all of his greatest hits, as well as some new material from his upcoming album.
Date: September 29
---
Russell Peters - Act Your Age World Tour
Don't miss your chance to see one of the world's funniest comedians, Russell Peters, live in Sugar Land!
Peters has been named one of Rolling Stone's 50 Best Comics of All Time, and for good reason. He's a master of observational humor, and his jokes about family, relationships, and culture are both hilarious and insightful.
Peters started doing stand-up at the age of 19, and he's been honing his craft ever since. He's performed all over the world, and he's sold out some of the biggest venues in the world, including Madison Square Garden and the Sydney Opera House.
In 2023, Peters is bringing his Act Your Age World Tour to Sugar Land. This is your chance to see one of the greatest comedians of our time live on stage. Don't miss it!
Date: September 30
GET TICKETS BEFORE THEY SELL OUT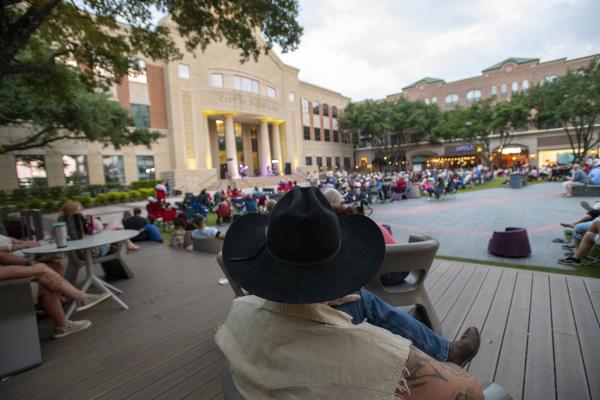 Grab your lawn chair and grab a bite to eat at a restaurant while you enjoy the show!
---
Country Music Series: Shot Gun Road: Tribute to 80's and 90's Country
Sing along to your favorite 80's and 90's country songs with Shotgun Road as they perform popular hits this Labor Day weekend in Sugar Land Town Square!
Date: September 1
Time: 7:30 P.M. To 9:30 P.M.
---
Music in the Square: Tribute to the Eagles
Kick off the Labor Day weekend with the band Already Gone who's coming to rock the Sugar Land Town Square stage with a tribute to one of America's favorite bands: The Eagles!
Plus, enjoy delicious food from Williams Smokehouse BBQ!
Date: September 2
Time: 7:30 P.M. to 9:30 P.M.
---
Get ready to be blown away by Vince King's undeniable charisma, looks, and moves as he sings your favorite Elvis Presley songs in a free tribute concert that will have you screaming "Thank you, thank you very much!"
Date: September 8
Time: 7:30 P.M. to 9:30 P.M.
---
Movies Under the Moon – The Super Mario Bros. Movie
Grab a bite from any of Sugar Land Town Square's restaurants and then head on over to the Plaza for a night of cinematic magic under the stars!
Date: September 9
Time: 7:00 P.M. - 9:00 P.M.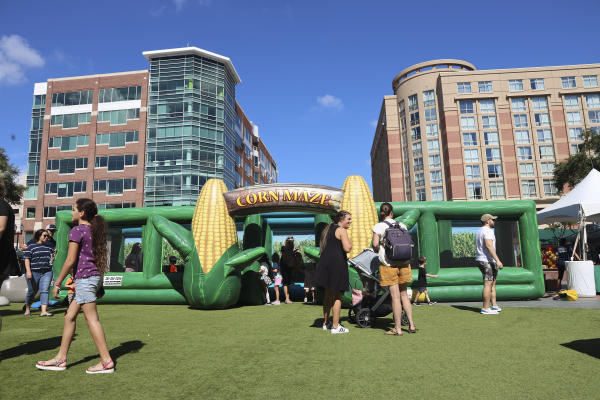 Stay tuned for hay rides, a corn maze and shopping at this year's Fall Fest!
---
Dress up in your favorite fall colors and head over to one of the biggest fall events in the Houston area: the Sugar Land Fall Fest! Gather your loved ones and join the city for a day of all things fall, with live music, hayrides, face painting, artisan market, fall photo backdrops, games, food, carnival games and more!
Admission is FREE!
Date: September 23
Time: 10:00 A.M. - 3:00 P.M.
---
How about welcoming the fall season with a garden party? Head over to the 1860s Ryon home at George Ranch Historical Park and enjoy some lemonade, cakes, and historic games! Play a game of croquet in the yard, then take a break and listen to a story or read a book under the oaks.
Date: September 16
Time: 9:00 A.M. - 5:00 P.M.
Sugar Land is packed with family-friendly activities throughout the year as well as some of the best eating options in the Houston area! Click our monthly calendar for more upcoming events and check out our restaurants by cuisine here. 
---
Make sure to follow us on Facebook, Twitter, and Instagram for all the latest news on things happening in Sugar Land. Our handle is @VisitSugarLand. Tag us in your posts and share your experience: #VisitSugarLandTX, #SweeterInSugarLand. For more information, contact us at (281) 275-2045 or tourism@sugarlandtx.gov.