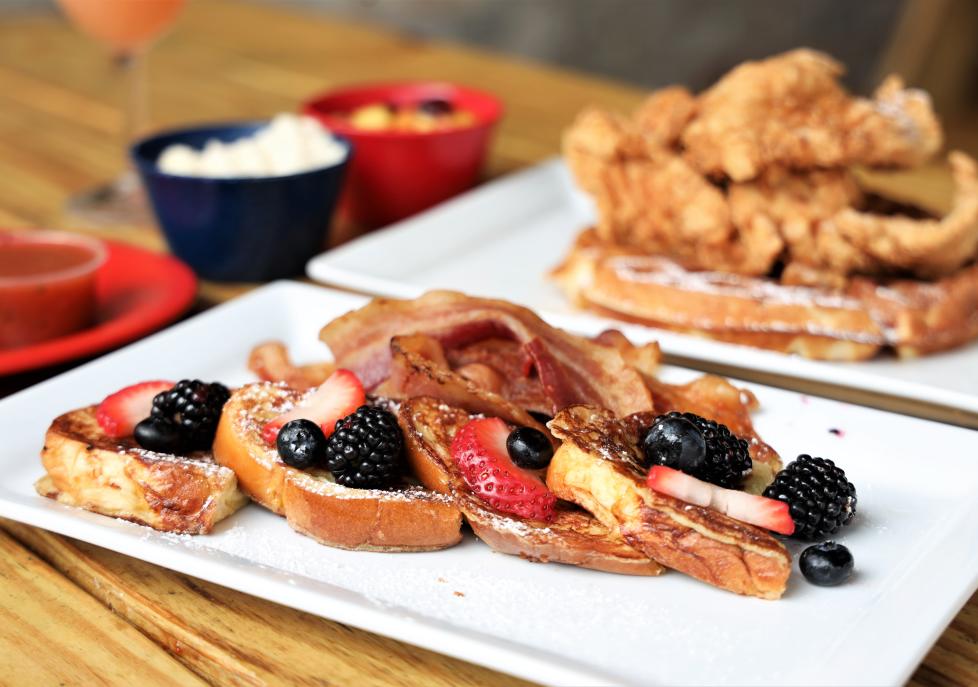 Live Oak Grill offers a variety of brunch dishes all week!
There's something about weekends that invites a delicious, plentiful brunch. Maybe it's the relaxed agenda for the day, or maybe it's because you're exploring new communities and crave some comfort food. (Welcome to Sugar Land, BTW! Glad you stopped by.) 
Which place to choose? Well, that depends on your plans for this weekend. But if you're a foodie that wants an incredible experience unique to Sugar Land, you'll be headed for some of our top brunch spots. Whatever your needs, we've got you covered on the best breakfast spots in Sugar Land.
Note: If you're visiting town and staying in a hotel, check the restaurant there; you might be surprised at what is in store for you!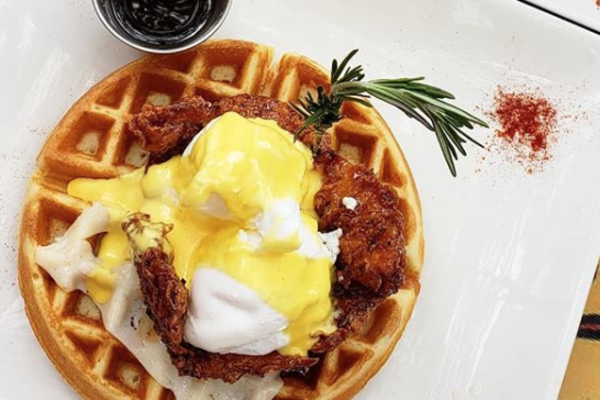 Chicken & Waffles at Jupiter Pizza and Waffles Co.
Sugar Land Brunch Specialties
---
Jupiter Pizza and Waffles (9 a.m. - 9 p.m. on weekends; 11 a.m. - 9 p.m. during the week) Call ahead for brunch curbside pickup or stop in to luxuriate in foodie heaven.  This Sugar Land local restaurant offers Belgian Waffles, the signature Jupiter Omelet, French toast, skillets, and a collection of Belgian waffles that range from S'mores to fried chicken varieties. There's a full range of pizzas, as well as southern entrees (Ricky Bobby Tacos, anyone?).
Another great place to indulge in delicious brunch is The Rouxpour  (Saturday 11 a.m.-2 p.m. and Sunday 11a.m. – 3 p.m.) with its upscale NOLA-style offerings. Try the French Quarter Fried Eggs and Boudin, the Three-Napkin Waffle, Cajun Omelet, Beignets, mimosas and Bloody Mary's and see where that leads!
Churrascos (Weekends 10:30 a.m.- till 3p.m.) Here's another option, with multiple buffets featuring all sorts of meats (seafood, ribs, Mexican), stations (beef, pork, omelet, mac and cheese) chilled foods (salads, salmon, fruit, shrimp cocktail), hot sides (Caribbean rice, French toast, potatoes, vegetables, maduros) and desserts from tres leches, alfajores and flan to brownies. The Latin influences blend with American comfort food for an outstanding way to spend a late morning.
Live Oak Grill (Mon-Fri from 7:30 a.m. - 11 a.m. | Weekend 7:30 a.m. - 2 p.m.) This local favorite in Sugar Land has hearty country staples like Chicken Fried Steak and Eggs complete with potatoes, toast and gravy, a Pork Chop Breakfast served with potatoes and toast, Homestyle Pancakes and more! Kids 12 and under can enjoy a breakfast with pancakes, bacon or sausage, eggs and fresh fruit.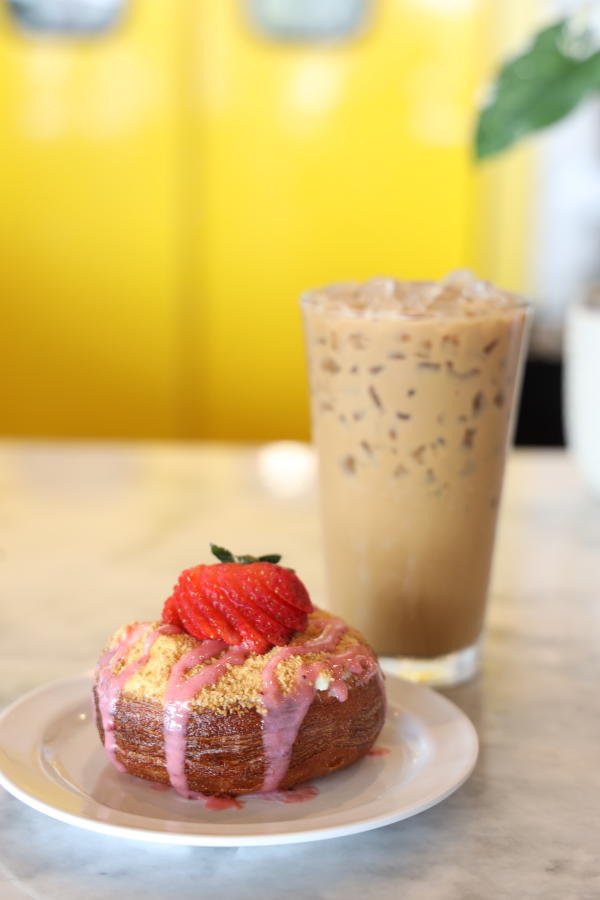 Strawberry Cheesecake kronut and Vietnamese coffee at Toast.
Toast (8 a.m. till 2 p.m., 7 days) brings out the fun when it comes to morning meals. Fruity Pebbles French Toast, or Green Drink in a pouch, maybe? There's everything you'd expect for brunch plus signature items like Vietnamese Steak and Eggs, Toast Chilaquiles, Cuban Sandwiches, Pancake Tacos (you read that right!) and even wings and Kim Chi Fries.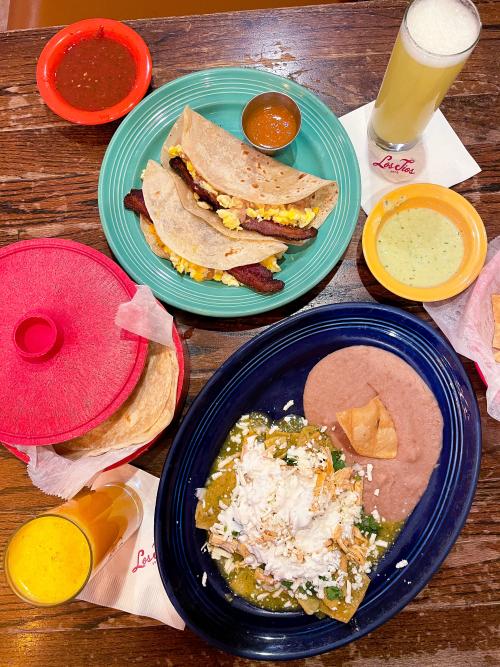 Don't miss out on trying the breakfast tacos and Chilaquiles con Pollo y Crema at Los Tios Mexican Restaurant.
Los Tios Mexican Restaurant (Breakfast is served only on Sundays 10 a.m.- 3 p.m.) If you want a Tex-Mex experience with the friendliest staff, then you have to try Los Tios. We love their savory brunch staples like Chilaquiles con Pollo y Crema (fried corn tortillas cooked in green tomatillo sauce, shredded chicken, onions, and cilantro), Migas (scrambled eggs, corn tortillas, onions and jalapenos), ranchero sauce and their Huevos Rancheros (sunny side up eggs on a tostada topped with ranchero sauce, queso fresco). Pair it with a Michelada or one of their non-alcoholic beverages like an Agua Fresca.
The Roof on the Lake (Sunday 11 a.m. – 4 p.m.) offers an amazing view—it's on top of a three-story building overlooking Brooks Lake, and it's only a quarter mile from Sugar Land Town Square! But, if you're looking for an upscale, pampered treat, this is the spot to visit. Check out the brunch menu for some inspo. You can't go wrong with Bananas Foster French Toast or Gulf Shrimp and Grits (with andouille sausage and lobster cream sauce).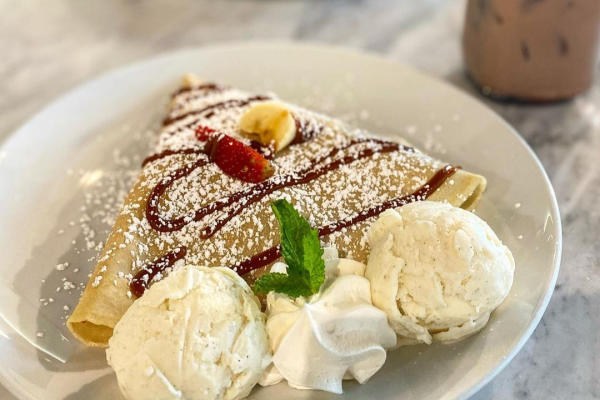 Crepes at Sweet Paris Crêperie and Café. Photo by @you_cant_eat_with_us
Sweet Paris Crepêrie and Café (Breakfast crepes served from 8 a.m. -3 p.m. daily) offers an international lineup of breakfast crepes that can fill your cravings. Choose from The Alaskan (smoked salmon, pickled onions, eggs, dill, capers and sour cream), Le Mexican (egg, queso fresco, refried beans, carnitas, chipotle sauce, crema), Croque Madam (scrambled egg, gruyere, ham, bechamel sauce), La Canadienne (poutine cheese, scrambled egg, potato, bacon, maple syrup) and the Houstonian (mozzarella, bacon, sausage, potato, eggs, jalapeño). When you have these global options at your fingertips, how can you skip brunch at Sweet Paris?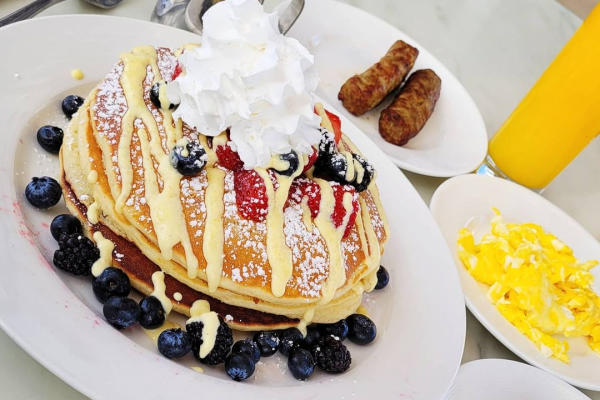 Very Berry Pancakes at Eggcellence. Photo: @AriaWho22
Spectators Bar & Grill (Breakfast is served Monday-Friday  9 a.m. - 12 p.m. | Brunch is served Saturday-Sunday 10 a.m. - 2 p.m.) is the perfect spot to grab a breakfast sandwich on the go during the week. Choose from a bacon, egg and cheese sandwich or a chorizo breakfast sandwich, both served on toasted Brioche buns. If you want lighter fare in the morning, go for the Avocado Texas toast. On the weekends, sit back and relax in their patio with a view to Brooks Lake and enjoy the Spectator's Grand Slam which includes eggs your way, bacon, sausage or chorizo, pancakes and tots. Try their Chorizo Eggs Benedict for a flavorful twist on the traditional version or indulge in sweet options like french toast, pancakes or a freshly prepared fruit parfait. Cheers to the weekend with their mimosa carafe!
Familiar Brunch Spots
---
But maybe your trip to Sugar Land has an itinerary full of outdoor hiking, biking, skateboarding and birdwatching that doesn't leave time for a fancy brunch. Maybe your kids won't tolerate a formal setting where they need to mind their manners. Or perhaps someone in your group isn't fond of new culinary adventures. If that's the case, we have some tried-and-true choices that may have a location in your hometown—but because you're so busy with the nine-to-five scene, you've never checked them out. Here are a few to consider:
You may be drooling by now hearing about all the best breakfast spots in Sugar Land, but keep in mind that this list is just the tip of the iceberg. Check out the many other restaurant offerings in the "Sweetest City in Texas."
---
Make sure to follow us on Facebook, Twitter, and Instagram for all the latest news on things happening in Sugar Land. Our handle is @VisitSugarLand. Tag us in your posts and share your experiences using #VisitSugarLandTX, #SweeterInSugarLand. For more information, contact us at (281) 275-2045 or tourism@sugarlandtx.gov.
---