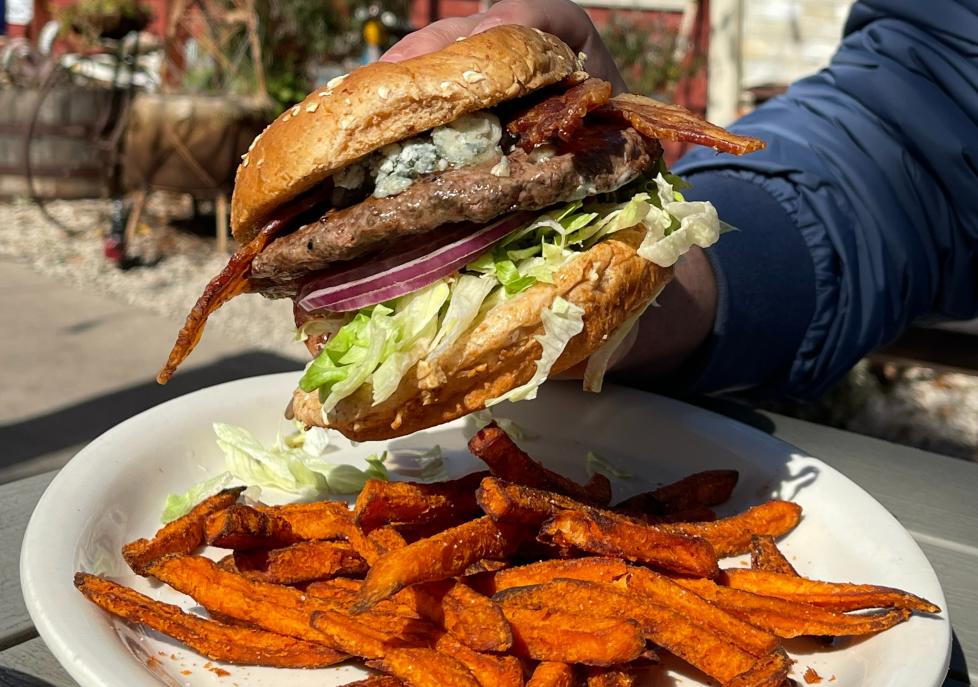 The bacon and blue cheeseburger at local gem, Live Oak Grill, is a must-try!
Hey there, burger enthusiasts! If you've been looking for restaurants that serve up delicious burgers packed with bold flavors, you've come to the right place: Sugar Land is a burger lover's paradise. Here are our top picks for the best burgers in the city. 
---

Photo: @houstonwithoutgluten
Craving a unique twist on the classic burger? Look no further than GURU Burgers & Bowls. This cozy spot combines the best of two worlds: gourmet burgers and delectable crepes. Try the local favorite: "The Pancho." This tasty burger features grass-fed Texas Akaushi beef, jalapeno bacon, pepper jack cheese, roasted jalapeno, guacamole, tomato, lettuce, and pickles. This is definitely a mouthful, in the best way possible. If you've been on the quest for a unique burger in Sugar Land that will keep you coming back for more, then this is a must-try! Don't forget to pair these with their new Classic Shakes made with delicious Blue Bell Ice Cream.
---
If you're in the mood for a hearty, all-American meal, head over to Black Bear Diner. While known for their delicious breakfast options, their burgers are equally impressive. Try something unique like their Parmesan Sourdough Cheeseburger with Dijon mustard, swiss cheese, tomato & grilled onion on thick-cut sourdough bread grilled golden with a garlic parmesan cheese crust.
---

Photo: @houstonworldeats
Beck's Prime in Sugar Land brings you "The finer side of fast." Voted one of the top ten best burgers in Texas by Texas Monthly, it is safe to say that any burger you choose will surely satisfy your cravings! From classic cheeseburgers to specialty options like the mouthwatering California burger with 100% Angus beef burger topped with freshly made guacamole, Swiss cheese, lettuce, and tomatoes on a freshly baked egg bun, there's something to satisfy every burger lover's cravings. Complemented by fresh toppings, toasted buns, and a variety of delectable sauces, these burgers deliver a symphony of flavors with every bite. 
---

Photo: @barlouiesl
When it comes to burgers and a vibrant atmosphere, Bar Louie in Sugar Land hits the mark. This popular gastropub serves up a variety of mouthwatering craft burgers that are made to order on a toasted brioche bun and served with pickles and your choice of fries or tots. Bite into the "Gastroburger," a juicy shaved sirloin patty topped with caramelized onions, queso, provolone, and garlic aioli. Don't forget to pair it with their extensive drink menu. Whether you're looking for a casual lunch or a lively evening out, Bar Louie won't disappoint.
---
For a burger experience with a British twist, look no further than Big Ben Tavern. This charming pub offers a selection of hearty burgers that pay homage to classic British flavors. Try their  "Garden Veggie Burger," a delightful creation that is sure to satisfy even the most discerning palates. This veggie burger masterpiece starts with a flavorful, homemade patty made from a blend of fresh vegetables, legumes, and aromatic herbs and spices. Grilled to perfection, it boasts a satisfying texture and a burst of savory flavors with every bite. The cozy atmosphere and friendly staff make Big Ben Tavern a must-visit for burger aficionados seeking a touch of British charm.
---
If you're searching for a burger joint that prides itself on fresh ingredients and unique flavor combinations, look no further than Smashburger. This fast-casual chain delivers handcrafted burgers made from 100% Certified Angus Beef. Sink your teeth into their signature "Classic Smashburger", featuring a perfectly smashed patty topped with American cheese, lettuce, tomato, pickles, and their special Smash Sauce. With a variety of toppings and customizable options, Smashburger offers a burger experience tailored to your taste buds.
---

Photo: @liveoakgrill
Have you been searching for the perfect classic burger in Sugar Land? Take a quick detour to Live Oak Grill where homemade classics are their specialty. Try their famous "Boss Hogg" burger which includes two beef patties, lettuce, tomatoes, pickles, onions, and mustard. As Live Oak Grill says, this great burger is "Like the old fashion, but more to love!"
---
Fresh, made-from-scratch Texas-style food is served at State Fare. Try their State Fare Cheeseburger with Texas Akaushi beef, American cheese, tomato, onion, iceberg, b&b pickles, and their signature s&f sauce for a grand taste of the Lone Star State. Or get their Beyond Beef Burger with arugula, tomato, and jalapeno ranch dressing, tightly packed between gluten-free buns. All their burgers are served with hand-cut fries or a side salad with your choice of dressing. 
---
Step into this sports bar to watch a game or chow down on some delicious food like their premium burgers and their top-notch appetizers. Choose from their Spicy Southwest Burger served with guac, chipotle mayo, pepper jack cheese and fresh pico or go for a step up on the traditional with a Spectator's Prime Beef Cheeseburger made with a tri-blend of brisket, chuck and short rib and served with a side of crispy truffle fries. If you're a fan of blue cheese, you can't miss taking a bite out of their Bacon Blue Cheeseburger served with Gorgonzola, bacon and tomato. 
---
Last but certainly not least, we can't talk about burgers without mentioning Five Guys. This beloved chain has gained a reputation for its simple yet satisfying burgers made with fresh, high-quality ingredients. Customize your burger to perfection with an array of toppings and enjoy the juiciness of their hand-formed patties. Don't forget to indulge in a side of their famous hand-cut fries for the ultimate burger feast. Five Guys is a no-frills burger joint that consistently delivers on flavor and quality.
Halal Burgers
The following restaurants serve halal meat!
---

The Big Bubba Burger's signature ingredient is a giant onion ring on top! 
Step into this bright and Instagrammable location for any of their tasty menu items like their burgers, gyros and milkshakes and you'll be blown away by the punch of flavor in every bite! They pride themselves on using fresh ingredients and spectacular burger combinations you won't find anywhere else. Try their Big Bubba Burger made with beef, jalapenos and a massive onion ring crowning this delicious creation. Ask about their halal and healthy options like their Lettuce Wrap Burger and Gyro Bowls. 
---

Photo: @omgburger
OMG! Burger provides 100% organic halal cuisine to Sugar Land in the form of delicious burgers, mouth-watering chicken sandwiches, wraps, tacos, and hotdogs, finger-licking-good wings, and so much more! If you're a fan of mushrooms on your burgers then we highly recommend their Shroom Burger made with aged melted Swiss cheese, arugula, sautéed mushrooms, tomatoes, onions, pickles, and mayo.
---
Photo: @thehalalreviewer
Fanoosh Burger & Bites brings mouth-watering 100% flame-grilled patties with classic combinations from the Rancor -- flame-grilled beef patty with American cheese, onion ring, beef bacon, caramelized onions, and chili ranch; and the Philly Cheese Burger -- flame-grilled patty with American cheese, Philly steak, grilled onions, and their Fanoosh sauce. They also serve up great Family Packs that include a mix of burgers, fries, and drinks to keep every member of your family satisfied.
Remember, this is just a taste of the burger scene in Sugar Land. So, what are you waiting for? Grab your appetite, hit the road, and make your way to Sugar Land to indulge in some of the best burgers around. Trust us, your taste buds will thank you! 
Enjoy your burger adventure, and let us know your favorite spots along the way!
---
Make sure to follow us on Facebook, Twitter, and Instagram for all the latest news on things happening in Sugar Land. Our handle is @VisitSugarLand. Tag us in your posts and share your experience: #VisitSugarLandTX, #SweeterInSL. For more information, contact us at 281.275.2045 or tourism@sugarlandtx.gov
Share Something Sweet
#VisitSugarLandTX
---