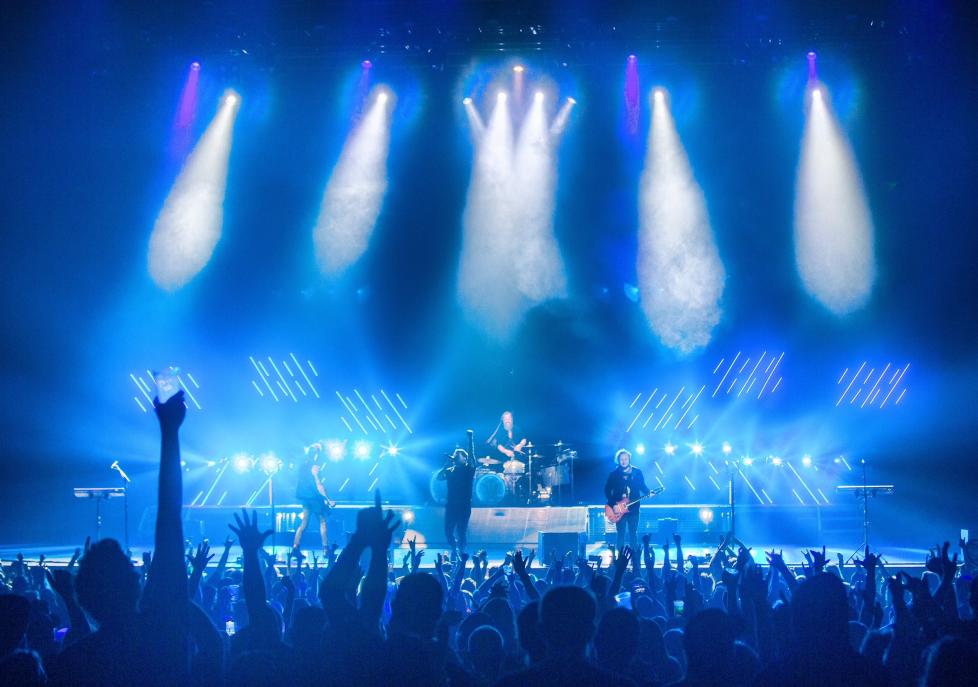 A concert at Smart Financial Centre at Sugar Land.
One of the biggest things we celebrate as a city is our diversity. Not only do we have a rich, cultural food scene, we also have various entertainment options throughout the year. Here are the top Latin shows coming to the Smart Financial Centre in 2023.
Jam with the Los Tigres Del Norte 
---
Armed with Jorgé's mad accordion riffs, Hernán's fuming electric bass lines, Eduardo's brilliant sax, Luis' snarling 12-string guitar fret-work and Óscar Lara's powerful drumming, this Mexican musical group will keep you at the edge of your seats as they perform songs inspired by the Latin diaspora's stories of love, loss and blue-collar hardships. Get your tickets before they sell out!
Event Details: Feb 18 at 7:30 P.M.
Get a sneak peek of Spain with Melendi 
---
Melendi is Spain's most listened to artist, according to Spotify. Blending Cuban rhythms with international pop-rock, Melendi represents contemporary Spain like no one can. Buy your tickets today.
Event Details: Mar 4 at 8:00 P.M.
Experience a feminine take on the ranchera with Ana Gabriel 
---
Known for giving the traditional macho ranchera a feminine twist, Ana Gabriel has been an inspiration to millions of fans. Having received more than 30 nominations for Premios Lo Nuestro, as well as Grammy and Latin Grammy nods, she is sure to grab your attention with her uniquely husky voice and emotionally charged performance.  Get your tickets today.
Event Details: Apr 14 at 8:00 P.M. 
Mix Mexican American tunes with Ha*Ash 
---
Get ready for a night of Mexican-American tunes with sister duo Hanna Mosa and Ashley Mosa who'll blow you away with their country and Latin pop jams. Purchase tickets today.
Event Details: Apr 20 at 8:00 P.M. 
Keep the romance alive with Ricardo Montaner 
---
With over 65 million albums sold worldwide, Latin music legend Ricardo Montaner is coming to captivate your heart with his iconic romantic balladry and signature boyish tenor. Purchase your tickets now!
Event Details: Apr. 30 at 8:00 P.M. 
Get your hip hop on with Anuel AA
---
As part of his Legends Never Die World Tour, Anuel AA will put up an exhilarating show you don't want to miss. Known for his slick trap tunes, this Puerto Rican rhymester will have you head-bobbing the night away. Get your tickets ASAP!
Event Details: May 6 at 8:00 P.M. 
Get Lost in the Lyrics with Ricardo Arjona
---
The legendary Guatemalan singer-songwriter visits Sugar Land to delight his fans during his Blanco y Negro: Volver Tour 2023. Famous for his distinctive story-telling lyrics and unique voice, don't miss out on this show for date night! Buy your tickets now!
Event Details: May 19 at 8:00 P.M. 
Feel the Percussion with Banda MS
---
Also known as Banda Sinaolense MS de Sergio Lizárraga, this Grammy nominated band led by brothers Sergio and Alberto from Mazatlan, Mexico has garnered worldwide fame. Their music characterized by its brass and percussion tops the charts on Spotify, electrified Madison Square Garden. Snoop Dogg's love for their banda music resulted in a catchy song collaboration in 2020. Snag your tickets today!
Event Details: August 4 at 8:00 P.M. 
---
Make sure to follow us on Facebook, Twitter, and Instagram for all the latest news on things happening in Sugar Land. Our handle is @VisitSugarLand. Tag us in your posts and share your experience: #VisitSugarLandTX, #SweeterInSugarLand. For more information, contact us at (281) 275-2045 or tourism@sugarlandtx.gov.