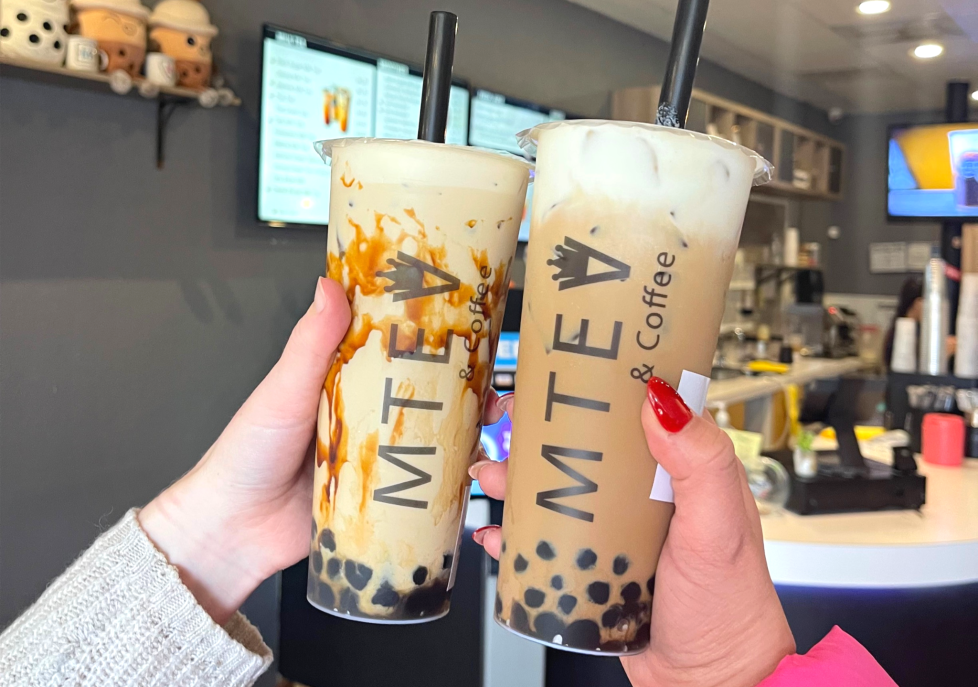 Black Sugar Milk Tea and Coffee with Sea Salt Milk Tea at MTea and Coffee.
Have a sweet spot for Tapioca? Those wonderfully delicious and unexpected textured fillings found in bubble tea? Well, you've come to the right place! We've done our tapioca tastings and have narrowed down the best places in Sugar Land to indulge in. Check our best recommendations below!
The Creamery Teahouse is a bright, quaint shop that offers delicious milk teas, smoothies, and coffees that can be customized with your choice of milk, sweetness level, and toppings like chocolate drizzle, pandan jelly, tapioca and crystal boba. Grab your drink and pose at their cute photo booth near the entryway and play some board games with your friends while you sip on your drink! Order their super-hit Thai Green Tea for a refreshing pick-me-up that will leave a flowery note on your palette.
---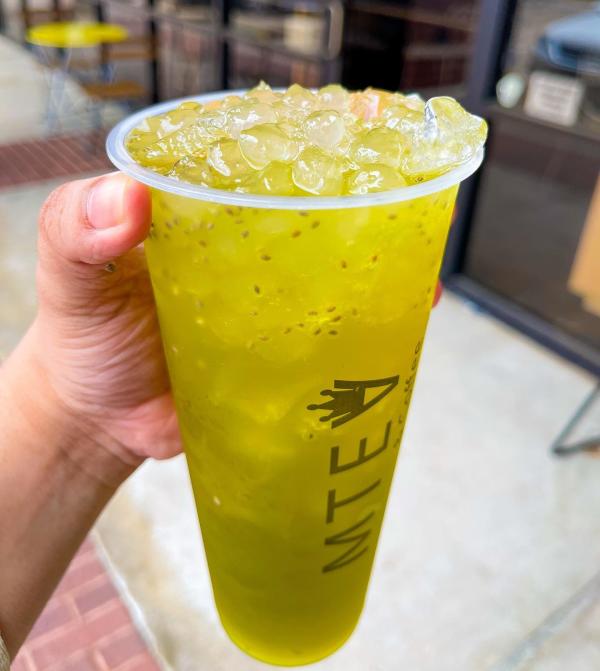 Kiwi Passion Fruit Green Tea with Crystal Boba. Photo Courtesy @mteancoffee
This contemporary tea house has a family-friendly environment with great customer service, making for a lovely spot to enjoy delicious tapioca drinks! Their special boba balls have a chewy texture with a hint of sweetness, perfectly balancing your drink. Order one of their most popular drinks which include the Black Sugar Milk Tea, Jasmine Milk Tea, Rose-Lychee Green Tea, and Dragon Fruit Peach Green Tea. Pair your drink with their yummy sweet potato fries or pandan waffle for a complete experience!
---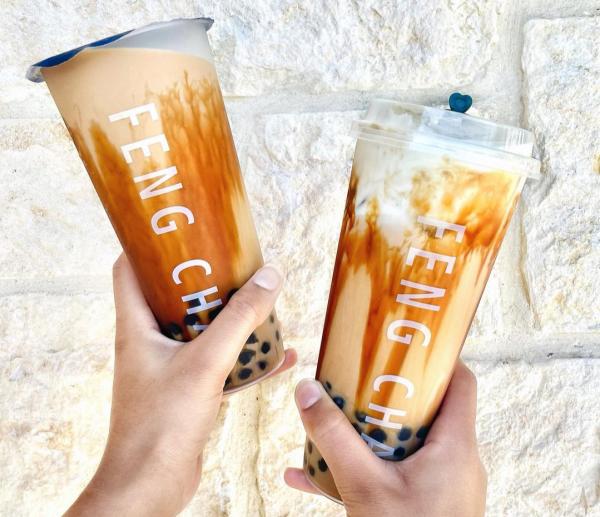 Dirty Bobas with Black Tea. Photo Courtesy @munchinwithmani
Located on University Boulevard, Feng Cha is the only teahouse in Texas that offers six different flavors of milk foam teas like cheese milk foam, sea salt milk foam, and tiramisu milk foam. Order their number one selling drink called the Dirty Boba Milk Tea or any of their other colorful teas that have been carefully picked from different places across China for an authentic experience! If you love their dirty boba tea but want your coffee fix too, order The Dirty Caffe Latte and experience the best of both worlds in one delicious beverage. To end your experience on an even sweeter note, order their velvety soft taro chocolate cake/soufflé.
---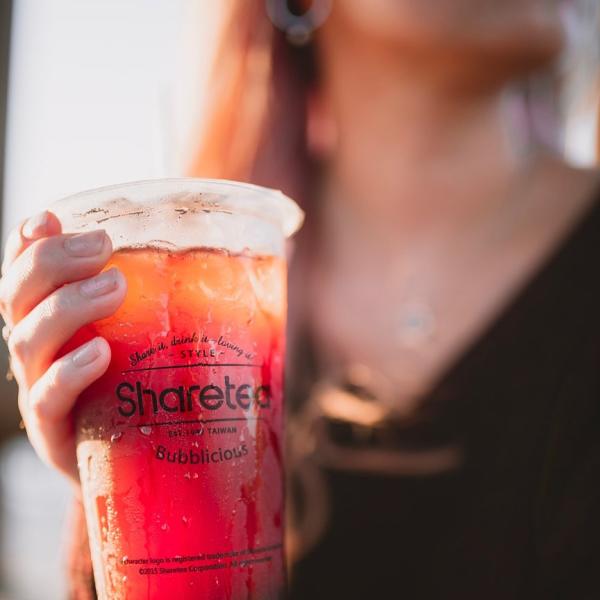 Beat the heat at Sharetea. Photo Courtesy @shareteasugarland
Sharetea offers the most authentic Taiwanese boba in town! With delicious drinks made from high quality tea leaves and carefully-selected ingredients from Taiwan, Sharetea fills your cup to the brim! This tapioca spot has a bunch of seating options like booths, tables, and comfortable leather chairs so you can sit back and relax with one of their drinks in hand! The QQ Happy Family Milk Tea reigns at the top of their signature drinks list because it has all the toppings in one drink with the Mango Green Milk Tea coming in a close second!
---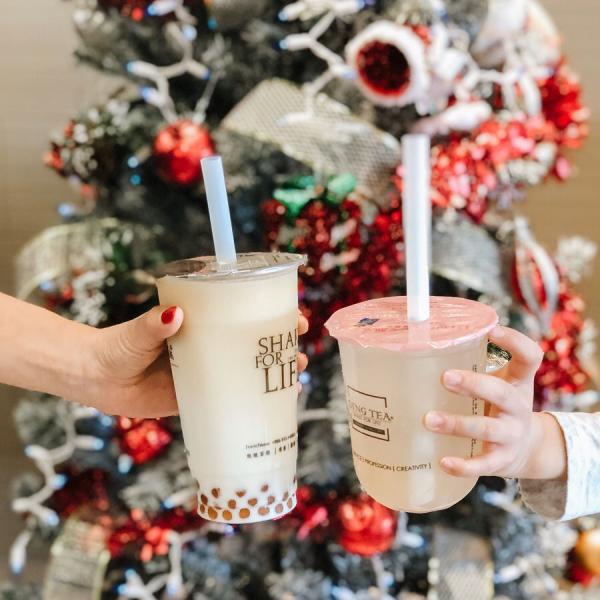 Holiday vibes at Ding Tea Photo Courtesy @rachelxeverafter
Ding Tea is another Taiwanese bubble tea house offering unique drinks in a chic and spacious setting! Loved for their Monster Bobo Latte and perfectly crisp, hot, and spicy fries and popcorn chicken, this place offers yummy treats to sip and snack on! Remember to take a photo against one of their muraled walls to share on your socials!
Located on University Boulevard, Kung Fu Tea is just the bubble tea specialist you needed for all your tapioca cravings! Specializing in made-to-order tea, milk & fruit-based beverages, Kung Fu's best sellers include their iconic Kung Fu Milk Tea which blends earl grey tea with cane sugar and milk powder for a creamy brew you cannot miss out on! Cool down with a tart and refreshing swirl of mango and green tea blend called the Mango Cream.
Sit under gold hanging lights in plush green cushioned booths and indulge in delicious tapioca blends. With a beautiful interior and a vast menu, you can choose from endless options like cream blends, ice blends, oolong tea presses, and fresh fruit drinks! Have a go at the Taro Coconut Milk Tea with Tapioca for an exotic blend of taro and coconut. Taro is a root vegetable similar to a potato that soaks up flavor like a sponge and gives your drink a sweet and nutty taste.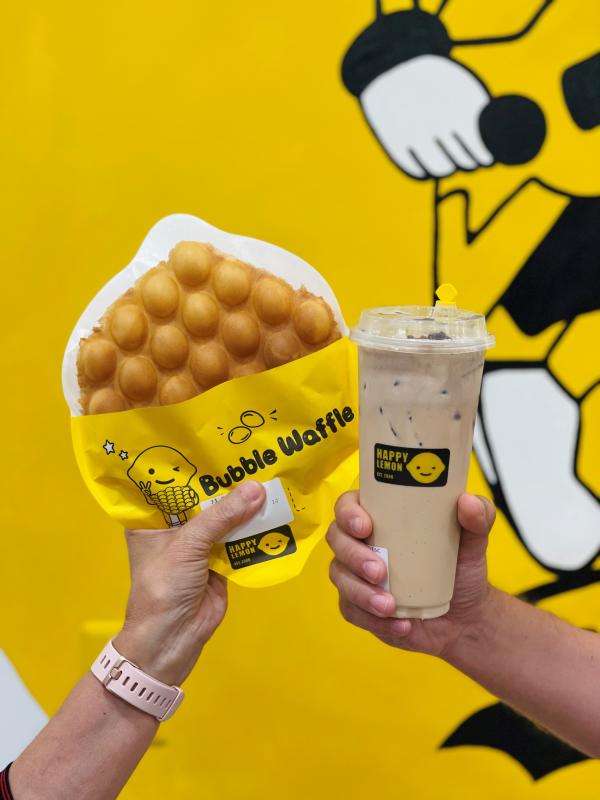 You'll love this kawaii and Instagram-worthy bright yellow bubble tea shop with a menu of premium teas, slushies, fruit smoothies and well-known cheese teas. Don't miss out on trying their crunchy and puffy fresh-made bubble waffles available in vanilla, chocolate and matcha flavors. Pair it with cheese dip (tastes similar to a cream cheese frosting) for a savory and sweet treat. Must haves on their menu? The Mango Matcha Smoothie, Lemon Slushy and their Milk Tea with Oreo and Puff Cream. 
Don't forget to snap a pic with your beverage of choice and tag us @VisitSugarLand
---
Make sure to follow us on Facebook, Twitter, and Instagram for all the latest news on things happening in Sugar Land. Our handle is @VisitSugarLand. Tag us in your posts and share your experience: #VisitSugarLandTX, #SweeterInSugarLand. For more information, contact us at (281) 275-2045 or tourism@sugarlandtx.gov
---