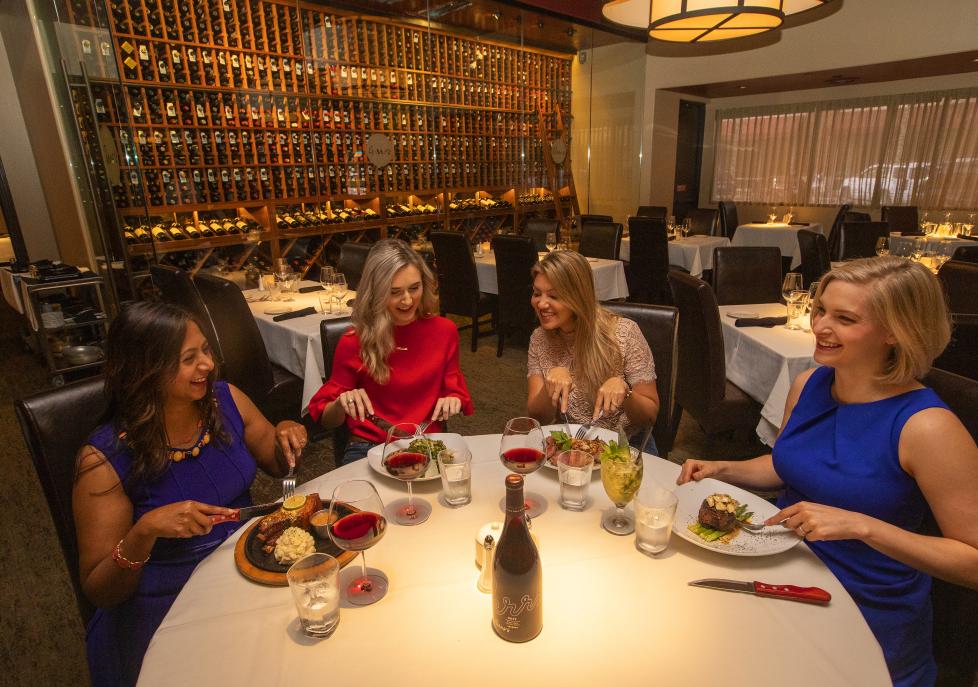 Photo: Perry's Steak House and Grille
Houston Restaurant Weeks (HRW), the most anticipated foodie event founded by the late "Diva of Dining" Cleverly Stone is kicking off from August 1 to September 5 (Labor Day), participating restaurants serve prix fixe menus (fixed price for a variety of multi-course meals). And this is where they strut their stuff, so to speak, showcasing specially created dishes or highlighting some of their all-time favorite recipes.
There's no need to make special reservations to take advantage of these special promotions. Just book your meal like you normally would, reserving or walking in, depending on the location.  And besides getting a fabulous dinner at a special price, a portion of your check is donated to the Houston Food Bank. It's a win-win for everyone!  HRW donations have provided more than 50 million meals for the Houston Food Bank since 2003. And this just leaves one question: Where to start?
The Nines Thai Cuisine is a newer Thai restaurant established in 2021 in Sugar Land. They specialize in fried rice, noodle dishes, curries and stir fries. Crowd favorite: Khaoi Soi (Curry Noodles.)  The Nines HRW Menu includes a first course, a second course of soup or salad, an entrée course with pad Thai, a pineapple curry, catfish and three desserts for $39.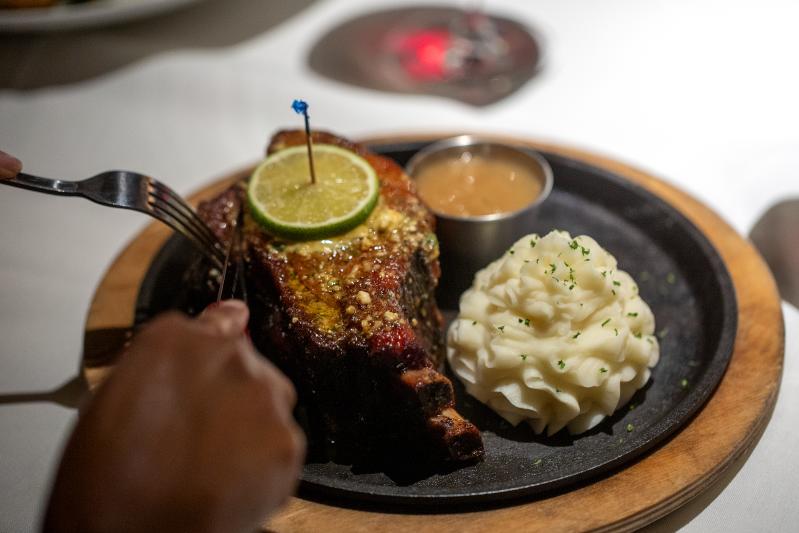 Perry's Steakhouse famous pork chop.
Perry's Steak House and Grille is a Sugar Land favorite for special events and celebrations, featuring elegant fine dining and high-end steaks, seafood, chicken and pasta. Crowd favorite: Perrys famous pork chop. Perry's HRW Menu featuring four soup or salad appetizers, pork chop/salmon/snapper/brick chicken/fried shrimp/ fillet, ribeye, strip steak entrée choices, followed by three dessert options for $55 per person. Get your HRW meal to go at the same price!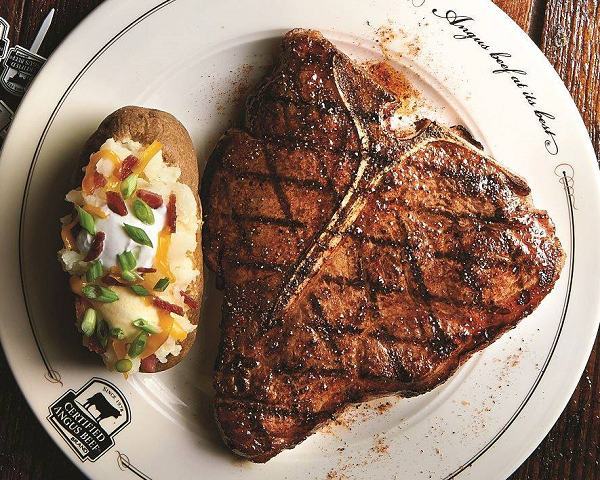 The grilled T-bone steak and loaded baked potato at Saltgrass Steakhouse. Photo: Saltgrass Steakhouse
Saltgrass Steak House specializes in Texas beef, and lots of it! They serve steaks, steaks, and more steaks, plus entrée salads, grilled and fried seafood, plenty of sides and Texas favorites like gulf coast steak and shrimp and blackened grilled shrimp. If you have any room left, their decadent desserts won't disappoint! Crowd favorite: Prime rib. Saltgrass's HRW Menu includes three appetizers, steak and shrimp/fillet and shrimp/redfish/ entrees for $39.  
State Fare features fresh Texas fair inspired food in a fun, family-friendly atmosphere. Whether it's mac 'n cheese, sandwiches or steaks, you won't walk away hungry. Kids get special meals served on metal trays. Crowd favorite: Weekend brunch. State Fare's HRW Menu is available for lunch and dinner.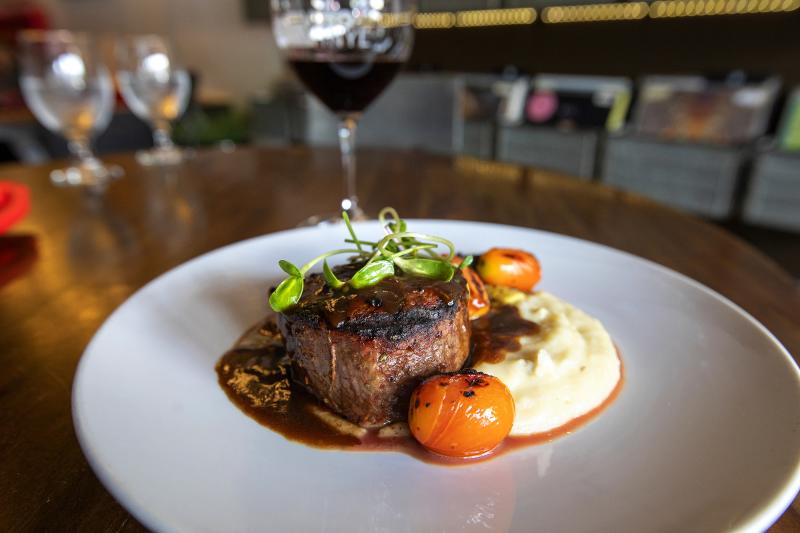 The filet mignon at Vino and Vinyl.
Vino & Vinyl hearkens back to the restaurant supper clubs of the 1930s. They offer great food, a remarkable collection of wines, DJ-spun vinyl music to enjoy and artwork from local creatives. The regular menu features a happy hour menu, plus entrée salads, flatbreads, veggie platter, tacos, sandwiches, burgers, pasta, seafood, chops, charcuterie boards, desserts and sides. Crowd favorite: Brussels Sprouts with ponzu-hoisin glaze and sesame seeds. Vino & Vinyl HRW Menu features three appetizers, chicken cream marsala/lobster ravioli/short rib entrees and three desserts for $55.
Silom Station is a mixed concept restaurant serving authentic Thai street food and a cup of coffee in a cozy environment. favorite: Panang Curry. Silom Station HRW Menu features three appetizers, three-second courses of soup and salad, a third course featuring noodles and a sweet coconut curry a fourth course desserts for $39.
Taste a rainbow of veggie and protein options at Fadi's buffet. Photo: Fadi's Mediterranean Grill
Fadi's Mediterranean Grill brings the middle east to southwest Texas with combo plates, kabobs, wraps, appetizers, dips, salads, quinoa, Lebanese salad, beetroot salad, vegetables, seafood, chicken shawarma, curry, beef, lamb, fish and family meal platters, traditional and vegetarian soup, bread, kids' items and desserts. Crowd favorite: Butter chicken curry with rice. Fadi's Mediterranean Grill HRW Menu features Chicken kabob/beef kafta kabob/shrimp kabob entrees, 4 sides, and 3 desserts for $25.
Thai Cottage II is known for sumptuous buffets and combinations like veggies, pad Thai, chicken, sweet and sour, tofu curry, noodles, fried rice, grilled meats, vegetarian, sizzling beef. Pick your protein and combine it with the sauce and prep method of your choice! Thai Cottage II has received awards including "Best Thai" ZAGAT, Best Curry 2000 Houston Chronicle, Great Curry 2000 Houston Press and Best Thai 2001 Texas Monthly. Crowd favorite: Wings of paradise and chicken pad Thai noodles. Thai Cottage II HRW Menu includes three appetizers, three second courses, duck curry/fish fillet/fried rice with chicken entrees, and three desserts site for $39.
Churrascos Sugar Land  A staple in Sugar Land, Churrasco's is a steakhouse with Latin American flair offering popular appetizers like empanadas, ceviches and mouth-watering steak and chicken dishes. Both the lunch and dinner menus can be purchased to go. Both the lunch and dinner menus can be purchased to go. Crowd Favorite: Pollo Encamisado. Churrascos' HRW Menu is available for lunch and dinner.
You know, there's really no way to get your fill of Houston Restaurant Weeks specials without making at least a weekend of it. Better book that hotel while you're deciding which restaurants to visit!
---
Make sure to follow us on Facebook, Twitter, and Instagram for all the latest news on things happening in Sugar Land. Our handle is @VisitSugarLand. Tag us in your posts and share your experience: #VisitSugarLandTX, #SweeterInSugarLand. For more information, contact us at (281) 275-2045 or tourism@sugarlandtx.gov.