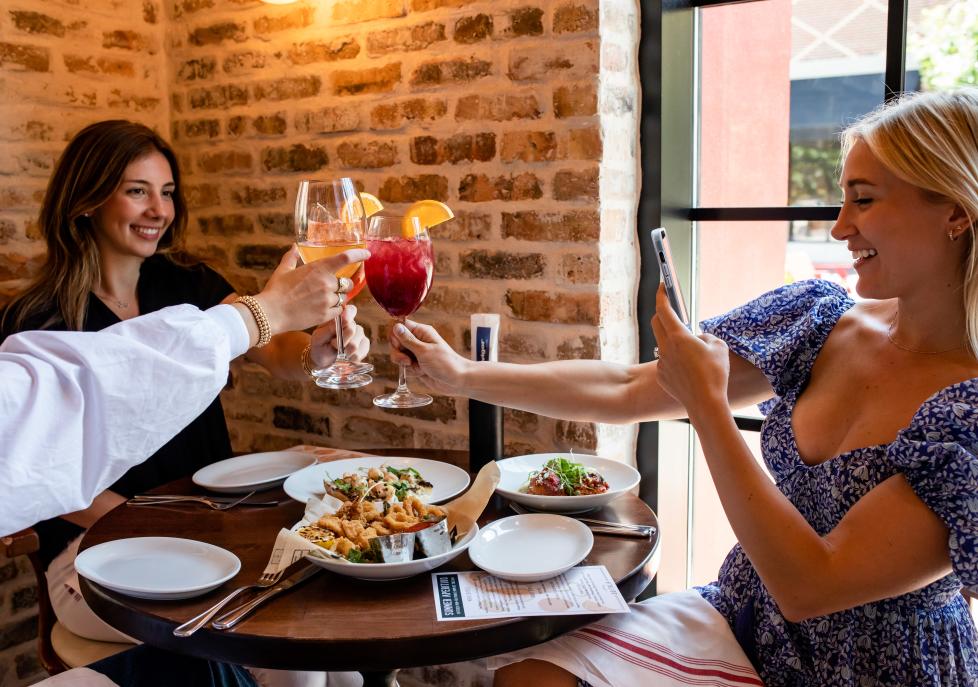 Cheers to another Houston Restaurant Weeks enjoying Sugar Land eateries! Photo: B.B. Italia Bistro and Bar
Houston Restaurant Weeks (HRW), the most anticipated foodie event founded by the late "Diva of Dining" Cleverly Stone is kicking off from August 1 to September 5 (Labor Day), participating restaurants serve prix fixe menus (fixed price for a variety of multi-course meals). And this is where they strut their stuff, so to speak, showcasing specially created dishes or highlighting some of their all-time favorite recipes.
There's no need to make special reservations to take advantage of these special promotions. Just book your meal like you normally would, reserving or walking in, depending on the location.  And besides getting a fabulous dinner at a special price, a portion of your check is donated to the Houston Food Bank. It's a win-win for everyone!  HRW donations have provided more than 50 million meals for the Houston Food Bank since 2003. And this just leaves one question: Where to start?

Burns Road Chicken Wings. Photo: @lasbelarestaurant
---
Lasbela is the go-to spot for everyone looking for a cultural fine-dining experience. Lasbela is offering a lunch and dinner HRW menu. Opt for their lunch menu and get a taste of Pakistan's street food like samosa bites- traditional fried dumplings stuffed with meat or vegetables, and their special Burns Road Chicken Wings tossed in their house special hot sauce. Their dinner menu is expansive, featuring a four-course meal with delicious entrees like the Makhmali Malai Boti, a dish with barbequed meat marinated in cream and spices that melt in your mouth and a variety of handis –rich and creamy meat gravies. And don't forget the classic Pakistani desserts like Gulaab Jamun, sweet dumplings served with rose water & nuts.
---
A Sugar Land favorite for special events and celebrations, featuring elegant fine dining and high-end steaks, seafood, chicken and pasta. Perry's HRW Menu features four soup or salad appetizers, salmon/snapper/brick chicken/fried shrimp/ filet, ribeye, strip steak entrée choices, followed by three dessert options for $55 per person. Get your HRW meal to go at the same price! And don't worry, they have lots of vegetarian, vegan, and gluten-free options!
---
They specialize in Texas beef, and lots of it! They serve steaks, steaks, and more steaks, plus entrée salads, grilled and fried seafood, plenty of sides and Texas favorites like gulf coast steak and shrimp and blackened grilled shrimp. If you have any room left, their decadent desserts won't disappoint! Crowd favorite: Prime rib. Saltgrass's HRW Menu includes three courses, with the second course accompanied by a soup, house or caesar salad, and a choice of side… all for $39.
---
Enjoy fresh Texas fair inspired food in a fun, family-friendly atmosphere. Whether it's mac 'n cheese, sandwiches or steaks, you won't walk away hungry. Kids get special meals served on metal trays. Crowd favorite: Weekend brunch. State Fare's HRW Menu is available for lunch and dinner featuring their wildly popular desserts: The Southern Fried Oreos, the Wild Berry Bread Pudding, and the Key Lime Pie.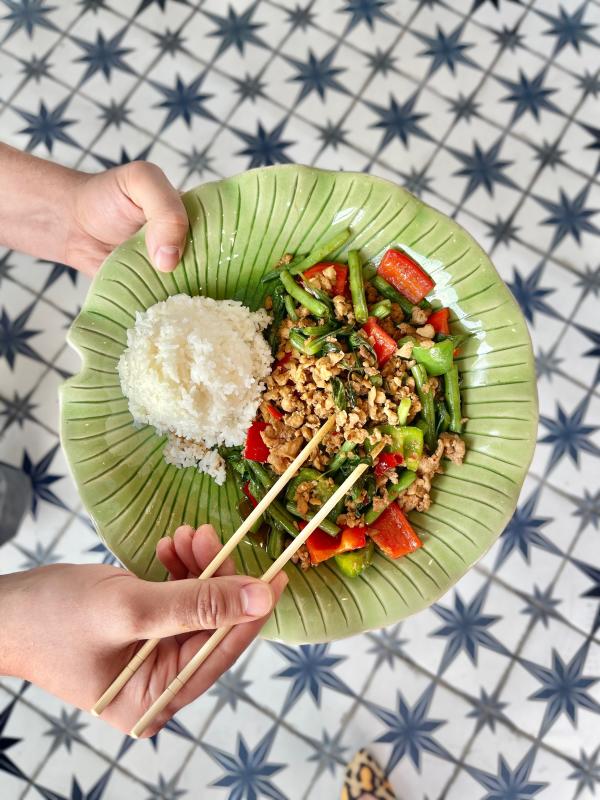 Choose your spice level and enjoy authentic Thai street cuisine at Silom Station.
---
This mixed concept restaurant serves authentic Thai street food and a cup of coffee in a cozy environment. Silom Station's HRW Menu features four courses: the first course with appetizers like the chicken sate and golden wonton, the second course with their authentic Thai soups, the third course with customer favorites like the Massaman Curry and Crying Tiger, and the final course with unique desserts like the Sago Black Beans–mini tapioca with sliced coconut meat and black beans in coconut cream.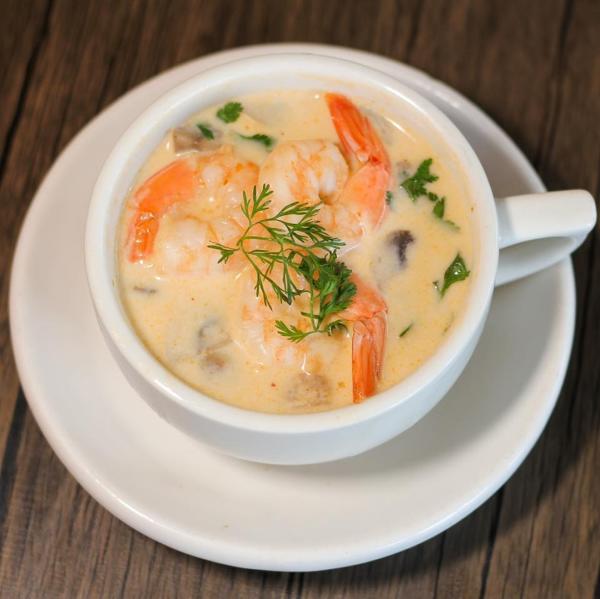 Tom ka soup at Thai Cottage. Photo: @thai.cottage.tx
---
Known for sumptuous buffets and combinations like veggies, pad thai, chicken, sweet and sour, tofu curry, noodles, fried rice, grilled meats, vegetarian, sizzling beef. Pick your protein and combine it with the sauce and prep method of your choice! Thai Cottage II has received awards including "Best Thai" ZAGAT, Best Curry 2000 Houston Chronicle, Great Curry 2000 Houston Press and Best Thai 2001 Texas Monthly. Their HRW Menu includes four courses for $39 with several vegetarian options. We recommend trying the Red Snapper Choo Chee Curry Sauce for a mild, sweet, salty, and creamy experience.
---
A staple in Sugar Land, Churrascos is a steakhouse with Latin American flair offering popular appetizers like empanadas, ceviches and mouth-watering steak and chicken dishes. Both the lunch and dinner menus can be purchased to go. Both the lunch and dinner menus can be purchased to go. Crowd Favorite: Pollo Encamisado. Churrascos' HRW Menu is available for lunch and dinner. The lunch dinner features two courses priced at $25 per head, and the dinner has an additional, third dessert course with specialties like their Original and Chocolate Tres leches for $39 per person.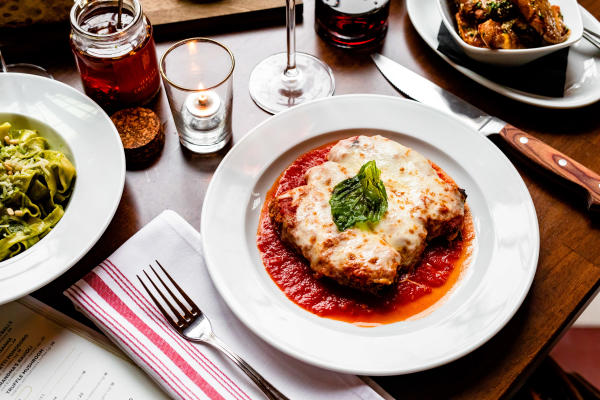 Feast on the chicken parmesan at B.B. Italia during Houston Restaurant Weeks.
---
This lovely Italian American dining spot in Sugar Land Town Square with a modern ambiance and hearty Italian food. With a dinner and lunch menu to choose from, you can try delectables like their Shrimp Scampi, Italian Surf & Turf, Chicken or Eggplant Parmesan, and mouth-watering Tiramisu.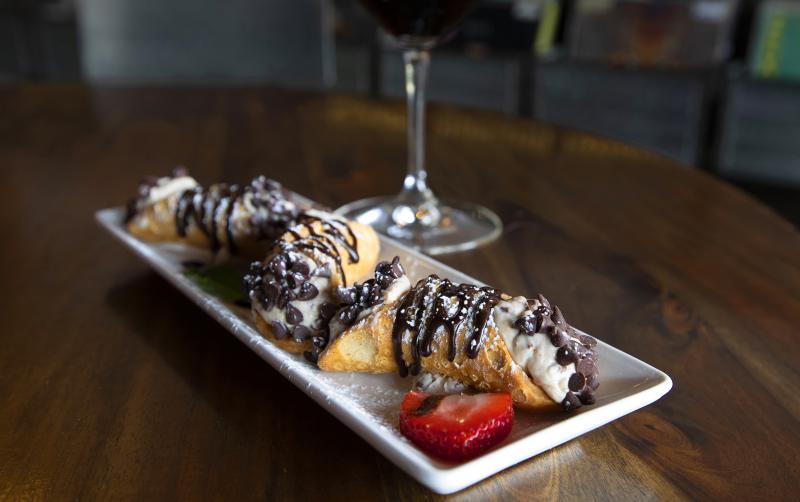 Try their mouthwatering cannolis at the end of your meal. 
---
Another Italian spot on the list is Corelli's Italian Cafe. With the same lunch and dinner menu, Corelli's has a soup of the day, lasagne, and their famous cannoli: a sweetened ricotta cheese with chocolate chips, stuffed in a cannoli shell and topped with powdered sugar and fresh berries.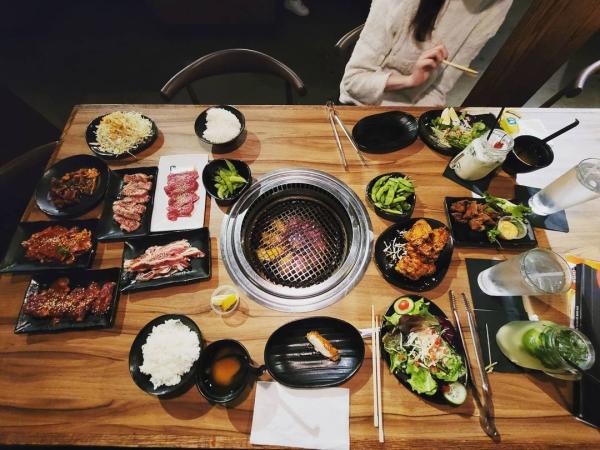 Choose from a variety of meats and grill them at your table. Photo: @crystalcellur
---
You don't want to miss the exotic dishes on their HRW menu! Try their Takoyaki, fried octopus fritters drizzled with takoyaki sauce, Japanese mayo, topped with crushed bonito flakes and green onions for the first course, followed by their delicious marinated meats, topped with a vegetarian third course, and a sweet finale of mochi ice cream or matcha tiramisu.
---
P.F. Chang's is another Sugar Land hot-spot with a dazzling HRW menu this year featuring popular dishes like their tempura battered, dynamite shrimp tossed in sriracha aioli, and their crispy honey chicken in a tangy honey sauce.
You know, there's really no way to get your fill of Houston Restaurant Weeks specials without making at least a weekend of it. To explore more of Sugar Land's restaurant options, book that hotel and check out our culinary guide for all budgets.
---
Make sure to follow us on Facebook, Twitter, and Instagram for all the latest news on things happening in Sugar Land. Our handle is @VisitSugarLand. Tag us in your posts and share your experience: #VisitSugarLandTX, #SweeterInSugarLand. For more information, contact us at (281) 275-2045 or tourism@sugarlandtx.gov.