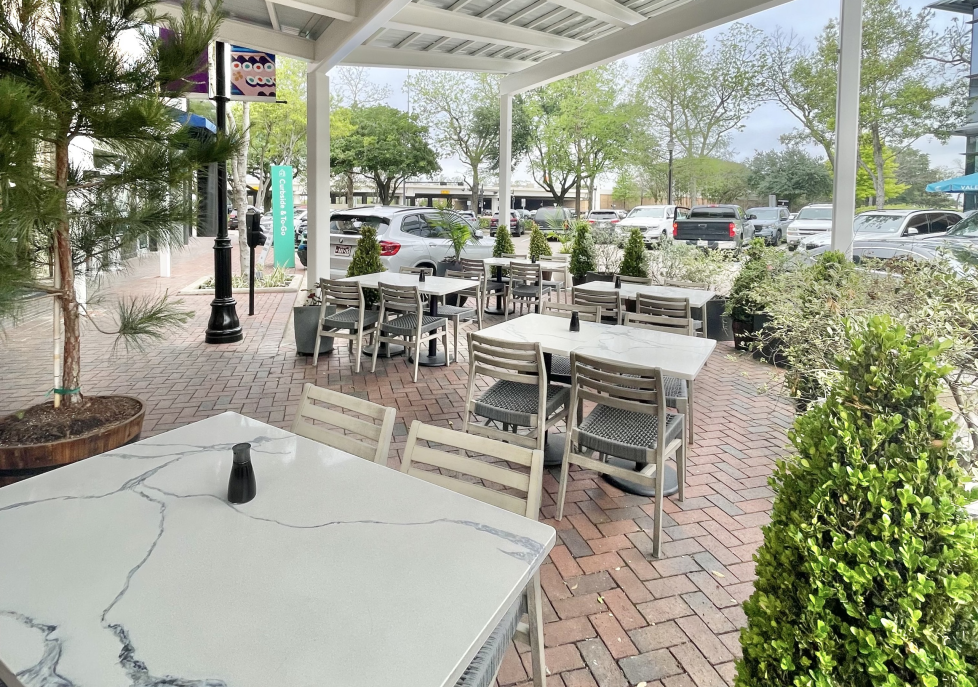 The covered patio at Japaneiro's is inviting and bright.
Sugar Land is amazing all year round, but there's just something about Autumn that adds so much more beauty to the city. The season brings with it striking hues of orange and yellow, a sense of calm that is difficult to explain, and most importantly –cooler temperatures as a respite from the blazing Texas heat. As the weather becomes more pleasant and the fall season makes its way towards us, we'd like to give you a roundup of some of Sugar Land's best restaurants with outdoor patios so you can make the most of the fall months. 
Mexican Eats
---
La Tapatia
La Tapatia's patio is decked out with gorgeous greenery, lounging chairs, ceiling fans, ambient lighting and string lights –making for a great outdoor dining experience. Try their Beef Fajita lunch special consisting of buttery flour tortillas and well-marinated, tender beef strips. Other favorites include the Street Tacos and Red Cheese Enchiladas.
Chuy's
If you want a hearty meal, head over to Chuy's. Known for their generous servings of complimentary chips and salsa and their delicious Queso and Boom Boom sauces, Chuy's is the ultimate casual Mexican eatery. Get their massive burritos that come with their spicy Hatch Green Chile Sauce, fluffy Mexican rice, and creamy refried beans and you'll be coming back for more!
Escalante's Fine Tex Mex
With over twenty-five years of experience, Escalante's prides itself in being one of the best  Tex-Mex places in town! With everything from Empanadas to Tamales, their menu also offers a number of delectable light food items for vegetarian or health-conscious customers.
Los Gallitos Mexican Cafe
If you're looking for a casual Tex-Mex spot to meet up with friends and have a hearty lunch, then Los Gallitos Mexican Cafe is your meet-up spot. Their extensive menu has a mix of nachos, quesadillas, soups, enchiladas, fajitas and more in generous portions to share. Sit at their outdoor patio during the day and overlook the lake while you enjoy one of their margaritas and meals like their Parrilladas crafted for one or two people loaded with a variety grilled meats, sausage, quesadillas and delicious hearty sides like their Mexican rice, borracho beans and tortillas. If you're looking for something on the lighter side, ask for their Healthy Food Menu with options like Lettuce Wrap Tacos, Stuffed Avocado and Seafood Al Vapor (literally translated to steamed seafood). 
Sushi
---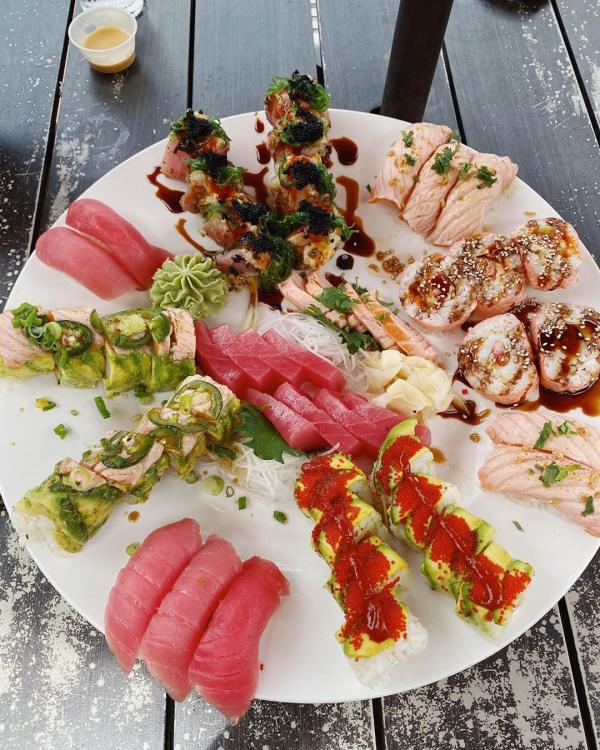 Sushi galore. Photo Courtesy @feed_me_through_the_phone at Japaneiro's
Japaneiro's Sushi Bistro & Latin Grill
Sit under the orange-colored umbrellas and twinkling lights as you explore a Latin twist on Asian cuisine. From their hearty Churrasco to their delicate Sashimi, Japaneiro's fusion food will give you an unforgettable culinary experience. Try their Salmon Tostadas or their Tropic Thunder rolls for the perfect balance of sweet and spicy. 
Takara Sushi and Asian Bistro
Eating at Takara will be an experience not just for your palette but also for your eyes. With a lovely lake view from the patio and immaculate plating and presentation, you'll be surrounded by beauty all around!  With an incredibly lengthy menu of lunch, dinner, sushi, and chef specials to choose from, you're guaranteed to find something of your liking. Specialties include seafood dishes like The truffle-infused salmon & escolar and the Takara Ahi Tartar which is a Hawaiian Ahi tuna & lime-infused fresh avocado in a truffle-ginger balsamic essence. Gluten-free and vegetarian options are also available. 
Try the vegan and spicy tuna sushi donut at Poke Burri.
Poke Burri / Lifting Noodles Ramen
If you want to try a new way to eat sushi as a donut or as a corndog then you have to visit Poke Burri and scour their inventive menu for your next meal. Their wide variety of menu items like ramen, sushi burrito rolls, dumplings and more in a bright, modern setting make it a great spot for anyone craving this Asian delicacy. Take in the view of Lake Pointe from their quaint patio while you munch on their Sugar Land Special poke bowl. 
Casual Dining
---
Live Oak
Live Oak & Grill has an expansive patio and play area where you and your kids can run around and work up an appetite while you wait for your food! This restaurant will give you the real feel and taste of Texas with its wood deck, Lone Star-inspired decor and American eats like Chicken Fried Steak and Beef Sliders. 
Willie's Ice House
Willie's Grill & Ice House has Texas-sized portions and a large menu with shareable entrees good for big families. Menu items include some of the best burgers in Texas, their giant hand-breaded Chicken Fried Steak, finger lickin' Baby Back Ribs and Texas Seafood specialties like boiled crawfish. Add to that a lovely patio, lively music, and an arcade for the kids and you're at the friendliest, yummiest restaurant in the city!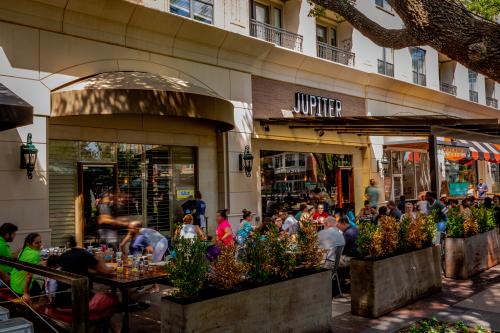 Dine and catch a live show at Sugar Land Town Square from Jupiter's outdoor patio.
Jupiter's outdoor patio is situated in front of Sugar Land Town Square which makes it a great spot to catch one of the square's live shows. Sit in their oversized picnic tables and order one of their stone-baked specialty pizzas. Try the Moon Pie which is a Vietnamese-style pizza with pulled pork or if you're an adventurous foodie, the Plutonic Jam with mozzarella, goat cheese, bacon and blueberry preserve should be your pick. 
This Pacific coast inspired restaurant is like stepping into a beach-side eatery sans the sound of the waves. Their Asian-Latin fusion of tacos in jicama tortillas stuffed with mouthwatering Korean beef and packed poke bowls will keep you coming back for more! Their patio overlooks Brooks Lake where you can sometimes catch a kayaker while enjoying their delicious brunch offerings with a sweet side of live music.
---

Salmon Elote, Birria Sandwich, and Fried Green Tomatoes at State Fare
State Fare
State Fare Kitchen & Bar screams red, white, and blue and is known for its classic American fare! Customer favorites include The Purist Mac and Cheese with Gulf Trash, The Birria Grilled Cheese, and the melt-in-your-mouth Short Ribs. Another specialty of theirs is their giant and delicious desserts: You must have the Freaking Huge Funnel Cake (yes, that is the name on the menu) and their super-hit Fried Oreos dessert. 
Guru Burgers and Bowls
Brighten up your day at Guru Burgers & Bowls Crepes. With excellent service from their friendly staff (who you will find wearing SpongeBob-themed shirts), fresh and colorful Poke Bowls, and shaded patio with lots of greenery, you're in for a fun, quick, and tasty dining experience! 
Flying Saucer Draught Emporium
Sometimes you just want to sit and chill with a drink and your best buds by your side. Well, Flying Saucer Draught Emporium is the place to go. This gastropub serves a variety of beers and tasty American food with good portions. It has a large shaded outdoor area with wide benches and tables and plenty of ceiling fans that give a tavern-like feel –perfect for a laidback night out with your friends.
Formal Dining in Sugar Land Town Square
---
Rouxpour
For Cajun and Creole delights, and the perfect weekend brunch, try Rouxpour. Sit on the patio and enjoy the live jazz band's soothing tunes as you eat from a selection of authentic NOLA entrees like Char-grilled Oysters, Seafood Gumbo, and the New Orleans Omelette. 
Vino & Vinyl
Vino & Vinyl Supper Club will give you a beautifully nostalgic experience as you listen to music on their iconic record player while eating from a diverse selection of globally-inspired entrees.  This 1930s-inspired restaurant has something for everyone from their highly-rated Texas Redfish dish to their wildly popular V&V fries.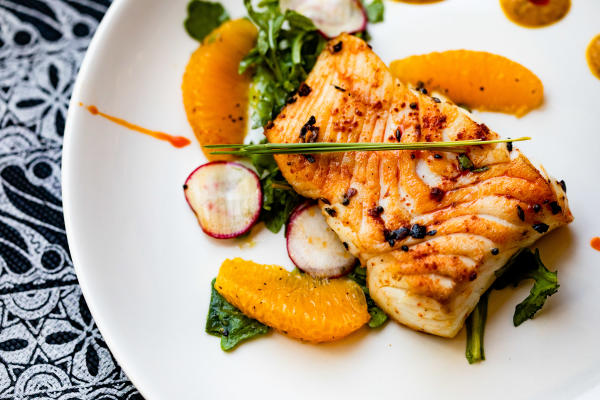 Goan Sear Halibut at Mahesh's Kitchen.
Mahesh's Kitchen
Mahesh's Kitchen is one of Sugar Land Town Square's newest restaurants and has gained popularity very quickly! Known for its vibrant interiors, and deliciously interesting fusion-food options, it is one of the city's must-try spots! Order an Indian classic like Butter Chicken for a warm, spicy, and creamy experience, or go for their unique spin on Indian street food with the popular Avocado Bhel which will leave you feeling light, refreshed, and pleasantly surprised! 
Something Sweet
---
This Parisian eatery has a cute and cozy outdoor patio –aesthetically decorated for the best Instagram photo ops! And their crepes are no less! Try their Apple Cinnamon Crepe dusted with white sugar or their Nutella Crepe adorned with lines of heavenly chocolate sauce. And make no mistake: Just because their name has 'sweet' in it, doesn't mean that's all they offer! The menu has a large selection of savory crepes like the Chicken Florentine Crepe and Alaskan Crepe –making it the perfect place to go for breakfast, brunch or dessert!
To explore more of Sugar Land's restaurant options, check out the restaurant listings page on our website where you can filter by cuisine, location, and amenities. 
---
Make sure to follow us on Facebook, Twitter, and Instagram for all the latest news on things happening in Sugar Land. Our handle is @VisitSugarLand. Tag us in your posts and share your experience: #VisitSugarLandTX, #SweeterInSugarLand. For more information, contact us at (281) 275-2045 or tourism@sugarlandtx.gov.