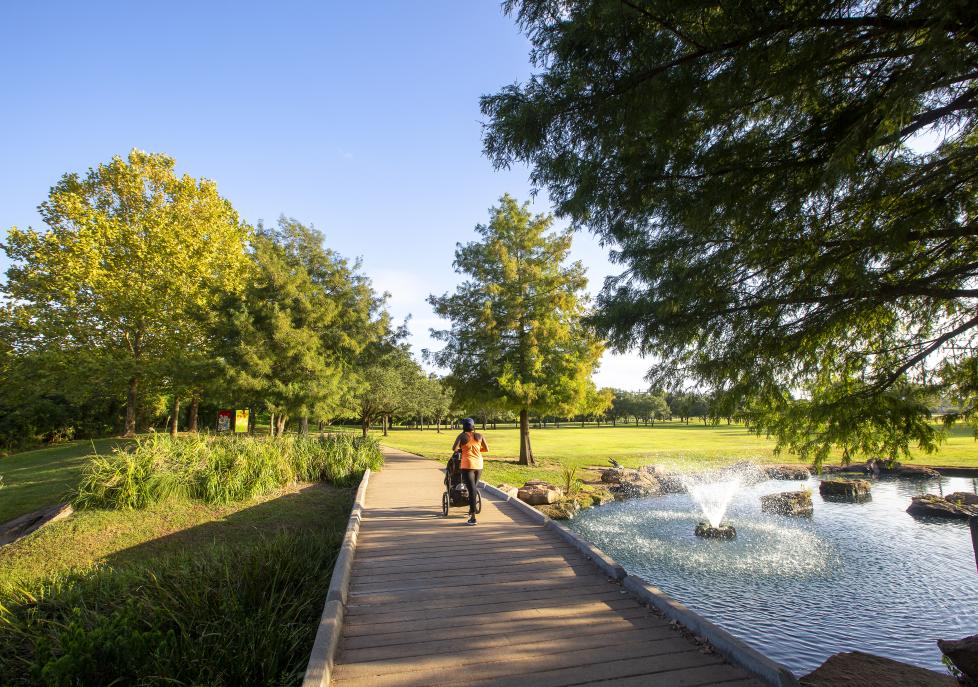 If you're new to the Sugar Land area, you're in for a treat when it comes to parks. If you could calculate the number of parks and other recreational facilities per capita, Sugar Land would surely be way above the national average. When you're planning a visit, be sure to put a few of the parks on your list—you can wear yourself out or just sit back and relax, walk the trails or look to the skies for birds, enjoy a picnic or cruise on a canoe.We're highlighting five of our favorite parks, and including links to other recreation sites, but first, here are a few general points of interest about Sugar Land's amazing parks.
Parks aren't just trees--seriously! You'll find artwork scattered throughout the city and the parks are no exception. Take a look at the Sugar Land Public Art Map and approach it like a scavenger hunt. You'll also find great fishing in many of our parks, so you may want to bring your fishing pole when you visit. Don't forget your fishing license! Many of the parks feature walking, biking and hiking trails. You can find all of the guides here, along with the rules that apply to all parks. We also have a listing of kid-friendly parks.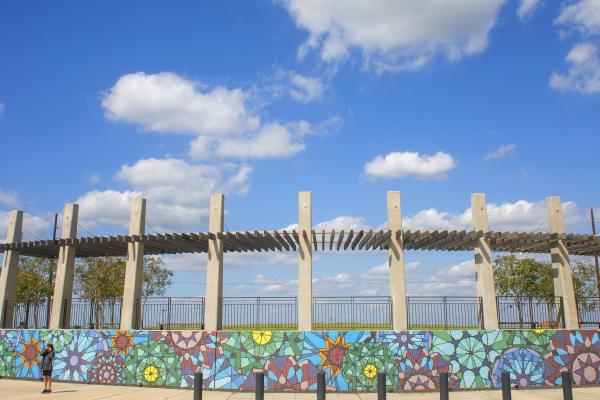 Brazos River Park 
---
Brazos River Park greets visitors with a beautiful mosaic pavilion area. One of the park's other attractions is a Disc Golf range—a frisbee flying course for enthusiasts and novices alike. There are plenty of other amenities in the park's 67 acres, including grills and picnic areas, public art, rest rooms and a walking trail.
Travel Tip: Sweeten your weekend getaway with discounts on Sugar Land's top experiences at the Sugar Packet Marketplace.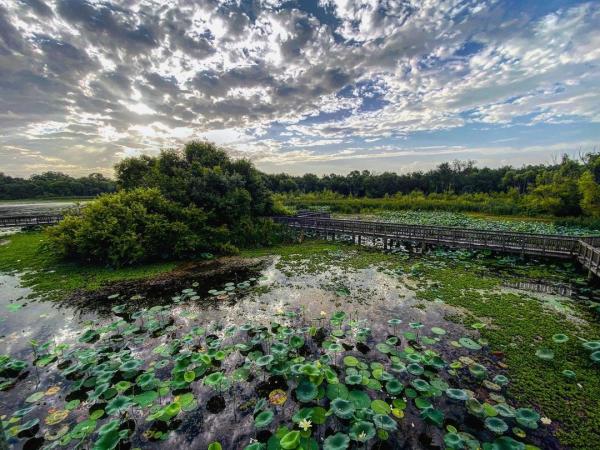 ​
Cullinan Park
---
Cullinan Park is the largest and perhaps most well-known park in Sugar Land. It's a bird watcher's haven with two lakes, wetlands, open prairie and woodland areas, and those same areas are host to great fishing spots, canoeing and kayaking, hiking and relaxing. Cullinan features several wooden boardwalks with tall observation towers. This makes it easier to get closer to the natural elements you're seeking.
 In the park you'll find plenty of parking and restrooms, a natural play area, nature trails, grill and picnic areas and a pavilion. Please note that Cullinan Park trails are pedestrian only. No bikes are permitted, to retain the tranquil setting.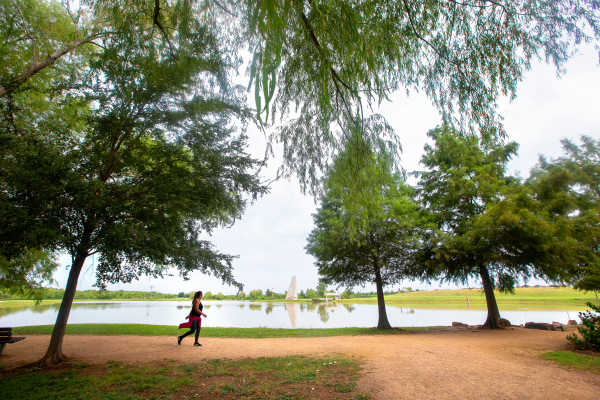 Sugar Land Memorial Park 
---
Sugar Land Memorial Park covers 450 acres, with 2.5 miles of wide, granite gravel trails and a separate mountain bike trail with features for more adventurous riders. You'll find two ample parking and rest rooms, two picnic pavilions, lots of open spaces and a stocked lake.
Memorial Park is famous for the amazing views. You can't miss the Veterans Remembrance Tower, which pays tribute to our service members. A tall obelisk inspires mediation and reflection with the names of those killed in action, and the bronze eagle statue reminds us all of the bravery and patriotism that has kept our country strong.
You'll also find more beauty in the public art pieces in selected areas of the park.
On the edge of Memorial Park, you'll find the six-acre Pawm Springs Dog Park, which has been noted often as one of the best dog parks in the state. It has areas for large and small dogs, a pavilion and swimming pond, agility training equipment and a dog washing station. Be sure to consult the dog park rules.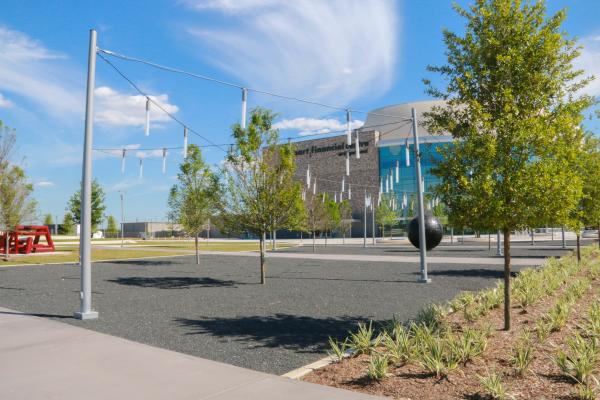 The Plaza adjacent to Smart Financial Centre 
---
Plaza adjacent to Smart Financial Centre offers a green lawn with seating, a fountain, restrooms, onsite parking, public art sculptures, a food truck lane, and the very-popular splash pad make the plaza a destination in itself.
The splash pad water feature is free and open to the public from April through October. It is available seven days a week from 8 a.m. to 4 p.m., except for Mondays from 8 a.m. to noon for maintenance and during scheduled events or shows at the Smart Financial Centre.
The splash pad provides a zero-depth aquatic play area for individuals of all ages to enjoy. And you know kids and water—they're the perfect combination! (PS: Don't forget the sunscreen.)
The Smart Financial Center and the Plaza are often the site of various events, so check our events listing to see what's going on while you're in town.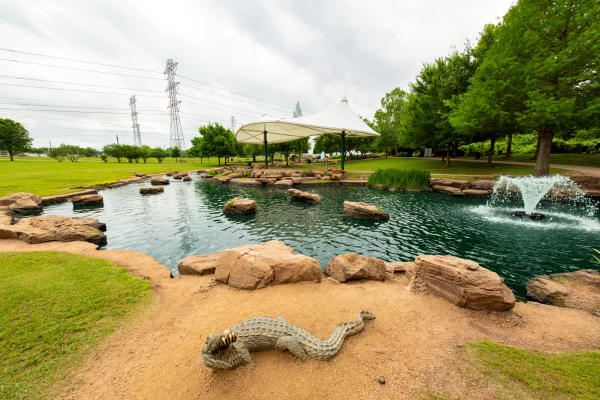 Oyster Creek Park 
---
If you're really searching for breath-taking beauty, you've gotta check out Oyster Creek. From rock-lined waterways to spraying fountains and arched wooden bridges, Oyster Park covers 111 acres and has a three-mile hike and bike trail.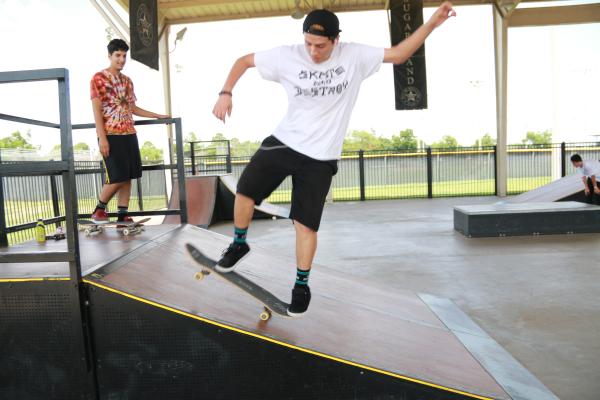 So those are some highlights of Sugar Land parks. And now for the recreation centers! Here are a few quick links to facilities that are open to the public, so if you're here just for an afternoon (or even longer!), you can take advantage of these services as well.
City Park is the municipal recreation complex that includes an outdoor public pool, state-of-the-art skateboard park, playground, picnic area, baseball/softball and football fields, tennis, pickleball and volleyball courts, walking and bike trails.
Imperial Park Rec Center  offers everything from dancing to yoga and Pilates to Zumba.
Sugar Land Ice and Sports offers public ice skating.
---
Make sure to follow us on Facebook, Twitter, and Instagram for all the latest news on things happening in Sugar Land. Our handle is @VisitSugarLand. Tag us in your posts and share your experience: #VisitSugarLandTX, #SweeterInSugarLand. For more information, contact us at (281) 275-2045 or tourism@sugarlandtx.gov.
---