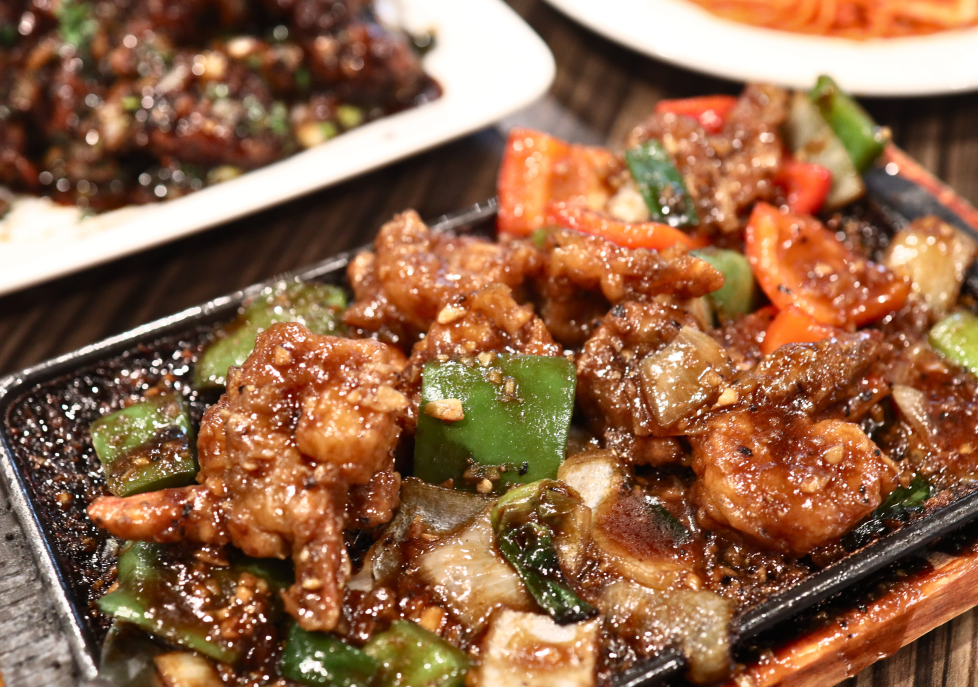 The Sizzling Shrimp dish at Aling's Chinese.
One of the best things about Sugar Land is its diversity and inclusivity.
With over 35% of its population born outside the country, the city is brimming with people from all walks of life. One such subgroup of the population are Muslims. Just like kosher food complies with Jewish dietary law, a lot of Muslims only eat halal food which complies with Islamic law. These meats are different to other meats in the way that they are slaughtered. 
Thankfully, there are a lot of restaurants around Sugar Land that offer meat that is prepped the halal way so that everyone, including Muslims, can enjoy it! Here are our top picks by cuisine: 
Pakistani 
---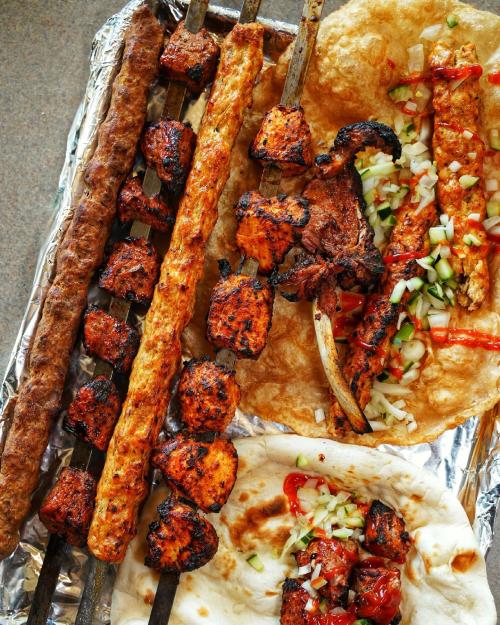 Photo: @bundukhanbbq
If you like some spice, Bundu Khan is the place to go. This Pakistani barbecue spot knows how to make its meats! Order the chicken tikka, bihari kabab, goat chops, with naan or paratha and a sweet mango lassi to balance the heat.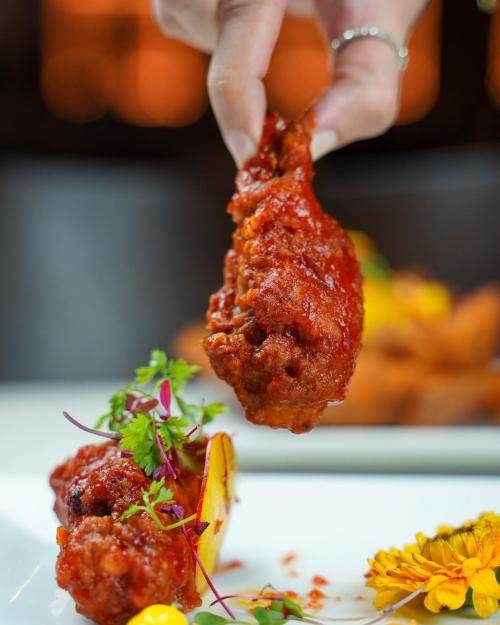 Burns Road Chicken Wings. Photo: @lasbelarestaurant
For a more fine-dining cultural experience, Lasbela is your best bet. For something a bit softer on the palette, order their melt-in-your-mouth Makhmali Malai Boti with some hot naan. Finish the meal with their pink Kashmiri chai and some gulaab jamun for dessert. 
Ashar's is a fast-casual eatery with a solid grip on one of Pakistan's staple dishes: nihari. 
Nihari is a stew originating from the Mughal Empire that consists of slow-cooked meat, mainly a shank cut of beef, lamb and mutton, or goat meat, as well as chicken and bone marrow. Go in on Wednesday for their nihari buffet and experience 5 types of nihari and unlimited naan for only $10.99.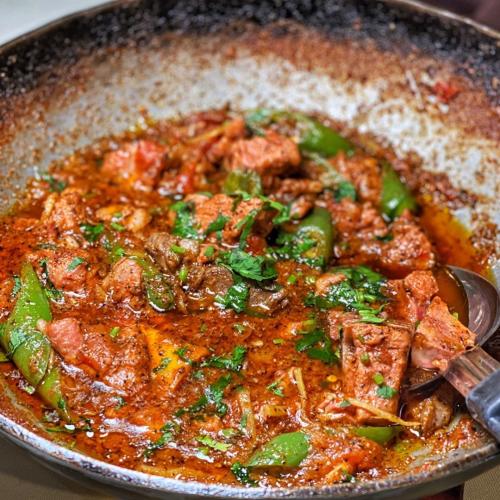 Photo: @you_had_me_at_halal
Mai Colachi has a vast menu of popular Pakistani dishes ranging from Peshawari Karahi to Lahori Fried Fish. Customer favorites include the juicy and tender chicken makhani handi or the soft and flavorful shinwari karahi mutton.
A brand originating in Toronto, Karahi Boys is a fairly new restaurant in the city of Sugar Land -and one you should not miss. With a chic interior and ambient lighting, this restaurant is perfect for any special occasion. As the name suggests, this restaurant is known for its karahis. We recommend the chicken charsi karahi or the goat karahi.
Indian
---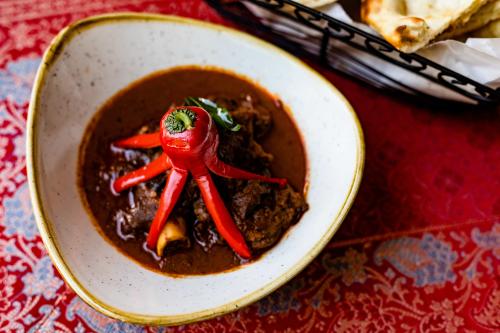 Laal Chilli Goat. Photo: @maheshskitchen
Located in the prime area of Town Square, Mahesh's Kitchen is yet another amazing addition to the Sugar Land food scene. Boasting a wonderfully ambient and traditional interior, Mahesh's Kitchen is the perfect restaurant for a special occasion. Order the creamy, rich butter chicken, or get adventurous with their fusion dishes like the Avocado Bhel.
An ode to the celebrated Indian film industry, aka Bollywood, Nirmanz is a hidden gem full of character and tasty food. If you want a grand twist on Indian street food, order their divine Raj Kachori or get the chaat platter if you want to try a little bit of everything.
---
For halal crepes, Coco Crepes is the place to go. With a variety of sweet and savory crepes along with specialty teas, coffee drinks, smoothies, and salads, you have endless options to choose from! 
Eggcellence Cafe & Bakery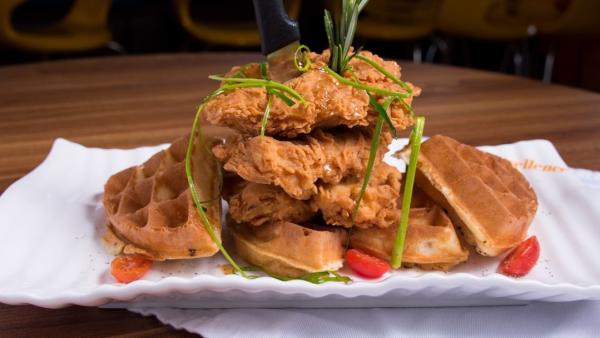 Fried Chicken and Waffles. Photo:@thestevendavid
The eggs here are excellent. With farm-fresh eggs and other locally produced farm-to-table ingredients, the entire menu is full of traditional American entrees and Mediterranean-inspired dishes. Order their popular Chicken and Waffles and you won't regret it.
Halal kolaches are very hard to find. Enter Mr. Donut & Kolache. This small and friendly shop has all kinds of unique kolaches. Customer favorites include their Halal Beef Kolache and glazed donut. 
Fast & Casual
---
If you're in the mood for banging burgers that hit the spot, OMG Burger is the place to go. This burger spot has large portions, good prices and delicious flavors. Try their What The Egg Burger if you like eggs. If you like mushrooms, the Shroom Burger or the OH MY Philly chicken burger are great options. 
Other burger spots include Fanoosh.
Right next to Crypto Burger on Highway 6 is another food truck that specializes in Philly cheese steaks. The food is always fresh, delicious, and generously portioned and customers rave about their OG Philly, often describing it as the perfect Philly cheese steak and one of the best in Houston!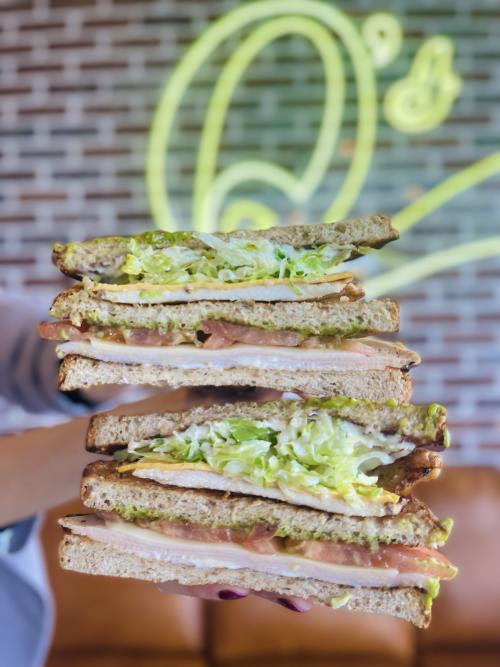 The Cali Club at Q's Deli.
Talk about ridiculously good food. Q's Deli has so many sandwich options that all taste so good, you'll keep coming back for more and more. After ordering one of their top hits like the Reuben or Chicken Pesto Panini, kick back and relax in their small lounging area while you play arcade games or take in the cool sneaker collection on display.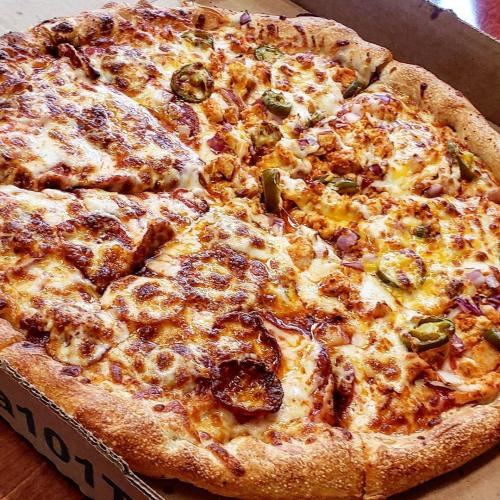 Fresh from the oven pizza. Photo: @kimsfoodbook 
A staple for halal-eating pizza lovers, Pizza 101 offers the standard pizza joint menu as well as a uniquely South Asian twist like the Chicken Tikka and Kabab Madness Pizzas.
Wing Station is the ultimate place if you're in the mood for some good wings. With boneless and bone-in combos and wet and dry flavors to choose from, you'll find something for everyone. Popular flavors include the Mango Habanero, which delivers the perfect balance of fruity and spicy, the Lemon Pepper, Honey BBQ, and Teriyaki. 
American
---
This American grill restaurant has all your favorite classics like chicken fried steak, burgers, sandwiches, brisket, and even a vast breakfast menu. For appetizers, be sure to get their fried-to-perfection mozzarella sticks and fried mushrooms. Top it off with gelato and espresso lattes for dessert.
KB's Hot Chicken & Dickey's BBQ Pit
Get Nashville-style hot chicken and southern-style BBQ all under one roof for double the yum! Visit this restaurant with a large group and go crazy because their portions are huge! Order the Nashville Hot Chicken Tenders and a tender and flavorful brisket that will make your mouth water and have you coming back for more.
Asian
---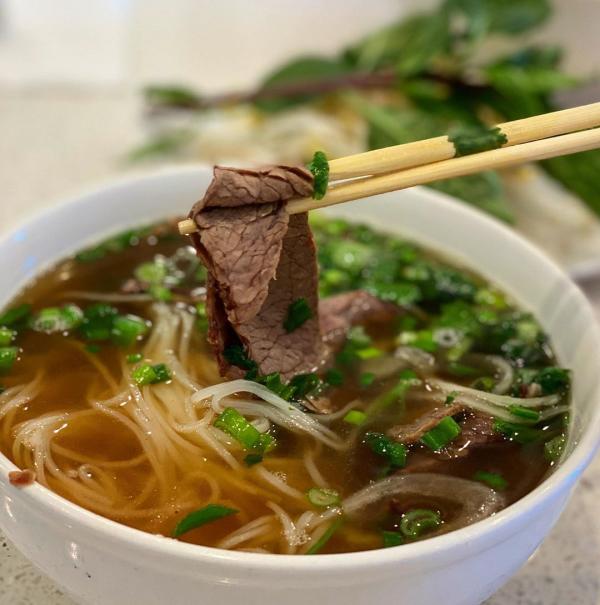 Pho at Telfair carries halal beef and chicken and deliciously authentic Vietnamese pho. If you're in the mood for soup, order their Halal Thai Spicy Pho. If you're looking for something more dry, their Korean BBQ ribs are to die for. The Shaking Beef with fried rice or flat rice noodles is also delicious.
This hidden gem has some of the most delicious food with quick service and reasonable prices. Their Drunken Noodles are top-notch with just the right amount of kick at the medium level spice. Everything you order at Naha will be fresh and flavorful, but their tom yum soup and panang curry will really just transport you to Thailand.
Similar to Naha Thai, anything you order at Thai Siam will likely be fantastic. We recommend their lovely papaya salad with the peanut salad dressing, their famous pad thai with any combination of meat, and the yellow curry. End it with some Thai tea and Sticky Rice with Mango for dessert and thank us later. 
This quaint oriental restaurant serves Chinese, Vietnamese, and Japanese cuisines with an American flare. Get their aromatic Mongolian beef and chicken lo mein for a guaranteed great experience!
This Chinese restaurant has Indian-inspired dishes that have garnered fans across Houston. One of the most popular dishes among customers is their vegetarian cauliflower dish called the Gobi Manchurian. For starters, recommend the chicken lollipops or their dangerously addictive spring rolls. For an entree with meat, their Honey Chilli Chicken is the way to go.
Hawaiian
---
Poke Burri is an exciting place for halal eaters who crave ramen! Not only does this restaurant offer instagrammable poke bowls, sushi corn dogs and sushi donuts, it also has some seriously delicious ramen items that will feed your soul. 
Portuguese-African
---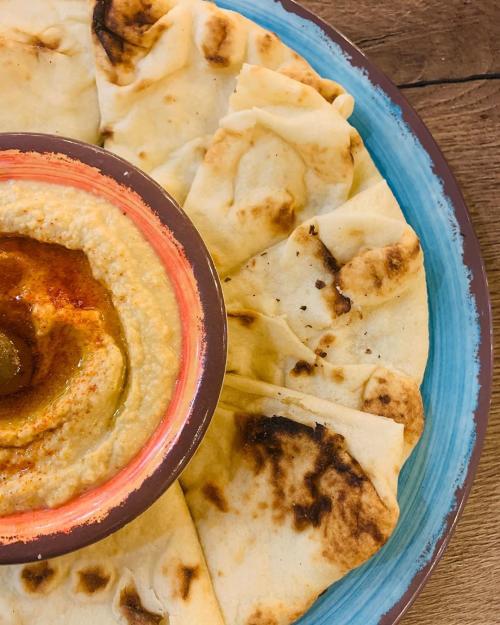 Photo: @portofperiperisugarland
This place is all about juicy chicken and sauces galore! Be it the garlic sauce or the spicy peri peri sauce, pair it with any item on their menu and take your palette to a whole other level! For meat eaters, go for the standard Peri Peri Chicken, and for something on the lighter, meatless side, get the Peri Falafel or Peri Peri Paneer.
Mexican
---
Chipotle who? Ori'Zaba's boasts healthy, fresh, made-from-scratch Mexican fare, including design-your-own burritos, nachos, and bowls.
Mediterranean
---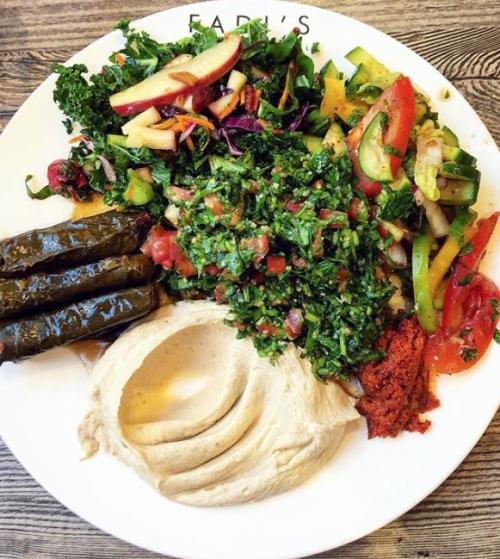 Enjoy their amazing buffet of fresh hummus varieties, grapeleaves and more! Photo: @Bonobo.life
From the moment you walk in, you'll experience a warm and welcoming environment and the amazing aroma of fresh Mediterranean cuisine. Everything at Fadi's, from the chicken shawarma to the lamb shank, is made with a lot of care and attention-and the flavors speak for themselves. The sides are just as impressive, from the hummus to the tabbouleh to the baba ganoush.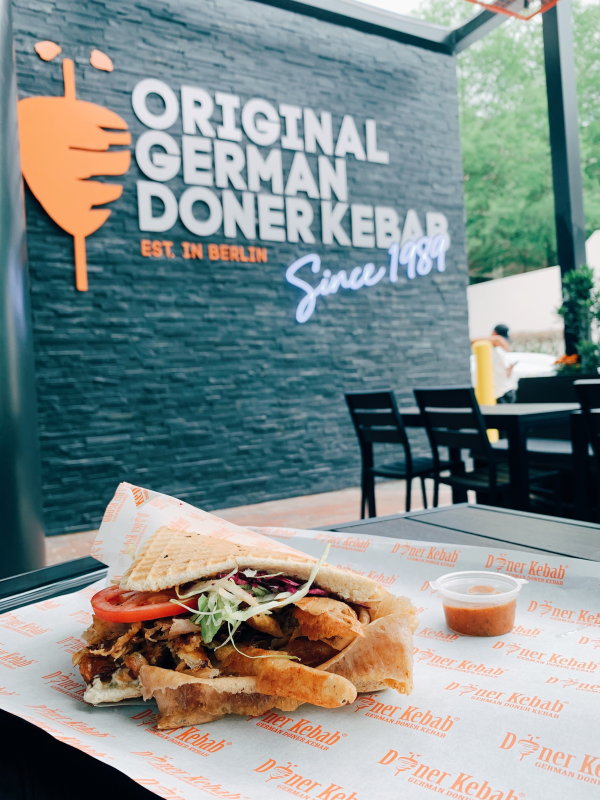 Try The Original Doner Kebab with chicken or beef and their signature sauces.
German Doner Kebab opened its first restaurant in 1989, and now it's here in Sugar Land Town Square! With more than 140 restaurants globally, this doner brand has perfected its spices, sauces, and breads, making for a distinctive taste that you won't find anywhere else! Freshly prepared in front of customers, their kebabs are made using premium, lean meats and local vegetables, served in handmade toasted breads with signature sauces –making for a light, fresh, and deliciously heart meal.
To explore more of Sugar Land's restaurant options, check out our culinary guide for all budgets.
---
Make sure to follow us on Facebook, Twitter, and Instagram for all the latest news on things happening in Sugar Land. Our handle is @VisitSugarLand. Tag us in your posts and share your experience: #VisitSugarLandTX, #SweeterInSugarLand. For more information, contact us at (281) 275-2045 or tourism@sugarlandtx.gov.