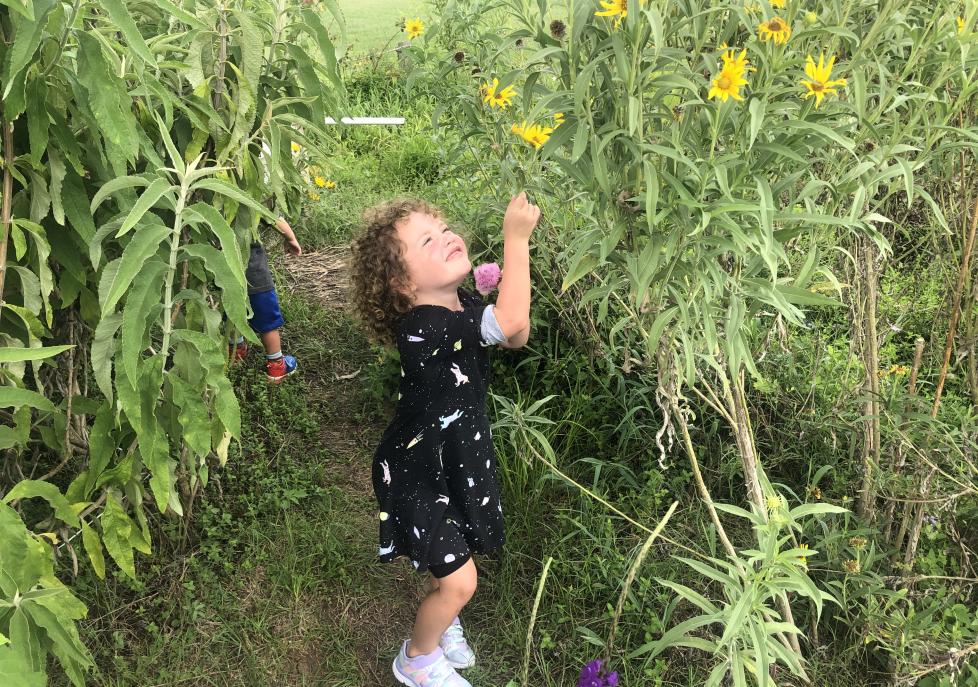 Blooming in Sugar Land
Are you planning a road trip, staycation, or weekend getaway for your upcoming Spring Break? Look no further than Sugar Land! This sweet city has plenty of family-friendly attractions, delicious food, and first-class accommodations for you and your loved ones to enjoy this 2022! 
Family Fun
---
Go on an epic adventure at the Fort Bend Children's Discovery Center as you explore a variety of interactive exhibits to excite your mind! From science stations to cultural galleries, kids and adults of all ages can engage in an immersive learning experience for a fun and productive day out!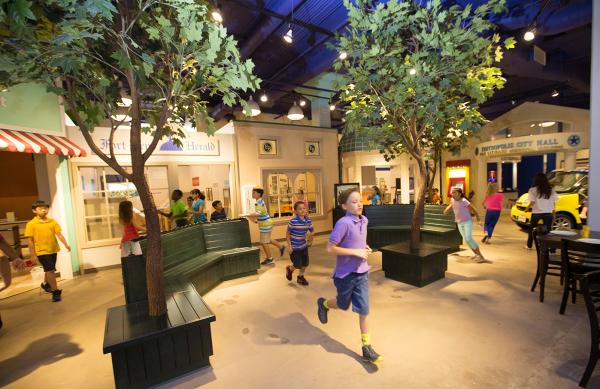 The start of a day of fun and play!
Enjoy a weeklong Destination Celebration running from March 12 to March 19 packed with fun activities and events for the whole family. Craft your own Andy Warhol-inspired print art, elegant crowns, and cool sunnies at different activity stations at the center.
Plan your visit anytime between 10 a.m. to 6 p.m. Tuesday to Saturday!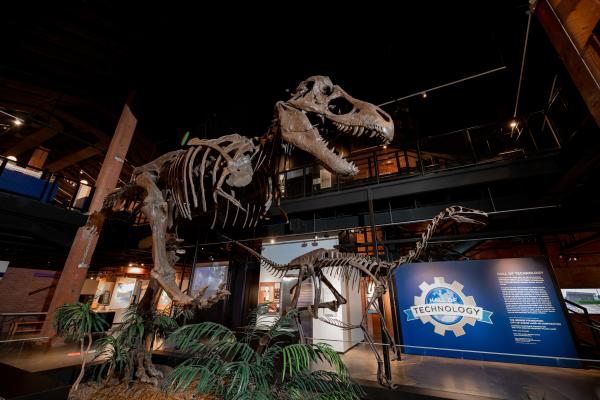 Discovering Dinos at Houston Museum of Natural Science at Sugar Land
Revel in moments of wonder at the Houston Museum of Natural Science at Sugar Land. A sister location of the popular museum in Houston, this attraction offers a hands-on experience for the whole family. Visit the paleo hall to view awe-inspiring fossils of dinosaurs like the Triceratops and Stegosaurus from the Paleozoic era or go to the Augmented Reality exhibit for a more immersive experience with these prehistoric beasts and feel like you've actually traveled back in time! With more permanent exhibits, an aquarium, dome theater, special attractions, and events there's so much more to discover! So, what are you waiting for? Get your tickets today!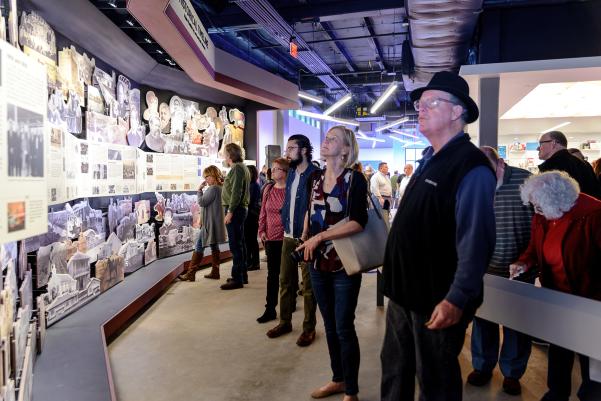 Dates: March 19
Time: 10:00 A.M. - 5:00 P.M.
Dive into the city's rich history at the Sugar Land Heritage Museum which showcases the history of the city through its many exhibits and conducts a historic walking tour of Old Sugar Land on the 2nd Saturday of every month.
Don't forget to add a live show to your itinerary. The Smart Financial Centre is the hottest venue in the Greater Houston area and hosts some of the biggest names in America at their state-of-the-art facility.
To view their entire March calendar, click here.
Outdoor Adventures
---
Make the most of the new season and head outdoors to one of Sugar Land's many amazing parks.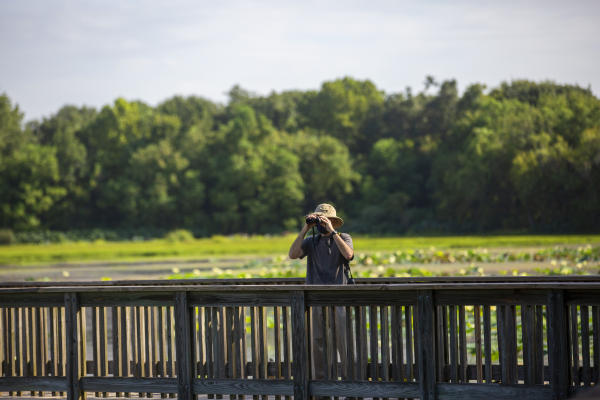 Trying to spot the birds at Cullinan Park.
Spanning an expanse of 754 acres, Cullinan Park is one of the largest parks in the Houston area most popular for housing 267 species of exotic birds throughout the year. The park is jeweled with features like an observation tower, winding nature trails surrounded by thick greenery, a boardwalk, and a scenic overlook. It also boasts the twenty-third largest pecan tree in Texas and is dotted with educational signage throughout the park. With plenty of picnic areas, pavilions, and a lake, you can plan a whole day of hiking, kayaking, and fishing with the family. So, get your picnic basket, rod, and binoculars ready and put on your comfiest running shoes for the perfect outdoor adventure at Cullinan Park!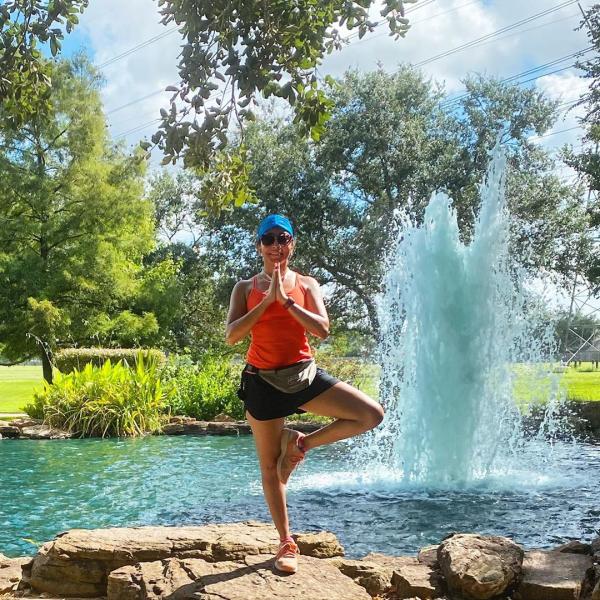 Feeling zen at Oyster Creek Park. Photo Credit: @ninaedith
Oyster Creek Park is another gem of the city encompassing over 111 acres with a three-mile trail. This local favorite has beautiful scenic spots to take pictures and enjoy the new season with your family. Sit by the iconic rock-lined pond and water feature, hike or bike around the trail, or grill up a delicious BBQ at the park grills as you cherish the new weather.
Check out the full list of kid-friendly parks around the city here.
F For Food
---
A vacation is incomplete without good food and Sugar Land just so happens to have one of the most culturally diverse food scenes in the region!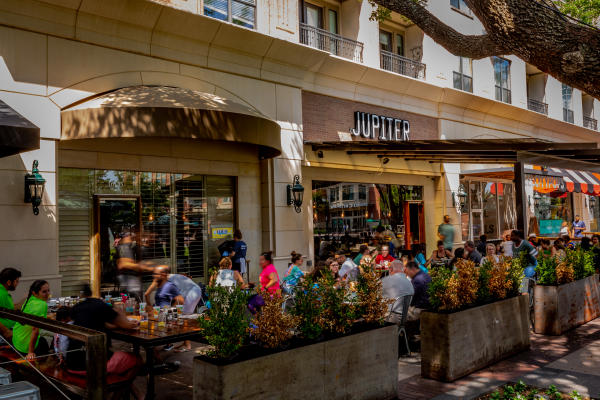 Eating Out at Sugar Land Town Square
Sugar Land Town Square has the top restaurants in the city. For New American eats, visit Jupiter's Pizza & Waffle Co. and Guru Burgers & Crepes to get sweet and savory eats and indulge in gourmet pizzas, burgers, waffles, and crepes all under the same roof. For a more spicy experience, try Mahesh's Kitchen and choose from their menu of fusion dishes like Mango Habanero Salmon or Goan Seared Halibut.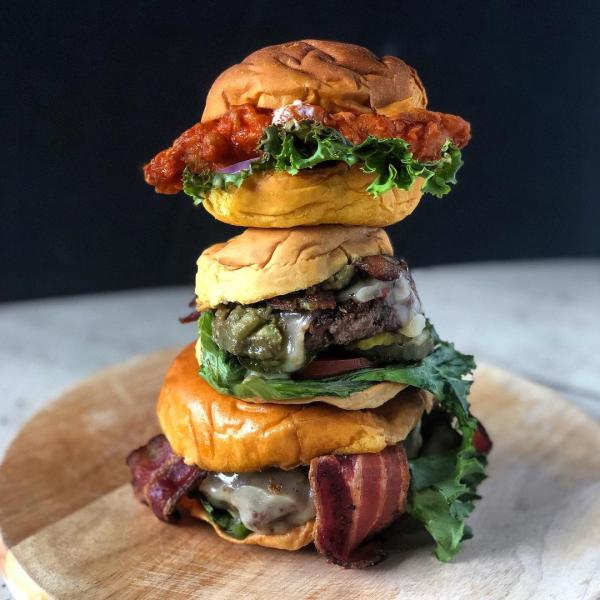 Slider and a burger at Guru Burgers and Bowls. Photo Credit: @tees_cravings
Other great restaurants in Town Square include The Rouxpour, which is a Cajun eatery that perfectly encapsulates the essence of Louisiana's famous Bourbon Street, and Japaneiro's Sushi Bistro and Latin Grill that serves delicious sushi rolls and Latin eats to rock your world!
To view more dining options around the city, check out our culinary guide for all budgets.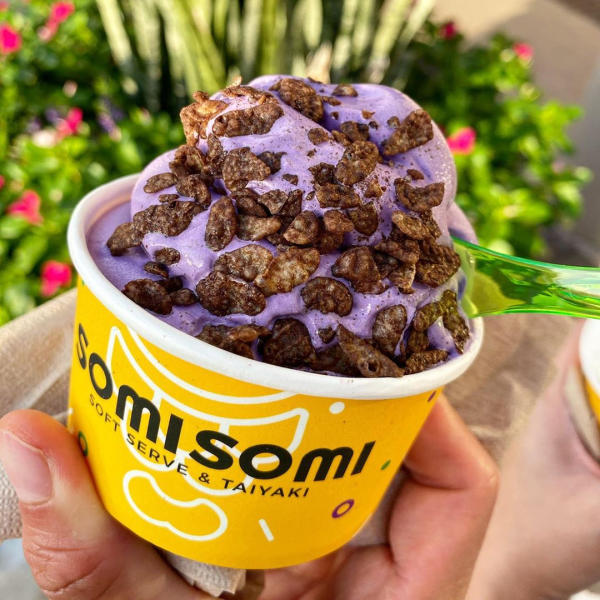 Soft serve at Somi Somi. Photo Credit: @baemeals_htx
And of course, the oncoming of spring means switching from hot drinks to cool treats like ice cream! To top off your meal, try some of the city's best ice cream shops!
Where to Stay
---
A clean and comfortable hotel is essential for a relaxing vacation. Here are some of the best hotels in Sugar Land:
Hyatt Place Sugar Land is an award-winning, modern hotel that overlooks a pristine lake and walking track. Located just minutes away from Sugar Land Town Square and First Colony Mall, this hotel gives you fabulous customer service and easy access to entertainment around the city.
Drury Inn & Suites Houston Sugar Land is located near Fort Bend Children's Discovery Center. After a tiring day of family fun, you can come home to their daily Kickback at 5:30 p.m. to enjoy a rotating menu of hot food and cold drinks are served for free!
Front view of the Sugar Land Marriott Town Square.
Located in the heart of Sugar Land Town Square, The Houston Marriott Sugar Land is the only full-service hotel in the city featuring key-access Concierge Level floors, an exclusive lounge, and executive travel services. It is also home to the award-winning restaurant The Burning Pear and is surrounded by plenty of other delightful dining and shopping experiences. This hotel is the perfect place for a luxurious, indulgent vacation.
For the full list of hotels in the city, click here.
---
Make sure to follow us on Facebook, Twitter, and Instagram for all the latest news on things happening in Sugar Land. Our handle is @VisitSugarLand. Tag us in your posts and share your experience: #VisitSugarLandTX, #SweeterInSugarLand. For more information, contact us at (281) 275-2045 or tourism@sugarlandtx.gov.
---